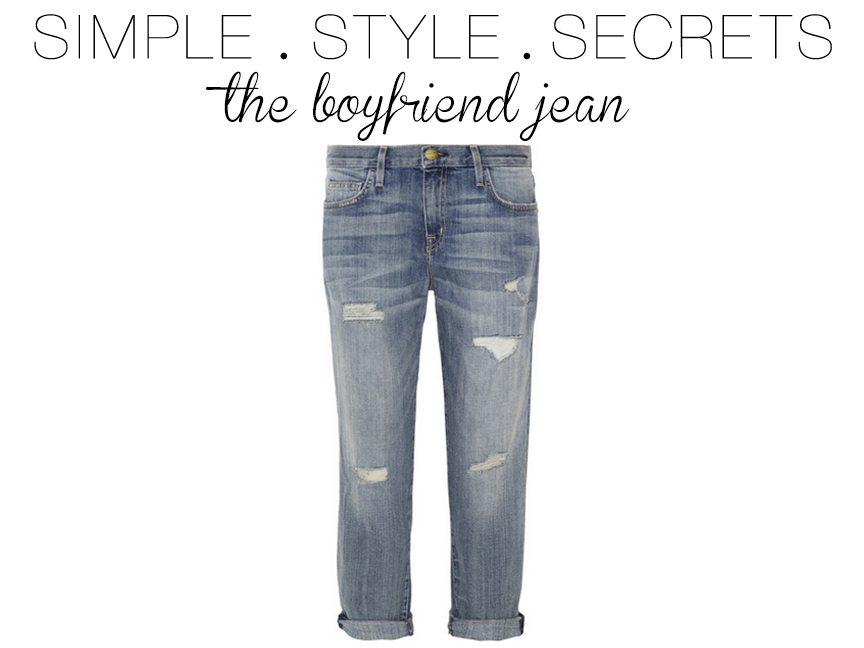 Last week I started a new 3-part series titled "Simple Style Secrets", all about taking items from your closet that most everyone owns but tend to wear the same way over and over again. The problem with this is that those items may get used often but the other items in your closet may not. I want to introduce you to new ways that these garments can be styled that are simple when executed but may not be the first thing you think of when putting together your outfit for the day. Of all the items in my closet these boyfriend jeans get the most use. In the warmer months I find an excuse to wear them multiple times a week and in the winter, although I wear them less often, I still like to slip them on every once in a while. There are so many ways to rock a boyfriend jean and below I have come up with three ways to work them into your wardrobe from a sweet girly look to a casual weekend look.
Look # 1: Boyfriend Jeans and Feminine Neutrals: This look is all about showcasing your feminine side. from the light and airy peplum top to the ladylike pumps, this look is for the days when you really want your soft side to show. This look is perfect for a casual friday and even date night. The peplum and shoes are dressy enough for the office yet the jeans give the look a fresh, relaxed twist. Although some might argue that the colour is a little bland I think adding a swipe of pretty pink lipstick would make the look, and you glow.
Shop the Look:
Look #2: Boyfriend jeans, Crew Neck T and Leopard Loafers: How perfect is this look for brunch on a late Saturday morning? It is everything you want in a casual weekend look. Easy to run around in but still effortlessly cute. Mixing prints and colours is the key to achieving this fun and unexpected combo. And the backpack adds the perfect touch of whimsy and functionality to that busy weekend ahead.
Shop the Look:
Look #3: Boyfriend Jeans, Casual T and Pops of Colour: This look is for the girl who loves to make a statement! Running shoes have been all over top fashion girls lately and when done with a pair of boyfriend jeans they not only look fresh they are comfortable! This look is great for a day spent with your best friends. It is chic, yet practical and the pops of bright colour intertwined into an otherwise off-white outfit is perfect for brightening up your mood on a winter day.
Shop the Look: