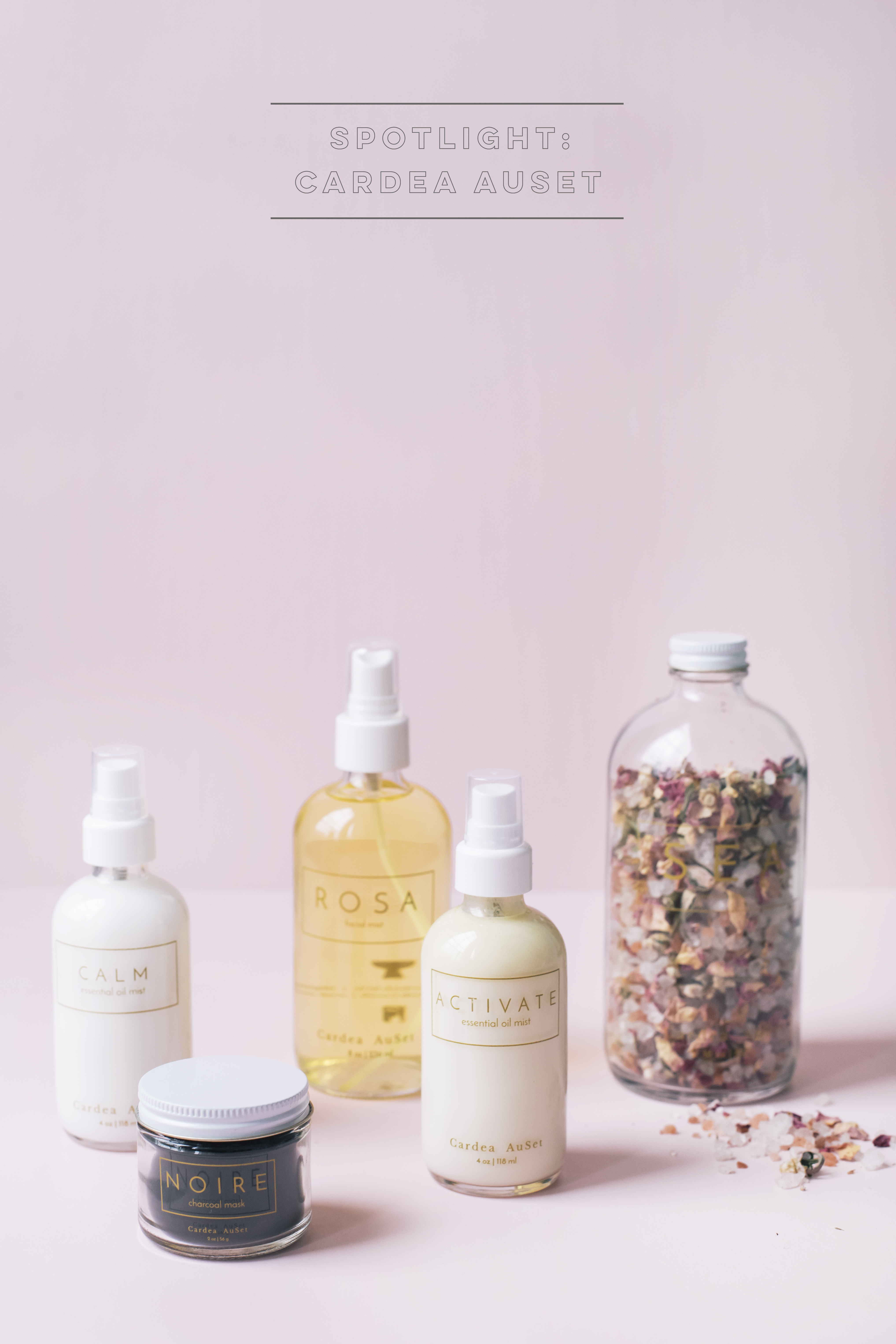 Back in September (that feels so long ago now!), I was invited to attend the launch/preview of a new line called Cardea AuSet. I hadn't heard the name before the invite and to be honest, I almost ended up not RSVP'ing to the event. At the last-minute, I got a reminder e-mail and noticed how beautifully designed the invitation was and so I decided that I might as well go and see what Cardea AuSet was all about. When I arrived at the preview, I was pleasantly surprised to find myself in the most beautifully curated space along with the two lovely women behind Cardea AuSet, Jennifer Bonato and Taylor Williams. Jennifer and Taylor took me around their space showing and demonstrating to me their line of all natural beauty products that include my favorites, the NOIRE charcoal mark, SEA mineral soak, CALM essential oil spray and ROSA face mist. I fell completely in love with the story of Cardea AuSet as well as the products and knew immediately that I wanted to share their story and products on my Spotlight Series. So without further adieu, here's everything you need to know about all natural beauty and wellness brand, Cardea AuSet.
PS: I'm so excited to announce that the lovely Cardea AuSet ladies and I are hosting a giveaway. 2 lucky readers will receive a beautiful Cardea AuSet tote bag filled with a DALE candle, CALM essential oil mist and ACTIVATE essential oil mist. Be sure to enter below!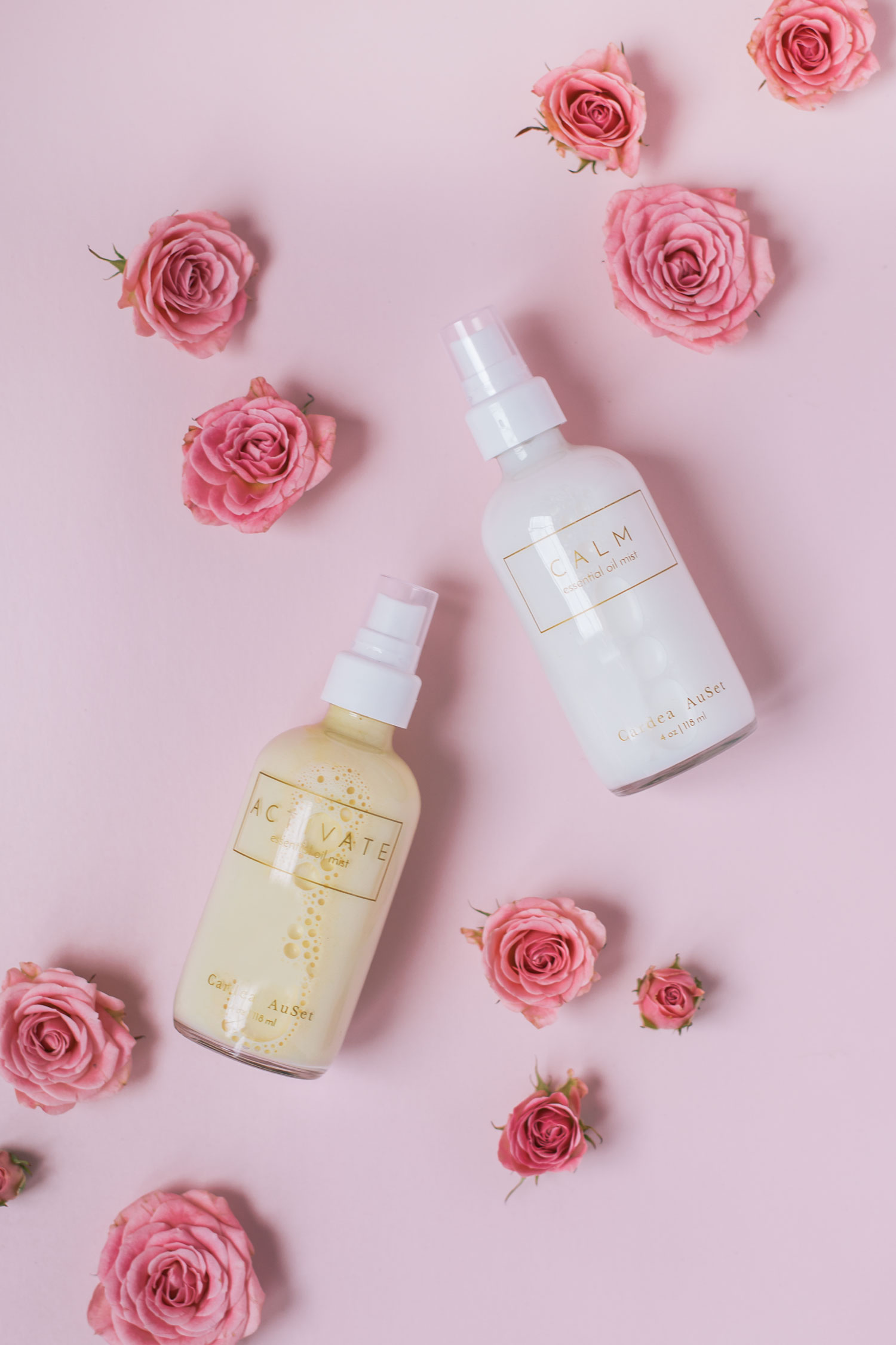 1. Tell me a bit about Cardea AuSet, the background, name meaning and what do you offer:
Cardea AuSet is a wellness brand established in 2017. We came up with the name after some extensive consideration about the kind of brand we wanted to build and the message we wanted to convey. Cardea is a Roman Goddess and protector of the home, while AuSet is an Egyptian Goddess of motherhood and renewal. We wanted the brand to speak to the power of feminine energy and the power of Mother Nature.
We offer a collection of beauty, lifestyle, and spirit goods including essential oil mists, rose water mist, charcoal mask, natural bug spray, bath salts, hand-poured candles, palo santo, and crystal mediation kits. Our mission is to enhance our spiritual intuition by delivering products that will help users ritualize their personal care experiences and meditative practices.
2. What is your favorite way to unwind?
JB: My preferred method of relaxation changes depending on my mood or the situation. Sometimes I will put on some calming music, light one of our candles, sit or lay with my eyes closed and do a little bit of breath-work. This is ideal when I'm feeling heavy or restless because it helps to internalize my focus and feel settled. When I feel that I need a little self-love, I'll have a bath and use our SEA mineral soak. I take the time in the bath to either read or watch a bit of a movie. It's always surprising how much a 20-minute bath can improve my mood and help me relax.
TW: Now that the seasons are changing and it's getting chilly outside, it's nice to unwind in a warm bath filled with SEA mineral soak. If I don't get a chance to soak at night I'll definitely use a spritz of CALM on my pillow and sheets before bed to help my mind relax after a busy day at work.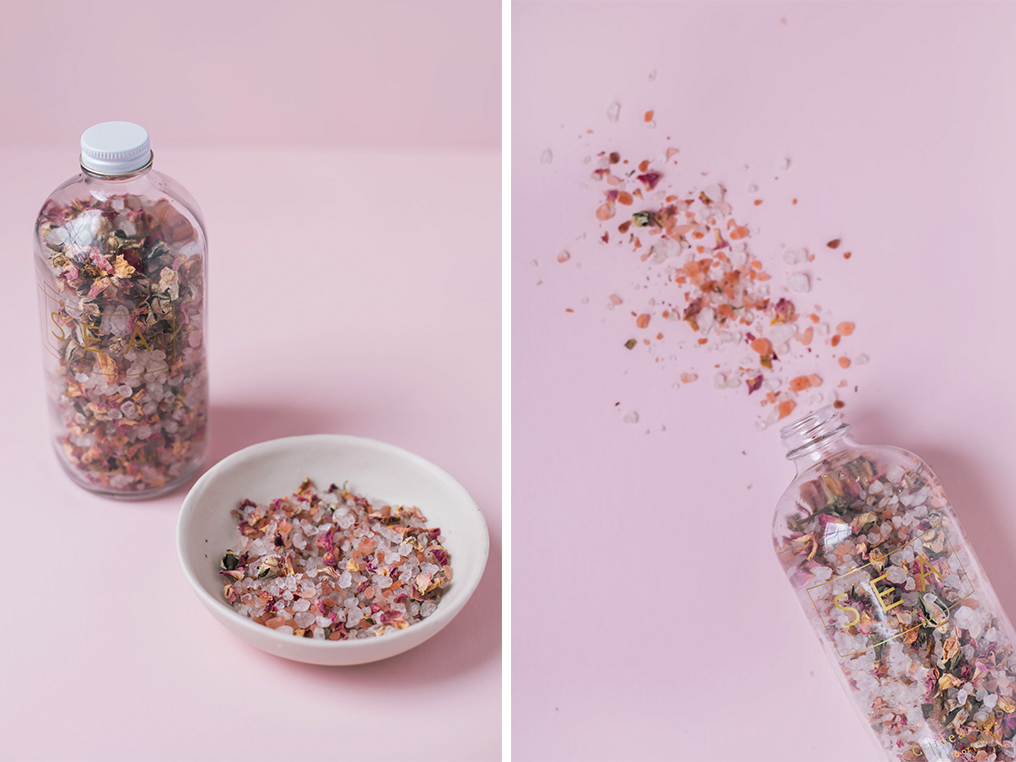 3. What are some of your most popular products?
The demand has been pretty well-balanced across our product line. We think that because of the variety of products, there is something for everyone. We've loved to see many people incorporating ACTIVATE, CALM, and ROSA into their daily routines, and experimenting with their NOIRE mask to make it their own.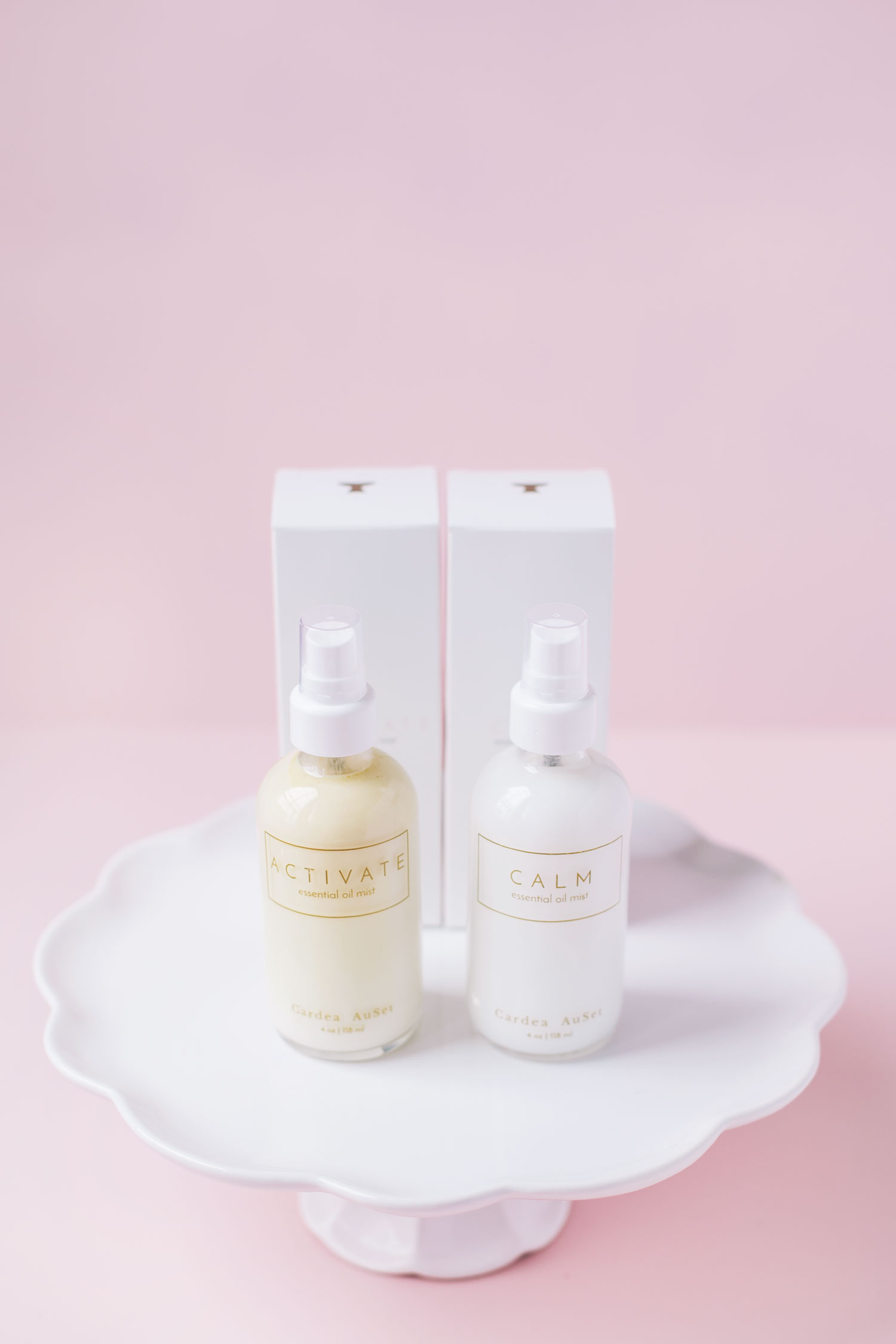 4. Do you have any special rituals that you do while using the Cardea AuSet line?
JB: Oh, lots! We mention some of the answers about how we unwind, but I think really we create rituals in how we use each product. Whether it's taking time out to mix up and apply a NOIRE mask with a record playing in the background, or misting my pillow with CALM and slowly leaning into the smell with eyes closed, any action becomes a ritual when you take time to slow down through it.
TW: I really do have lots and they're all different depending on the product. My most used ritual is definitely with ROSA. I've incorporated it into my daily beauty ritual both day and night. I first use whatever cleanser I'm loving – right now I'm using REN milky cleanser (I'm a big skincare fan) and then I follow with ROSA. We've both seen how much we actually use ROSA in our day to day lives that we decided to make a travel size, for on the go! I'm very excited about it.

5. If you could travel anywhere in the world, where would it be?
JB: I've been thinking a lot about Canadian travel as of late. There is so much beauty from coast-to-coast, and I'd love to see the leaves in Eastern Canada in the Fall and visit the far North, like Northwest Territories or Nunavut.
TW: Honestly, I would love to be able to travel more than I do right now. I'm a city girl so I take any chance I get to go to New York, but if I could go anywhere I think it would be Greece. I love the landscapes and the scenery. Everything about Greece seems like a dream!

6. Can you tell me about the Cardea AuSet candles? How are they made and what are they named after?
We had so much fun developing this product, from searching far and wide for the glassware to blending and naming each of our three signature scents, we put so much into this process. Our candles are hand-poured by us and housed in a piece of vintage glassware. We use natural soy wax, and pure essential oils to create our scent blends. Our focus was on developing well-balanced, natural scents. Each blend has an essential oil that is a bit earthy and grounding, and another that is brightening and uplifting.
JUNE and DALE are named after Jennifer and Taylor's maternal grandmothers, respectively.
JUNE is a blend of Juniper Berry and French Lavender, and it smells sweet, herbaceous, and fresh. Like its namesake, JUNE is both soothing and inviting. We love to keep this candle on our bedside table and keep it lit during our bedtime/unwind ritual. Even ten minutes sitting beside this scent is enough to calm you before bed.
DALE is a blend of Spanish Sage and Sweet Orange that smells of greenery and bright citrus. This particular scent is sophisticated and a bit glamorous, in keeping with the tradition of its namesake. Light this candle during meditation or while peacefully drinking your morning coffee.
CEDAR is a blend of Texas Cedarwood and Madagascar Ylang-ylang, and is the only one that we didn't name after someone. We love the rich, woody scent of this one, and the feeling it gives you when it burns. It's evocative of an indoor wood-burning fireplace in the middle of winter, which is so comforting.

7. I'd love to know, what are few local brands that you love?
JB: Niagara is an incredible food and wine region, and there's so much to love. Provisions Food Co. are amazing – they make everything from crackers, to jams, to jarred vegetables and more. Their products are great additions to any pantry. It's also hard not to be obsessed with Beechwood Doughnuts. Their vegan donuts are so impressive (even if you're not vegan) and they do great work giving back to the community.
TW: I grew up in Niagara, but now I'm living in Toronto so I have a little bit from both. Jen already mentioned Niagara has so many incredible local restaurants and wineries. The restaurants are just amazing in NOTL, it's one thing I miss! For Toronto, a couple of my favorite local brands are Rare Earth Mineral Co. Of course, I'm a fan of using crystals and their energy and this Etsy shop always has the greatest selection. It makes it easy to find a crystal for any purpose (there are so many) like maximizing good vibes at home! Another is a small jewelry company called Above Average Studio. They make quality jewelry at a great price! You can be sure to find delicate gold jewelry that can be worn every day on their website.
Make sure to visit the Cardea AuSet website here and follow Cardea AuSet on Instagram here