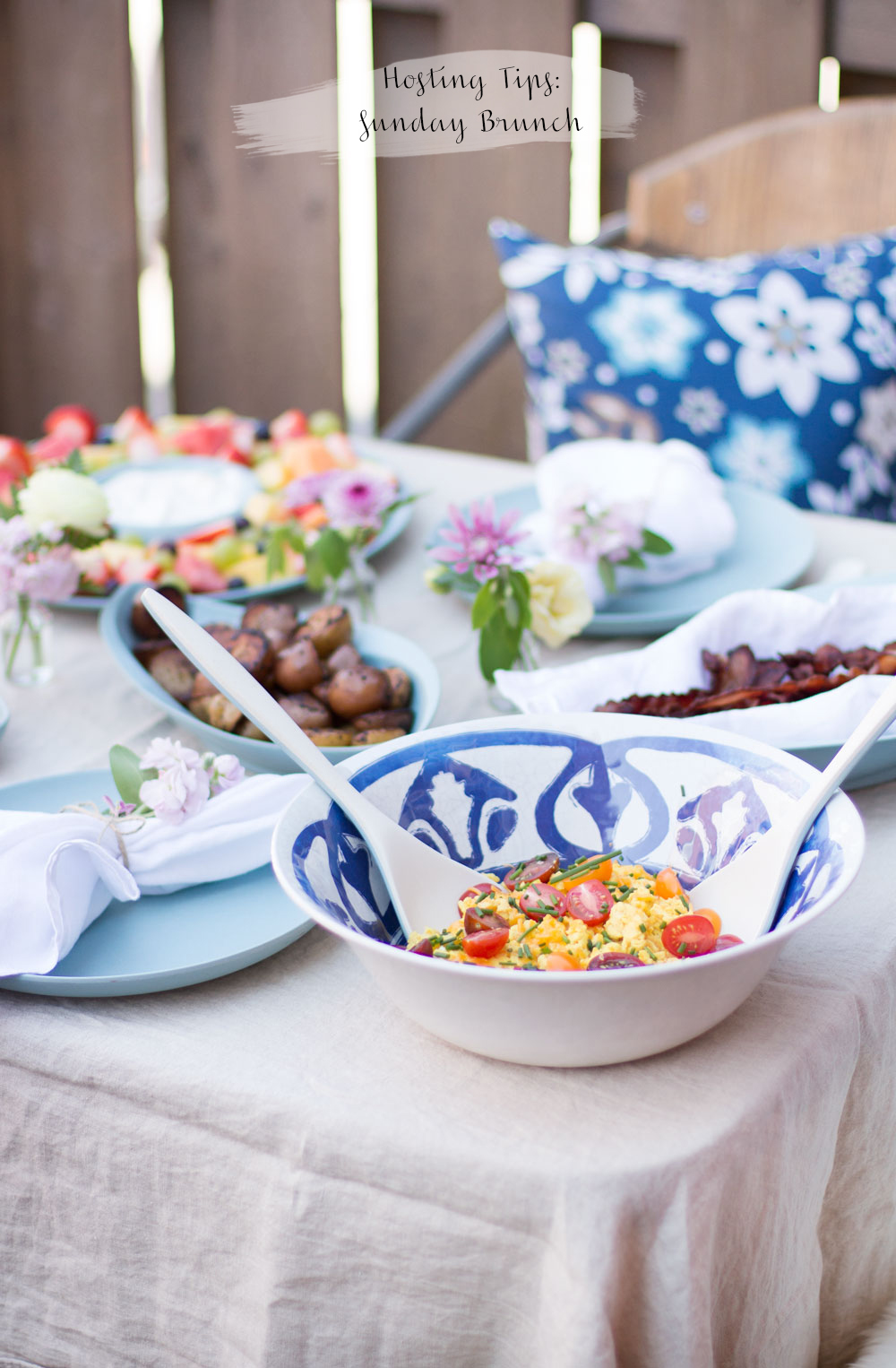 For the long weekend Jamie and I thought that it would be nice to kick off summer by hosting a fancy little brunch for just the two of us. Real Canadian Superstore recently sent over some of the many pieces from their outdoor summer collection so I figured that this past weekend would be the perfect opportunity to break it out. Both Jamie and I love being in the kitchen, especially with each other so spending a couple of hours in the morning making a big breakfast was our ideal way to spend the long weekend. This was actually the first really big brunch we've made, and the first time we've eaten outside on our patio! I loved every second of it, especially with the help of the Home Collection from Real Canadian Superstore, and now I can't wait to begin entertaining this summer. Creating this brunch definitely took a good amount of effort so I wanted to share with you a few tips I picked up on how to host a brunch, be that for two or for twenty.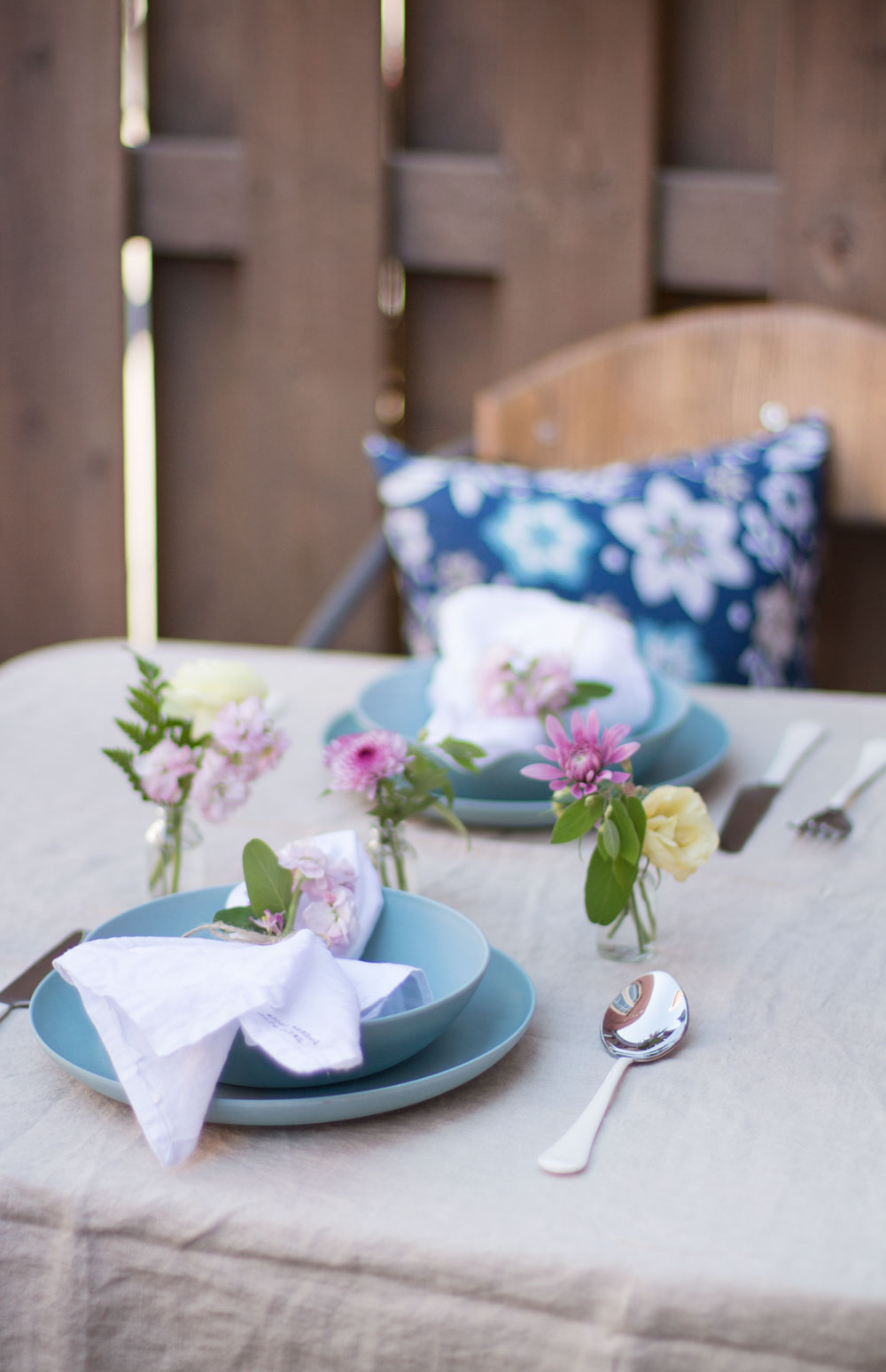 Setting a table can seem like an overwhelming task (it used to be for me) but I have found that when I keep things simple, creating a beautiful tablescape is easy. Because we made a ton of food that was going to be covering our table I decided to keep the overall look of the setting pretty sparse. A soft linen tablecloth in a neutral colour instantly creates a luxurious feeling while the blue plates and fun, patterned pillow from the Real Canadian Superstore add a bit of playfullness.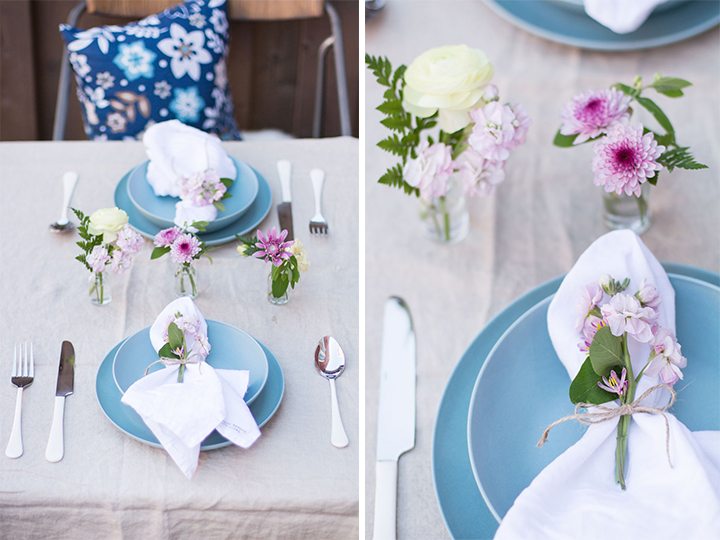 Flowers are the easiest way to instantly infuse life into a table setting. Because our table is tiny I knew that adding huge centrepiece would take up too much space and ultimately become a hassle to maneuver around. Instead I opted for 3 mini wild-flower arrangements from A Wild Vine. I love the look of mixing and matching different types of wild flowers on a table and I'm going to be attempting to create a few of these for myself this summer.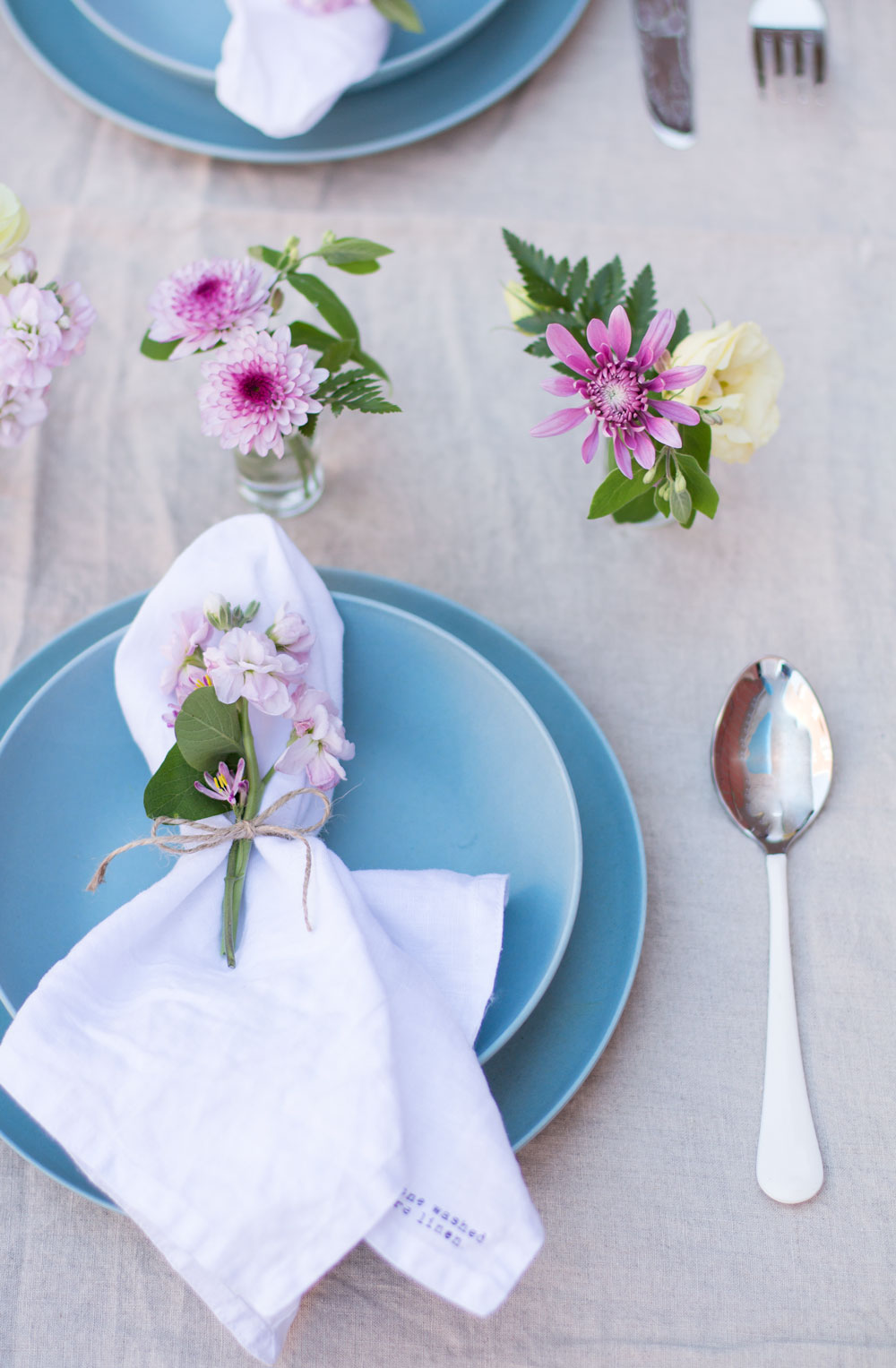 I wanted the overall appearance of our brunch to feel upscale, so instead of using paper napkins (which we normally do outside) I chose to use crisp, white linen napkins and wrapped stock and honeysuckle vine around them with twine. I love how the purple stock and honeysuckle vine looks against the bright blue PC Bamboo Fibre tableware.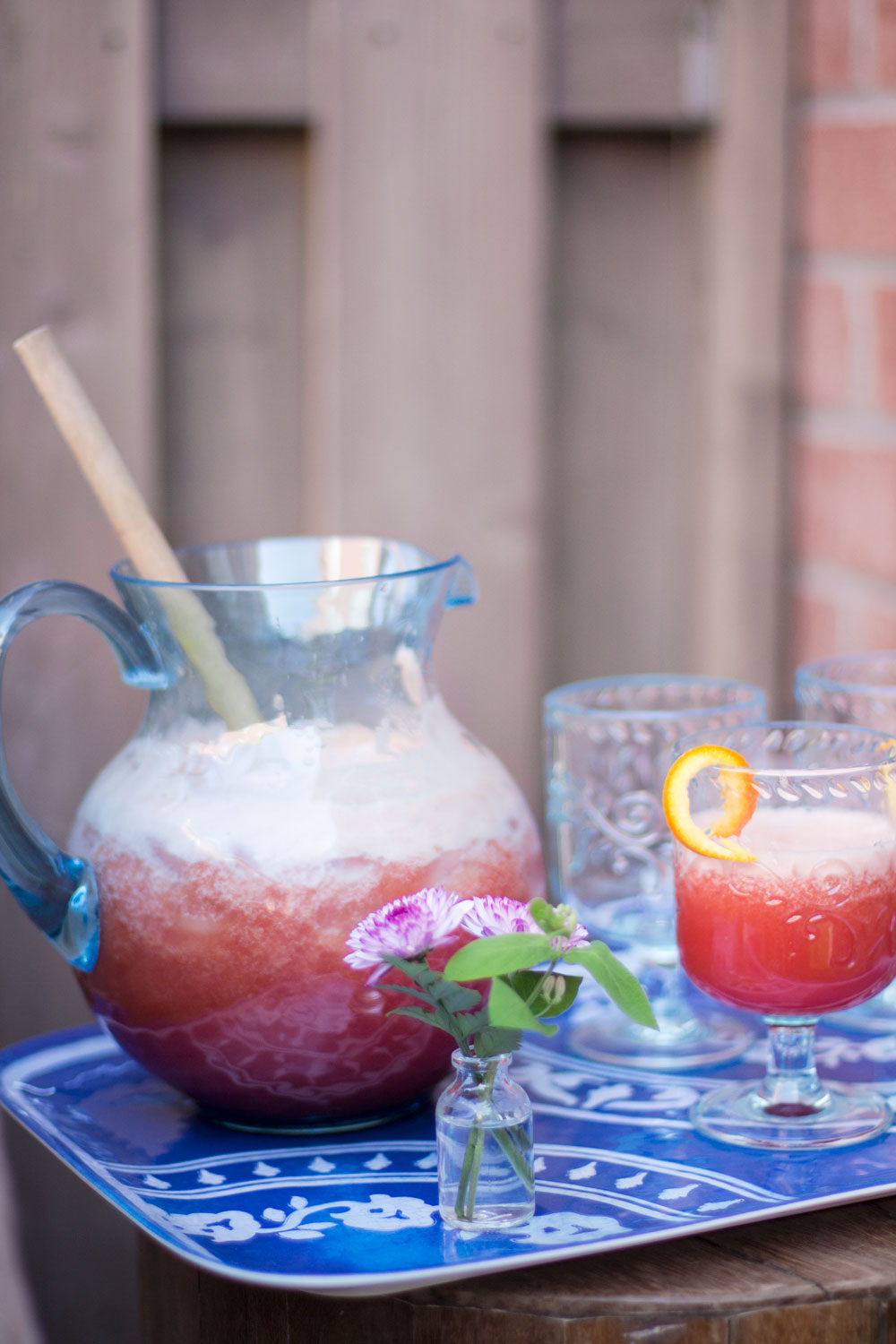 No brunch setting is complete without a drink station, even if it is a non-alcoholic one. I decided to prop this adorable melamine tray inspired by Mediterranean prints and colours, hammered pitcher and glasses atop of a wooden stump to separate the drink station from the table. Not only did this free up space on the table, but it looked really great. I also love that all of the drinkware is plastic so I didn't have to worry about anything falling and breaking. We made freshly squeezed watermelon and orange juice which couldn't have been more delicious or refreshing. We also made a ton of juice so we used the rest for margaritas later in the evening (hint hint)
Watermelon Orange Juice:
-1/2 juice watermelon
-4-5 oranges
-Ice
-Blend watermelon until smooth, strain into pitcher with ice
-Squeeze juice of oranges directly into the pitcher
-Stir and serve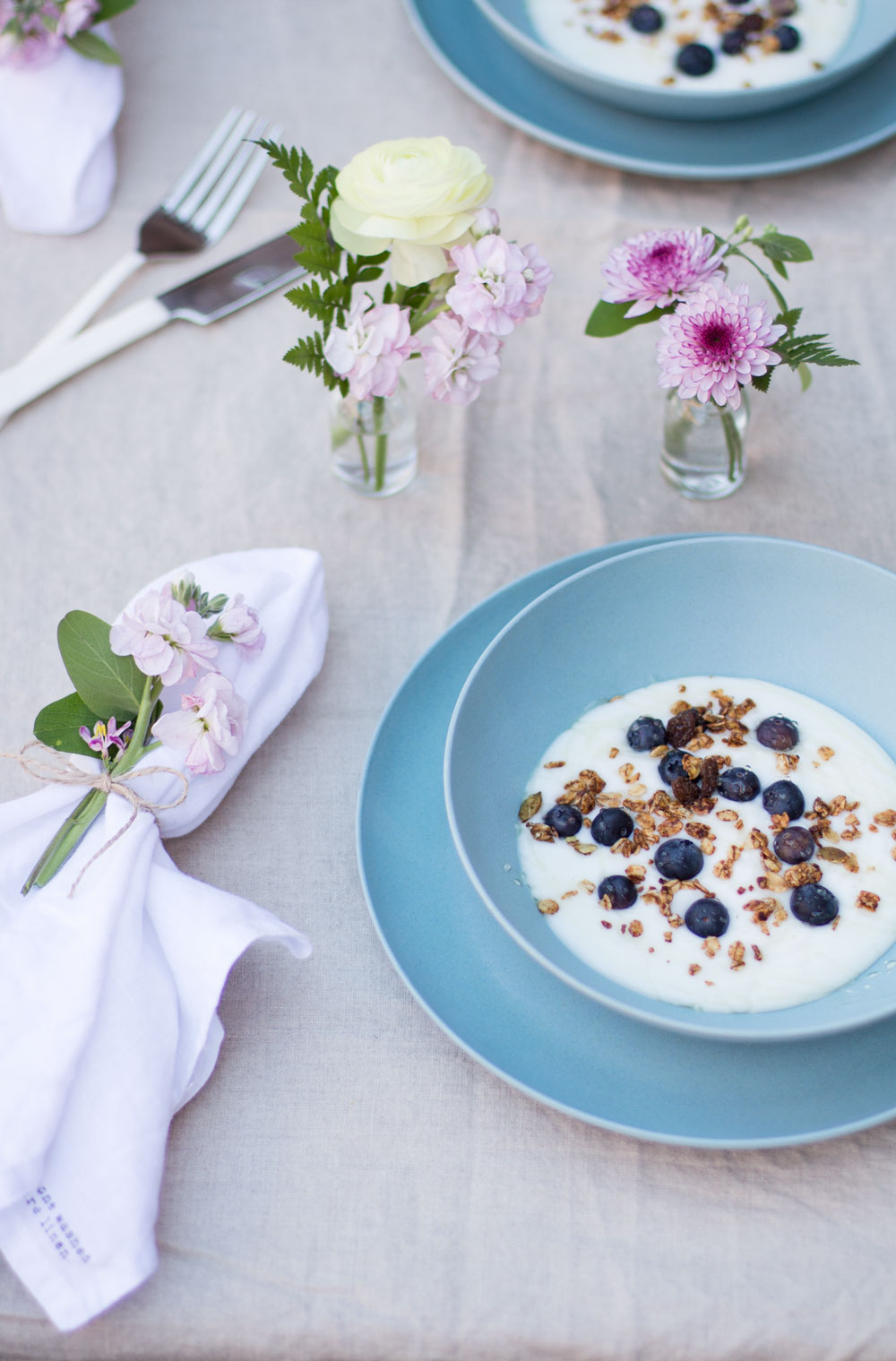 If you are having guests over for Sunday brunch I highly recommend having a little yogurt parfait ready for them when they arrive. It's a really simple pre-brunch treat (yogurt, berries, granola and honey) and gives your guests something to snack on whilst they are waiting for the substantial food to be served.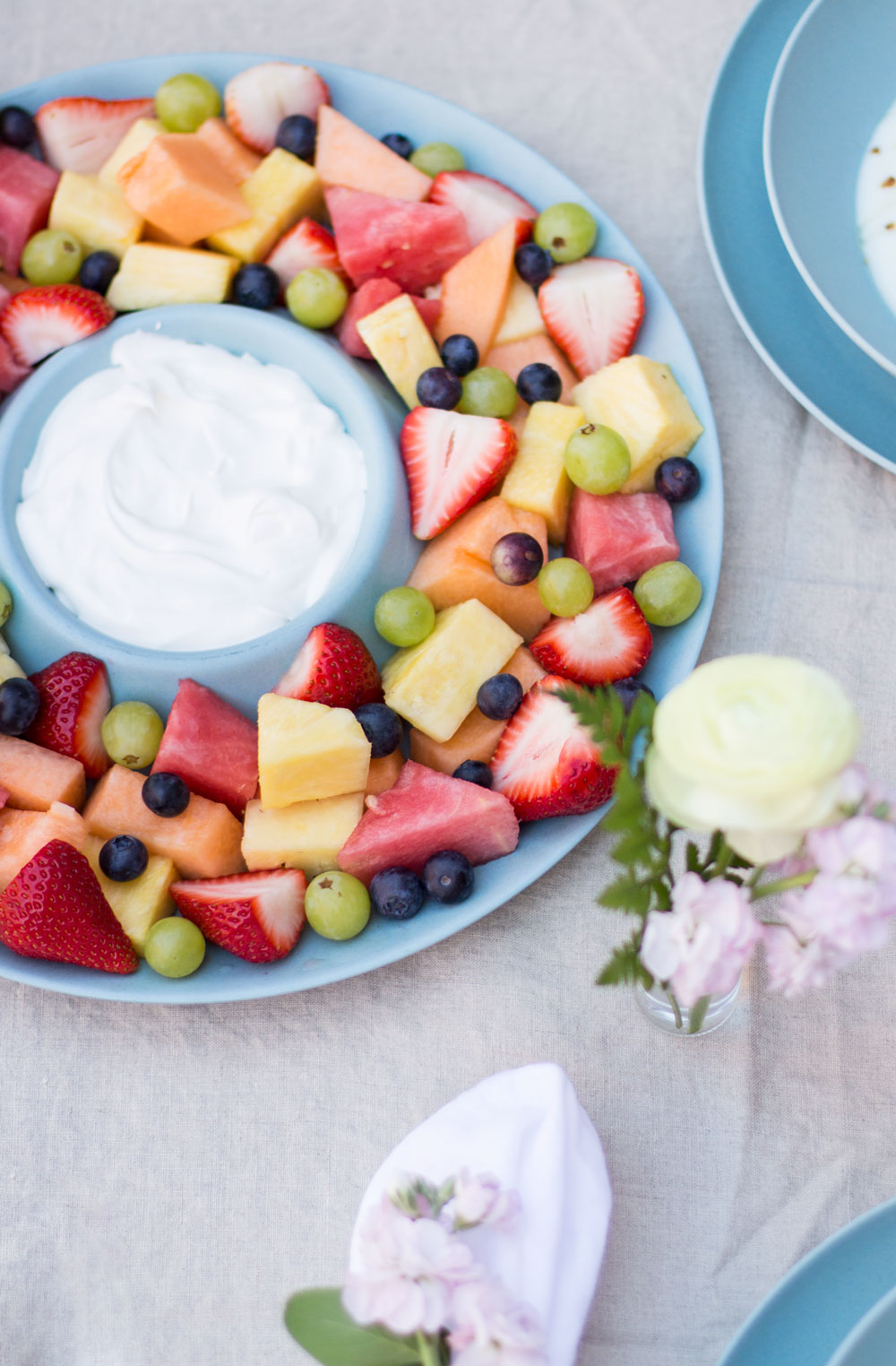 Just like the yogurt parfait, having a fruit tray ready for your guests is a thoughtful and delicious option. A huge tip is to prep your fruit the night before! Washing and cutting up fruit takes a ton of time but putting the tray together takes seconds. I feel so much calmer when things are already prepped and all I have to do is worry about the cooking and assembling.
Our fruit tray consisted of watermelon, cantaloupe, pineapple, strawberries, grapes and blueberries, and I served a dip that was made of equal parts whipping cream to yogurt (my fave fruit dip). To assemble the tray I began by placing the biggest fruit around the tray, followed by the next smallest and so on, working my way down to the smallest of the fruits and finally filling in any gaps with the grapes and blueberries. I then added the dip into the center of the tray that has a built-in dip holder (so great!).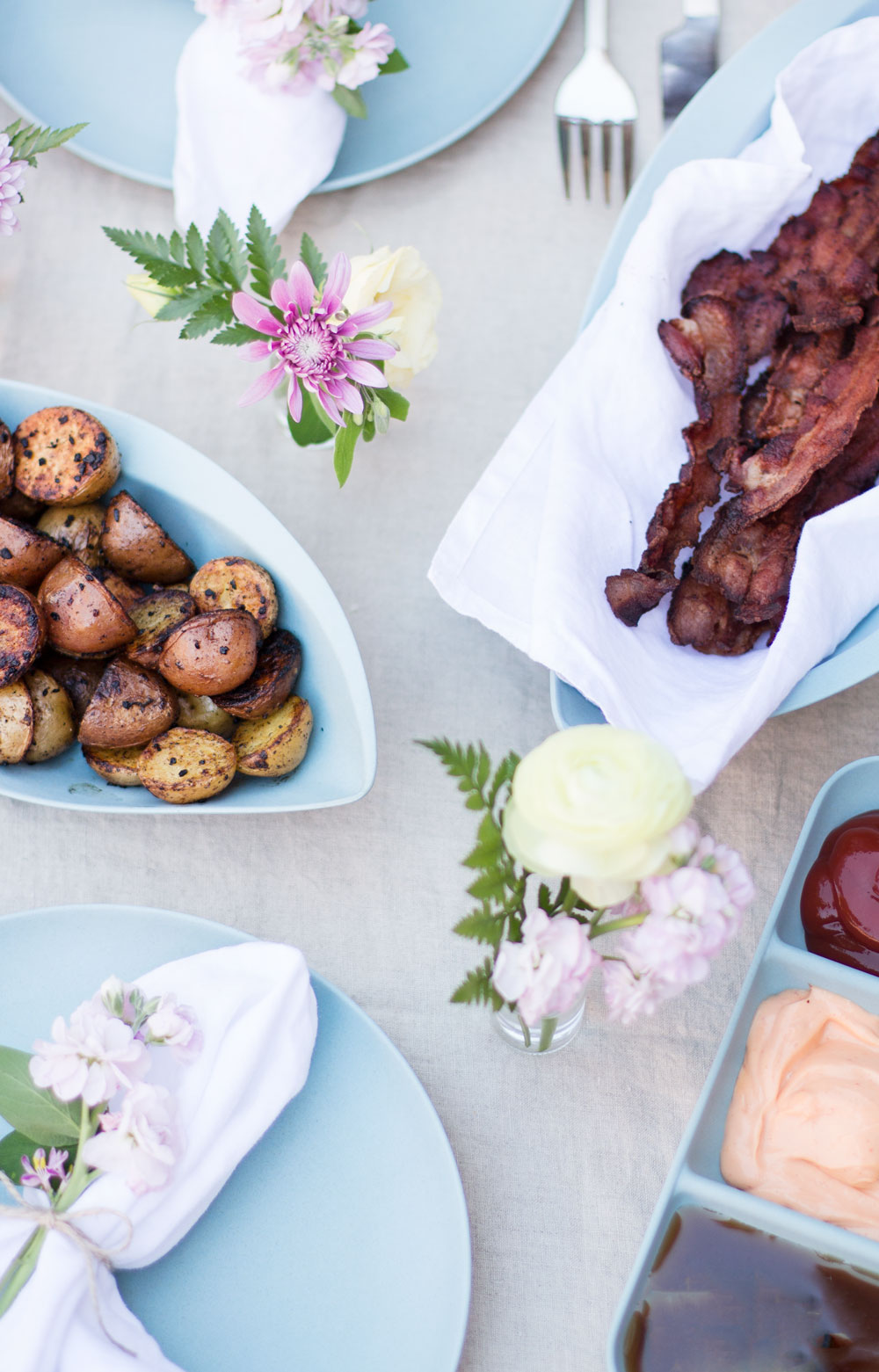 Real Canadian Superstore has so many great options for serving food in so we wanted to make A LOT to show it off. First we made bacon, which has been something I've been staying away from as of late so it was nice to treat myself. I put one of our white linen napkins over the PC Bamboo Fibre tray before adding the bacon to make the overall look feel elevated, but when serving the fried potatoes I left the tray as is. I served 3 types of dips in this super convenient 3 compartment vessel, maple syrup, ketchup and a spicy aioli, I love me some condiments) but I also love that it can be used for so many different things…think berries, nuts, granola, etc.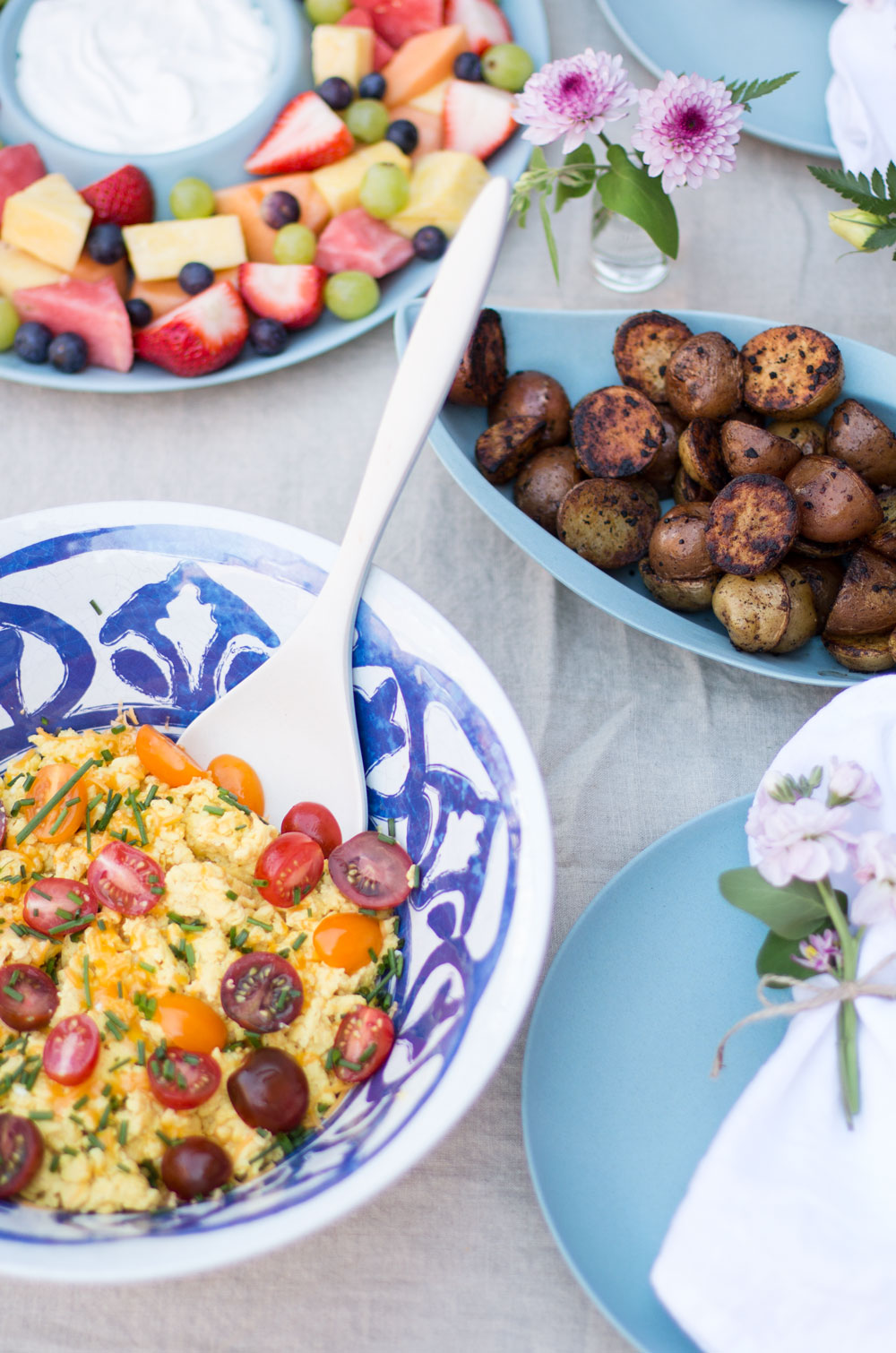 Finally, Jamie and I made an egg and cheese scramble (my fave) and served it in this bowl inspired by Mediterranean prints and colours. I love that the bowl appears to be ceramic but it's actually made of melamine…hello non-breakable! I loved how the bright blue colours looked against the yellow eggs, red tomatoes and green chives.
Egg and Cheese Scramble:
-8 eggs
-1 tbsp milk
-1/2 cup shredded cheese
-Handful of tri-coloured grape tomatoes
-Chives, chopped.
-Crack eggs into a bowl with milk, salt and pepper and whisk until combined.
-Add mixture into a frying pan on medium high heat and top with 1/2 of the cheese. Continuously mix eggs until they are scrambled.
-Add eggs to bowl and top with cheese, tomatoes and chives.
Thank you to Real Canadian Superstore for sponsoring this post, all opinions are my own.