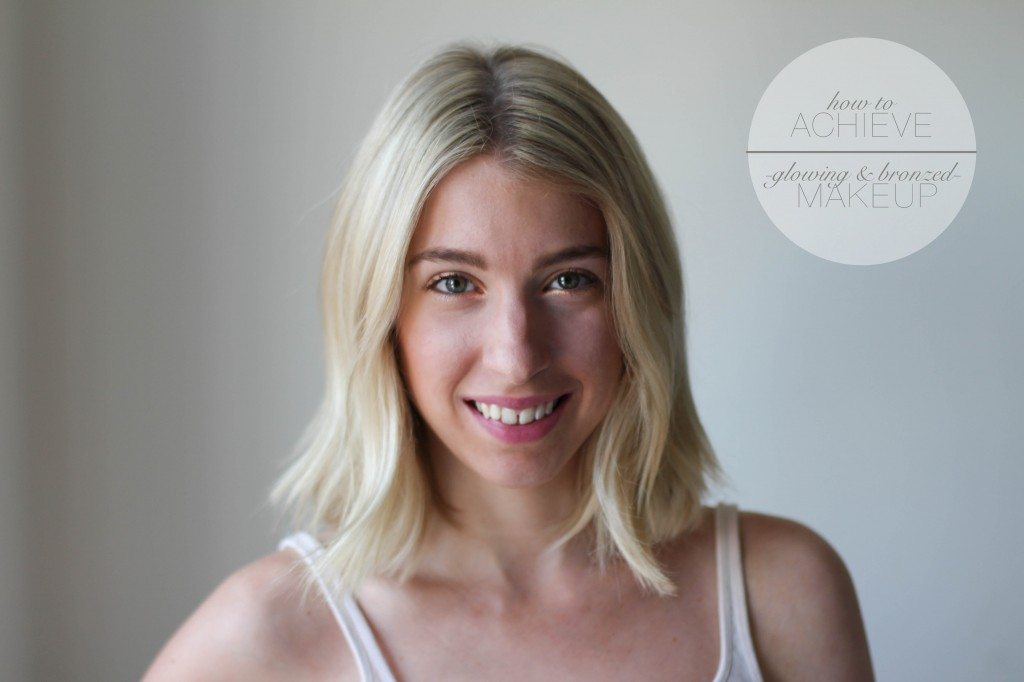 After last weeks post on how to achieve glowing and bronzed skin without the use of tanning beds or the sun, I thought it only appropriate to show you how to top that off with the perfect glowing and bronzed makeup look. Like I mentioned last week, with all of the amazing products on the market today, fake tanning (when done right) looks extremely natural and just as nice as the real thing. These are the steps I take to achieve a sun-kissed glow with my makeup.
1. Marcelle BB Cream with anti-aging and SPF
2. NeoStrata Natural Insta-Tan
3. Benefit Boiing Concealer
4. Smashbox Baked Fusion Soft Lights Bronzer in Sunburst
5. Maybelline Face Studio Master Glaze in Warm Nude
6. Revlon Highlighting Palette
7. Smashbox Photo Op Under Eye Brightener
8. Benefit The Porefessional Powder
9. Urban Decay Naked Palettes Half Baked
Step 1: I begin by mixing together 1 pump of BB cream with SPF and a dime size of insta-tan in my hand. I then quickly blend the mixture all over my face, making sure to blend evenly, all the way down to my neck.
Step 2: I build up the bronzed glow with Smashbox bronzer, using two techniques and an angled brush. First I swipe the bronzer into the palette with the brush and swish it into the cover, making sure to remove any excess bronzer. I then softly swipe the bronzer across my forehead and into the hollows of my cheeks, building the colour up slowly. I then take the brush and move from my temples to my jaw, quickly drawing the number "3". After my face is finished, I swipe some bronzer into my collar bones for an added glow.
Step 3: Using a blush brush I highlight my face with Revlon's highlighting palette, also removing excess product by shaking the brush or swishing it into the cover. I brush the blush/highlighter into the apples of my cheeks up to my temples. If I want extra glowy skin, I will sometimes use Benefits High Beam on my temples and brow bones as well.
Step 4: Using a cream blush/bronzer I melt a small amount into my fingertips and gently swipe it onto the hollows of my cheekbones creating extra dimension and glow.
Step 5: Finally, to give my eyes a bronzed sparkle, I use an angled eye liner brush dipped into water for deeper colour, and then use "half baked", a gold shimmer eye shadow that gives the perfect glow.