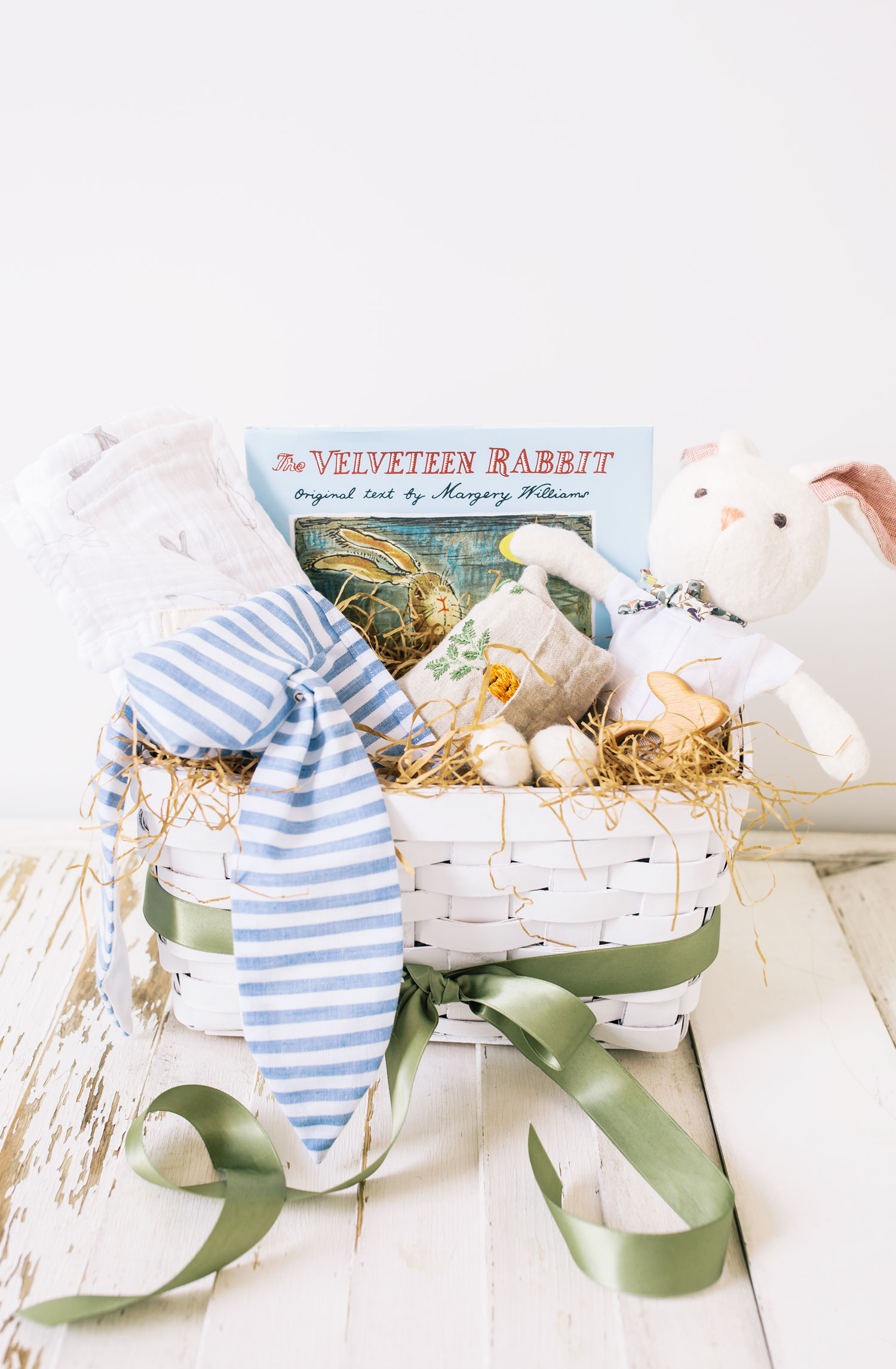 I've always been a fan of making baskets, as evident here & here. After we had Edwin, I quickly realized that this year I'd have a BABY to make a basket for! Admittedly, as my 7-week-old hasn't a clue about Easter and the baskets that come along with it, this heirloom easter basket is more for me and to inspire you to design a curated Easter basket for baby.
I found this basket at Value Village and spray painted it white. I love the look of a classic wooden or wicker basket as opposed to the colourful baskets that are often in stores for children. I also tied a sage green ribbon around it for extra detail. Inside the basket, I added brown easter grass which adds texture and height for the goodies that go inside.
Inside the basket are a few, select items that I think are just so darn adorable for babies! I'd rather purchase a few, quality items from smaller shops and makers as opposed to cheap toys and will likely make this a point going forward with all holidays.
Keep reading to see everything I chose to put inside Edwin Fox's basket and hopefully, I've given you some Easter basket inspiration for baby!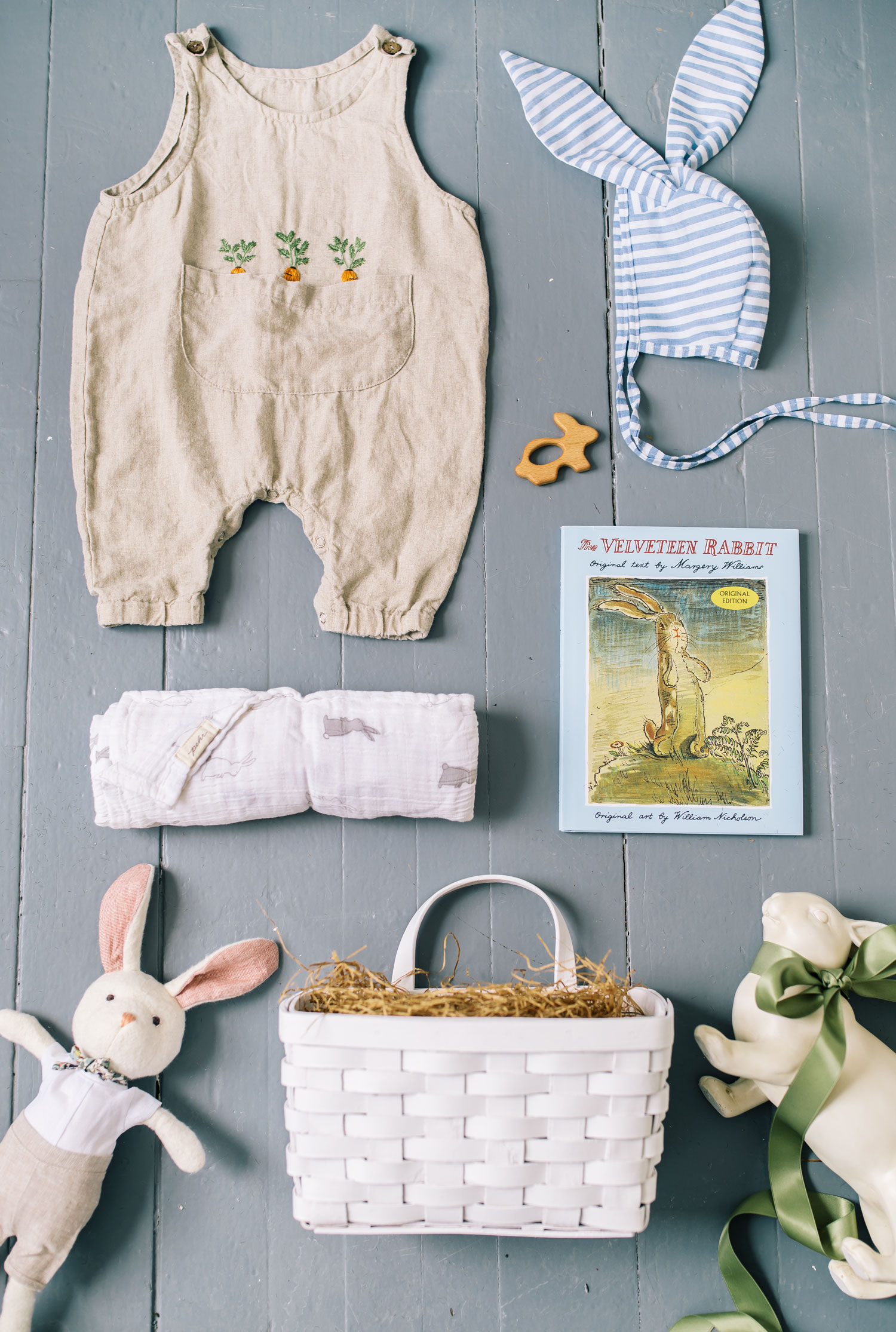 Items for Basket:
–
Basket
(I found mine at Value Village and spray painted it white, I've linked a similar basket)
-ribbon &
grass
–
Bunny stuffed animal
(I built my own Penelope bunny)
-Bunny swaddle
–
Linen romper with carrot embroidery
–
Striped bunny bonnet
(get 15% off any purchase using code theblondielocks)
-The Velveteen Rabbit book
–
Wooden bunny teether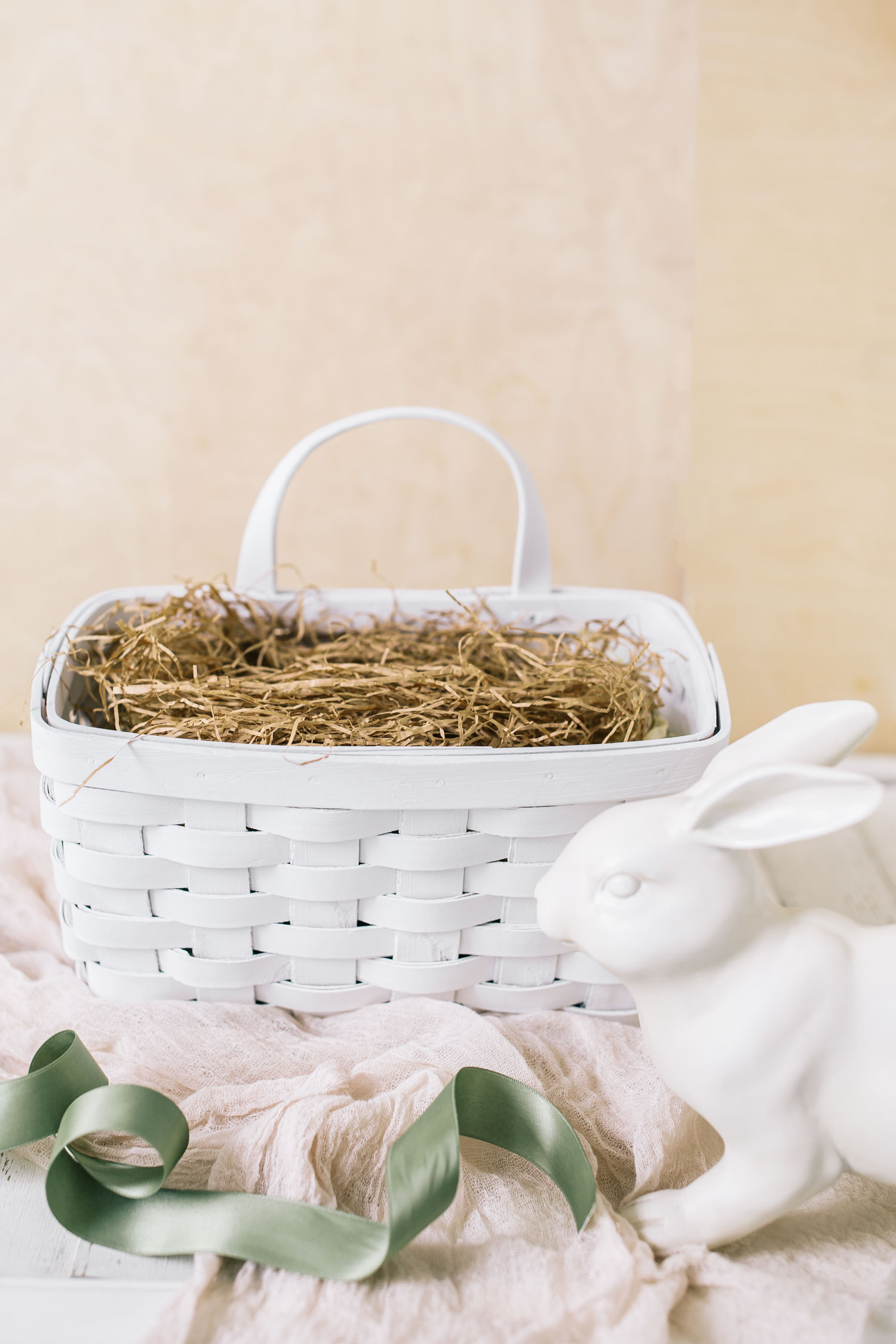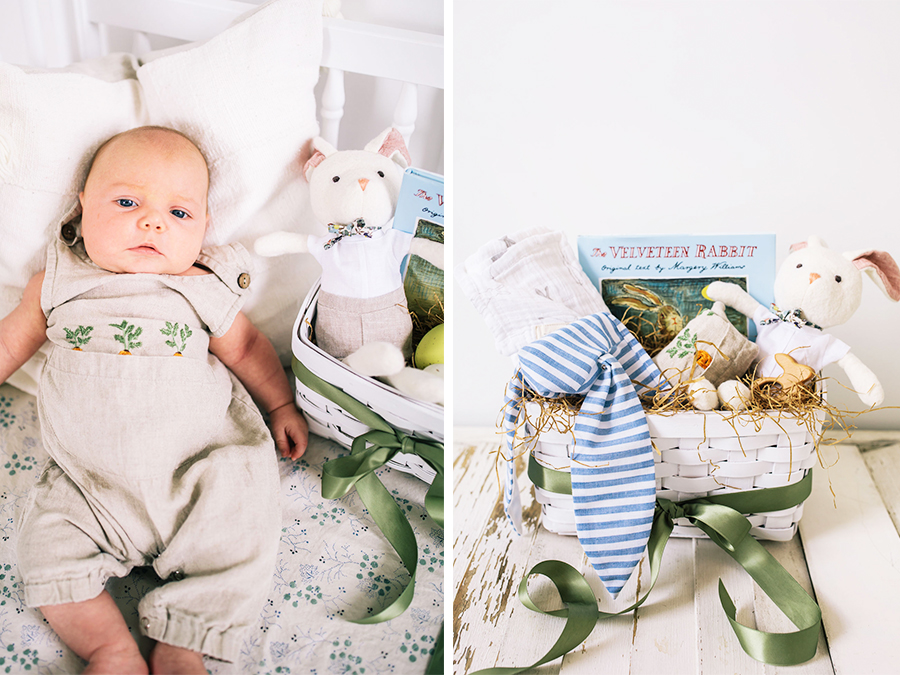 This little linen romper is possibly the CUTEST onsie I've ever seen. I love linen everything and this romper can be custom embroidered with quite a few options like a sweet pea or acorns. I just love the three little carrots for Easter though! It also comes in multiple colours.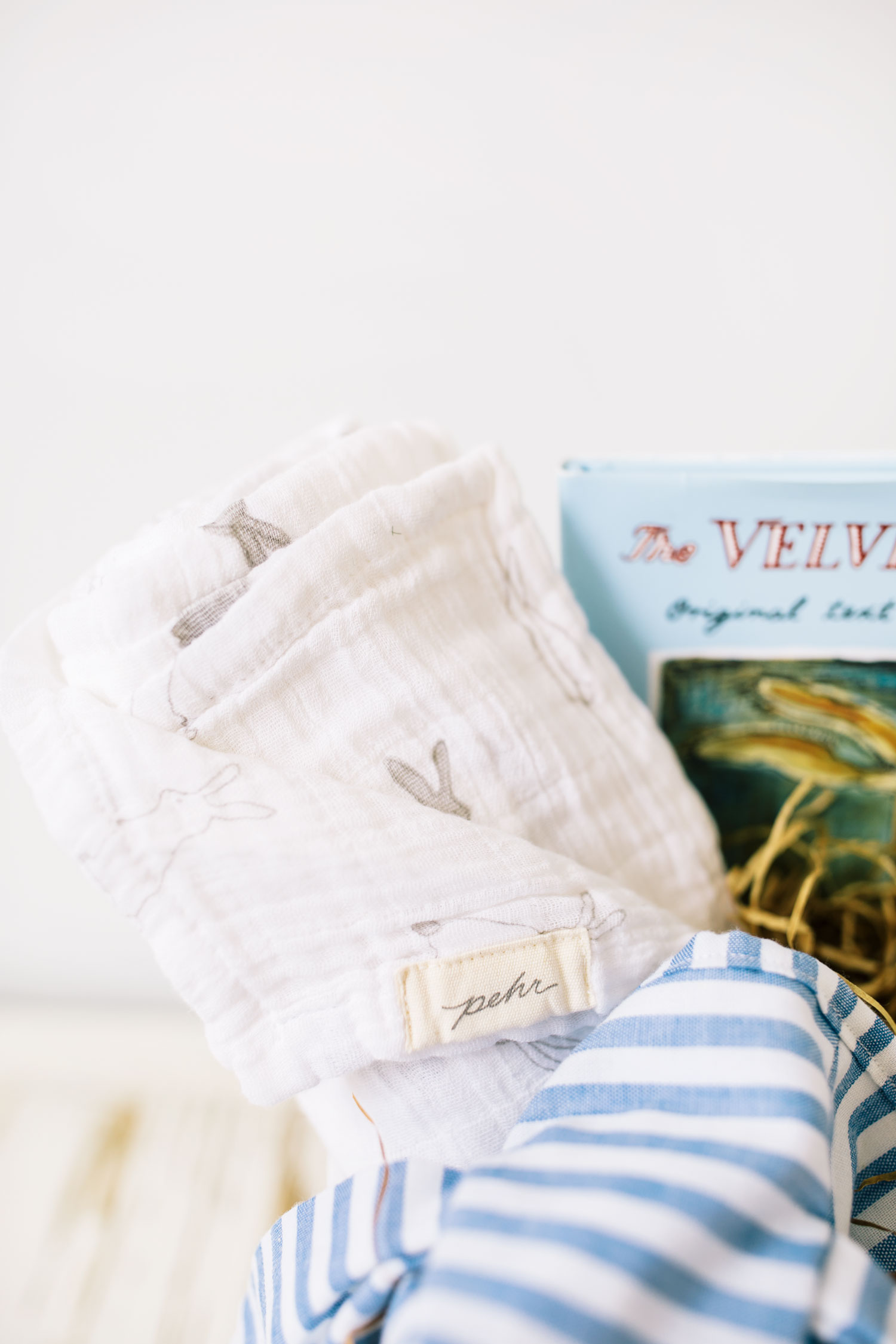 Pehr swaddles are some of my favourites, especially for holiday. We bought this rainbow swaddle for Edwin's first St. Patrick's Day and I knew that for Easter, the Pehr bunny swaddle had to be included in his basket. This swaddle is so soft and cozy and has many uses from a blanket to a burp cloth.

One of my absolute favourite items in this basket is this striped bunny bonnet. Bonnets of any sort just make me giddy and one with bunny ears? Stop it right now! I can't handle how adorable my little guy looks in this bonnet. Roz makes some of the most beautiful baby bonnets from the bunny to bears and kitties. She also makes custom bonnets with pom-poms and florals. This floral one is the prettiest and if I had a little girl it would definitely be in her collection! PS: for 15% off your bonnet purchase, use code "theblondielocks".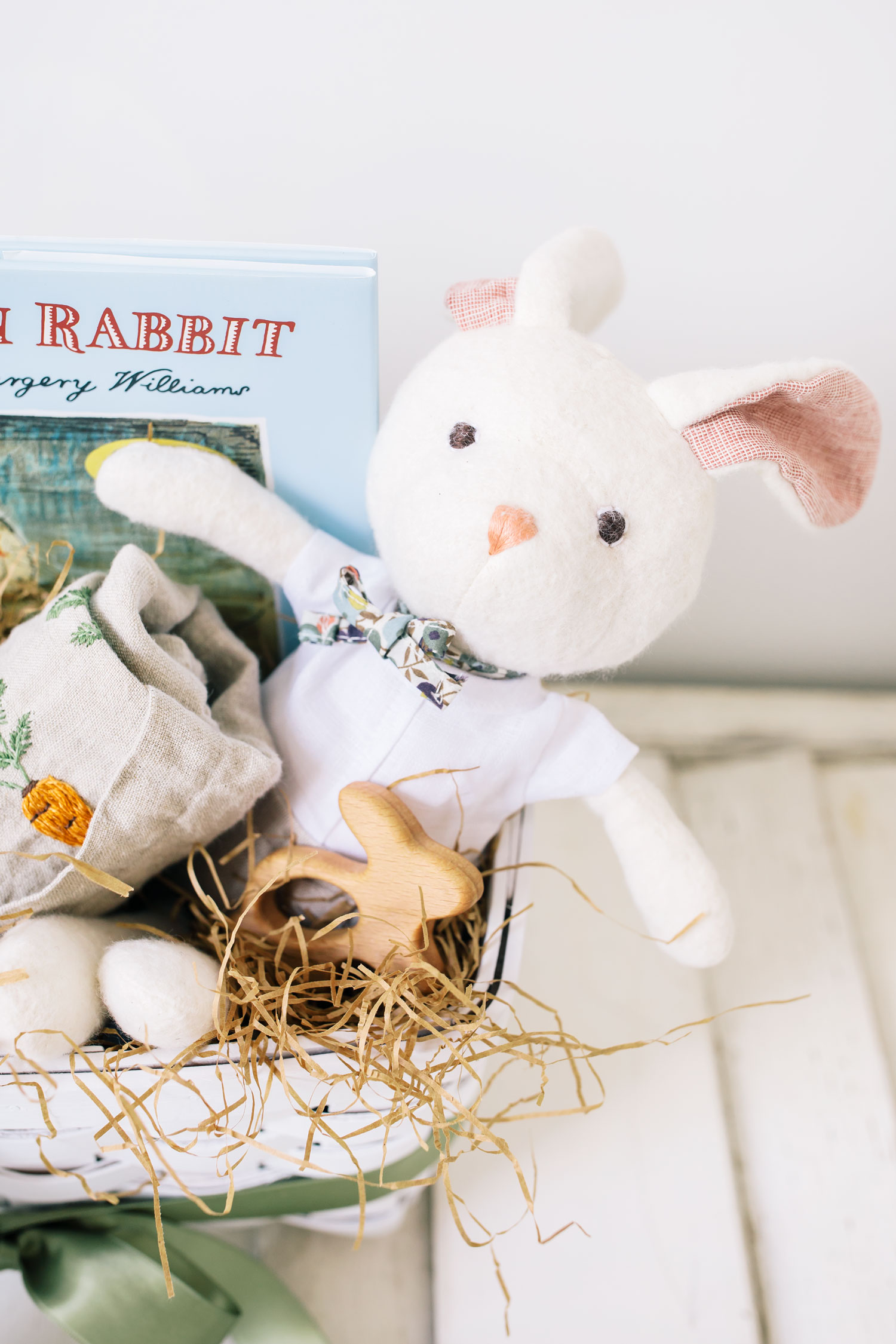 Hazel Village is a Brooklyn based animal toy shop. I fell in love with these little stuffed animals while I was pregnant with Edwin and knew that he'd be getting a Hazel Village bunny for Easter. I chose to do a custom Penelope Bunny and dressed her in the white linen shirt, linen shorts and printed bow tie. Edwin will have this bunny for years to come.

Books are the last thing that I think should be included in every Easter basket and gifted for every occasion for that matter. For Easter, I love the idea of an bunny or Easter themed book like The Velveteen Rabbit or Peter Rabbit.