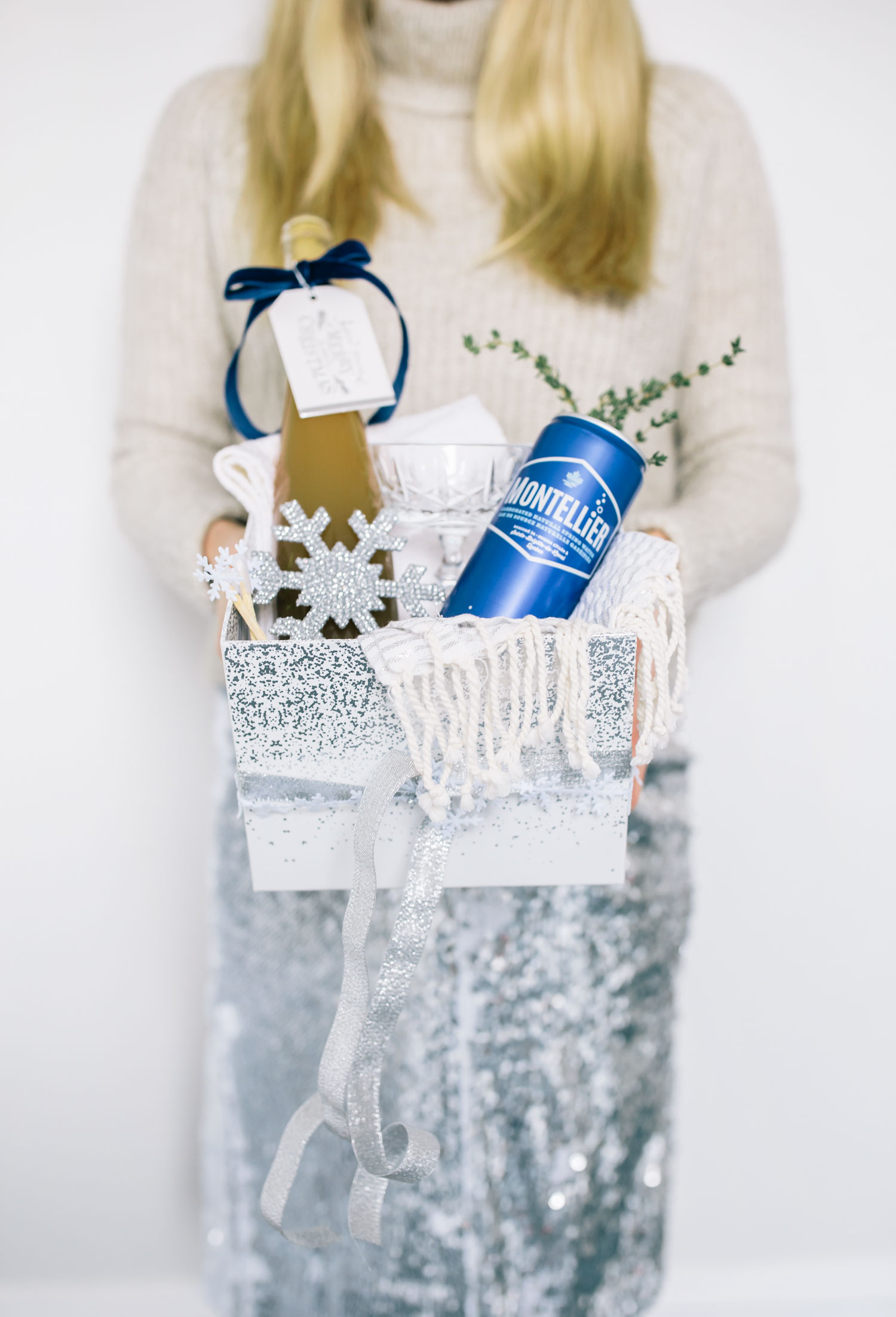 At this point, my love for making gift boxes knows no bounds. When I'm stuck on what to gift year round, I always look to gift boxes as there are so many themes to roll with and endless opportunity to get creative. During the holiday season, where holiday parties are a-plenty, I think elevating that bottle of wine or going a step further with a curated gift box for a hostess gift can really make whomever is hosting the holiday party feel extra appreciated. This year, I was feeling inspired by the bold blue and silver of the Montellier sparkling water can (I drink so much sparking since becoming pregnant) and decided to craft up a mocktail gift box that I am appropriately naming "silver bells". Really, this gift box is a mocktail kit that consists of a homemade lemon-thyme syrup, sparkling water and a few other little goodies to make it feel extra special. Of course, you are also free to add a mini gin or vodka bottle to the box to give it an extra kick…no one is judging here. 😉
What You Will Need:
-lemon thyme simple syrup (recipe below)
-Montellier sparking water can
– Fresh thyme
-Linen napkin or tea towel
-Cocktail glass (mine is a vintage coupe glass found at Value Village for $4!).
-Snowflake ornament or any ornament you choose
-Wooden stir stick + snowflake bauble (I got these items at Michaels)
-Gift box ribbon, gift tags, scissors, hot glue gun (I got the box and ribbon from Home Sense)

To Assemble:
Tie a ribbon and gift tag around the lemon thyme simple syrup. On the gift tag you can write the steps for how to create the mocktail/cocktail. Also tie some ribbon around the gift box.
Add all items to your gift gift box, starting with the tea towel so that it hangs nicely over the box. Add the syrup, sparking water, cocktail glass, ornament, cocktail stirrers, and fresh thyme. You can play with the arrangement until you're happy with how it looks.
Lemon Thyme Simple Syrup:
1 cup water
1 cup sugar
4-6 thyme sprigs
3/4 cup lemon juice
Bring sugar and water to a boil and stir to dissolve sugar. Add thyme, remove from heat and cover. Allow the mixture to sit for at least 2 hours. Add lemon juice and transfer to a glass bottle or jar making sure to seal properly. Keep in fridge until ready to assemble box. Syrup will keep for up to a week.
Cocktail:
Simply add .1 oz of lemon-thyme syrup, 1oz spirit (if having) and top with Montellier sparking water. Enjoy!
Snowflake Cocktail Stirrers:
For these, I simply used wooden stir sticks and snowflake garland/ribbon at Michael's and hot glue gunned a snowflake onto the stir stick.