I was first introduced to Canadian born and made fine leather brand Brave at age 17. I was working at a boutique in Halifax where we sold the brand and I remember fawning over all of the beautiful, handcrafted fine leather belts that were the perfect mix of modern with a boho appeal that I always seem to gear towards. I purchased two of their belts during the time that I worked there, one was for myself and one for my mom. Unfortunately I lost my belt as I tend to do but to this day my mom still wears and loves her Brave belt.Blossom Lounge last year I was reintroduced to the Brave brand and have featured both their bags and belts time and time again (see here, here & here). So when Brave reached out to me and asked if I was interested in becoming their brand ambassador I jumped at the chance. I'm so humbled to be able to share a few of my favourite Brave Leather picks with you over the next 6 months, and I hope that you can fall in as much love with Brave as I have.
My Brave pick for this month is what I consider to be the perfect bag for when I need to tote around an abundance of items or need a roomy bag for an overnight trip. The beautiful handcrafted Sarrow Duffle Bag is crafted from the smoothest Cervo leather that will only get better with age, and its classic design ensures that it will be one of my favourite bags for years to come. I love that I have the option to remove the shoulder strap and carry it by the handles for a more practical day look, which has had me wearing this duffel non-stop.
I can't wait to show you a few of the other Brave pieces I have chosen over the following months and would love to hear your thoughts on Brave Leather and what you think about my first pick! Leave a comment below or tweet me your thoughts.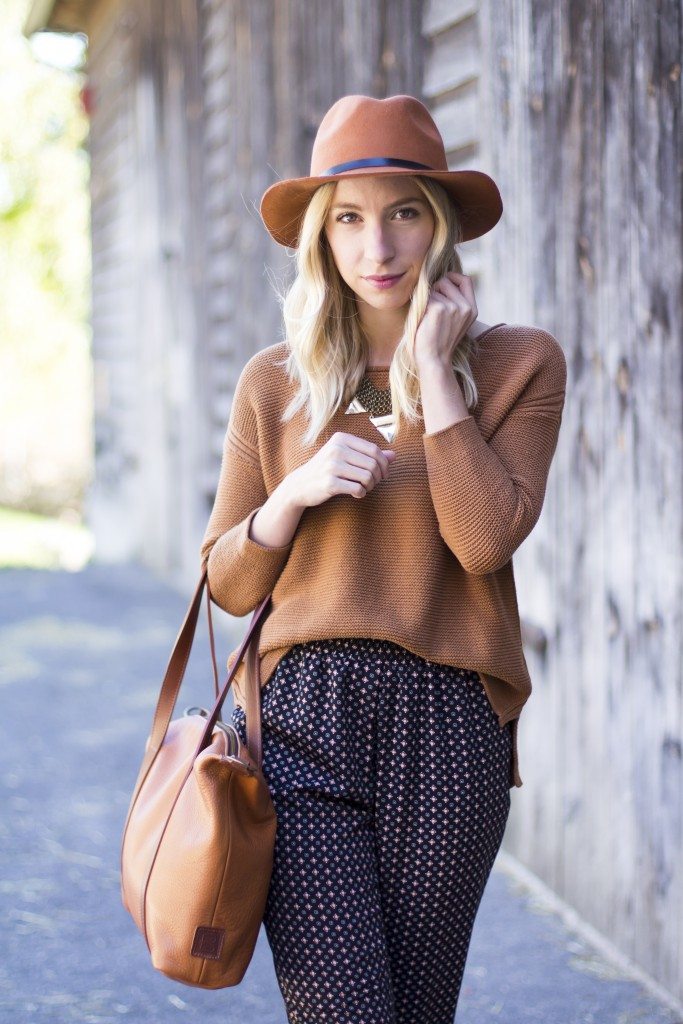 What I'm Wearing: Sweater; Old Navy (here) // Pants; Harper 76 via Blossom Lounge (in store) // Duffle Bag; c/o Brave (here) // Necklace; Jenny Bird (sold out) // Hat; Little Burgundy (similar) // Flats; J Crew Factory (similar)