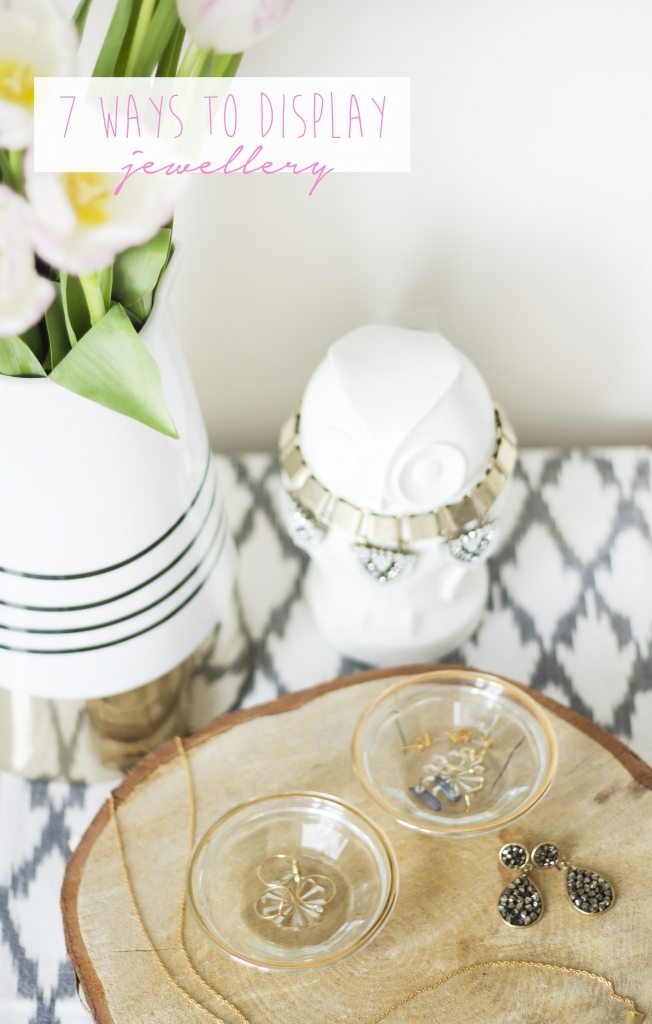 Over the span of my 23 years I have collected quite the collection of jewellery that my boyfriend seems to think is a bit excessive. I just consider it a part of my history. Just like that bag of unmatched socks that Jamie keeps hidden under our bed (don't ask) that Jamie is certain he will use, I too have a collection of jewellery that stays tucked away, that I am convinced I will wear again at some point. For the other pieces of jewellery that I wear on a daily, weekly, monthly basis, I have found many ways to display them over the years that allows the pieces to look both organized and like art in their own right. Here are seven ways in which I display my jewellery at home.
1. Tiny trays "meant" for food: I love these little white trays that I have found at places like Crate and Barrel and PC Home. although normally meant for things like sauces, or laying chop sticks on, I found always found them to work even better for my more delicate pieces.
2. Little vintage catchalls: I found these gold-rimmed dishes at Biltmore Domicile in the Distillery District and think that they were meant for something other than jewellery. Little vintage trays and dishes make the perfect catchall for delicate jewels as well, and they look like art in their own right.
3. Bust forms and Statues: I love the look of bust forms decked out in the latest statement necklace. This owl is actually a book end from Chapters that I felt needed a little extra bling.
4. Deer Antlers: Having grown up with a grandfather who slept with a deer hear above his bed, I have always loved the look of taxidermy. I find using deer antlers the perfect choice for hanging bracelets. Not into the real thing? There are lots of faux antlers and stag heads out there!
5. Pretty Plates: I love this gilded plate for my most delicate of necklaces. I find myself grabbing these necklaces often, so I keep this place full of them on my end table, making them super convenient to grab in the mornings.
6. Tea Cups: Tea cups are great for those pieces that you wear, but don't want out on full display. A pretty tea cup both conceals the jewellery but still makes it easy to get to when you want to wear something.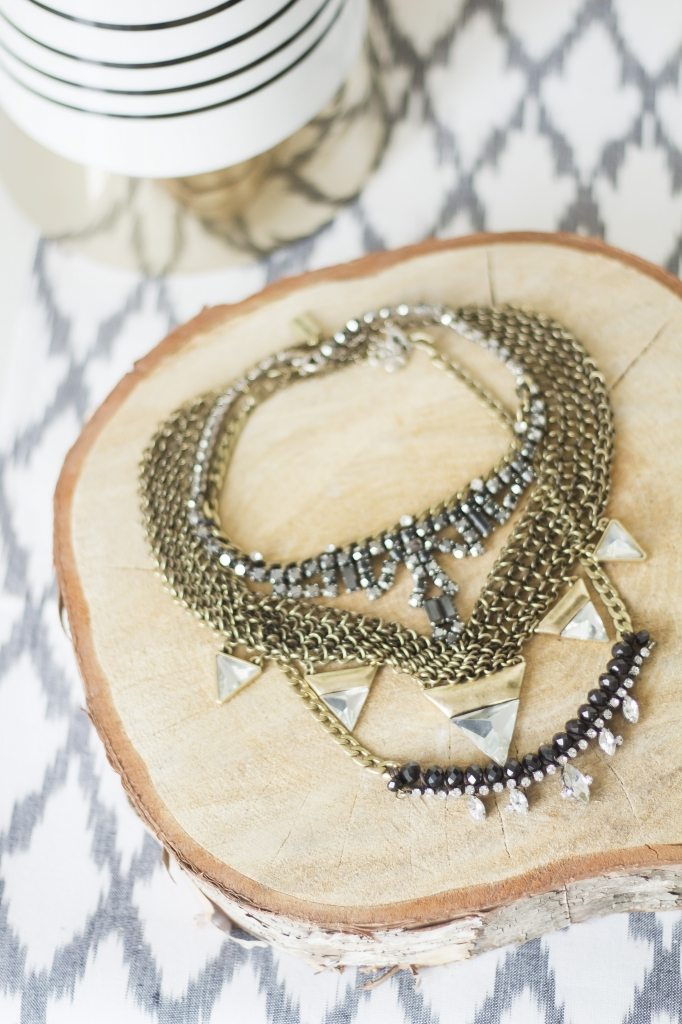 7. Wooden Stumps: I learned this trick this summer at Blossom Lounge. We have a ton of these wooden stumps at Blossom that we use for displaying products. I love them for showing off my statement jewellery just as much.