After the collaboration I did with Merry Mag a few weeks back about holiday dressing, (playing hostess, meeting your boyfriends parents, a work party, and a formal event), I wanted to give you some more ideas for the last few holiday events that are just around the corner. From that last minute secret santa party with your girlfriends, to what to wear to a Christmas Eve and New Years Eve party, Blossom Lounge and I have got you covered with some great outfit ideas!
Secret Santa parties are meant to be fun and casual, but that doesn't mean you have to show up in sweats. This top and pant combo by Bardot looks like a jumpsuit, but gives you the option of wearing them separately on other occasions. The fabric is almost as comfy as sweats, so sacrificing comfort won't be a problem. Add a bit more holiday cheer into your outfit with this gorgeous burgundy quilted bag by Rebecca Minkoff, and this tri-coloured collar by Jenny Bird. And don't forget your Nobis parka for the way over to the party, it's chilly outside!
What could be a better time than the night before Christmas to wear a lacy red dress? This gorgeous Free People number is body conscious yet stretchy so you can still feel free to indulge in all of the holiday party apps. The hem on this dress is also so unique with its high-low appearance. Let this dress be the star and pair it with dainty gold accessories by Gorjana, and this beautiful wool coat by Soia & Kyo.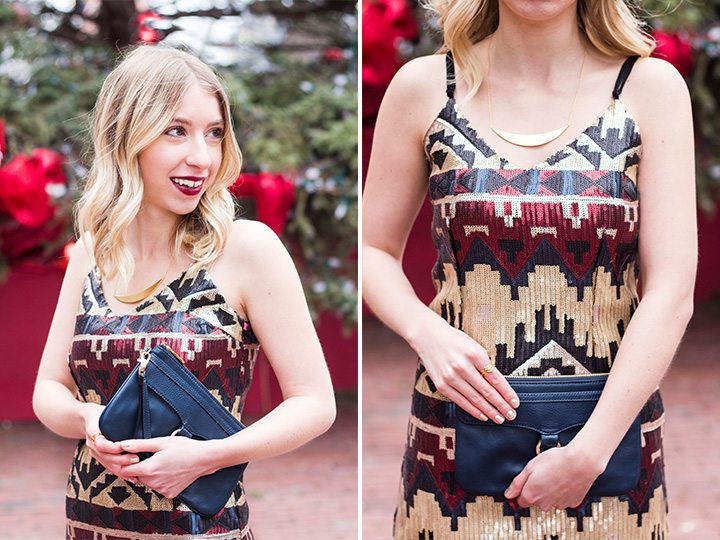 New Years Eve is the night to go over the top with your outfit. I am loving this Gentle Fawn dress for just that. It's print is Aztec inspired and done in the most festive colors and sequin material. This dress is an eye catcher in itself, so a minimal clutch like this navy Rebecca Minkoff, and a sleek gold necklace by Gorjana are the perfect accessories for a New Years Eve on the town.