Because it's Monday. That's why.
Mondays call for a stiff cup of coffee in the morning and possibly martini with three olives to cap off the night. But chocolate chip cookies…they're in order no matter what time of the day.
Last Friday was the official chocolate chip day of the year. But since my sugar rolodex was on hiatus, I missed it. Ironically, I had this chocolate chip cookie ready to rock and roll for today.
I may be a day or two late, but this cookie is FAR from a dollar short. Make that a chocolate chip short. Hardly. Because this baby is PACKED with chips. In fact, the amount of dough pretty much comes secondary to the number of chips, making for a soft, chewy extra rich cookie with crispy edges. All I did was add a sprinkle of flaky salt and I have a new favorite.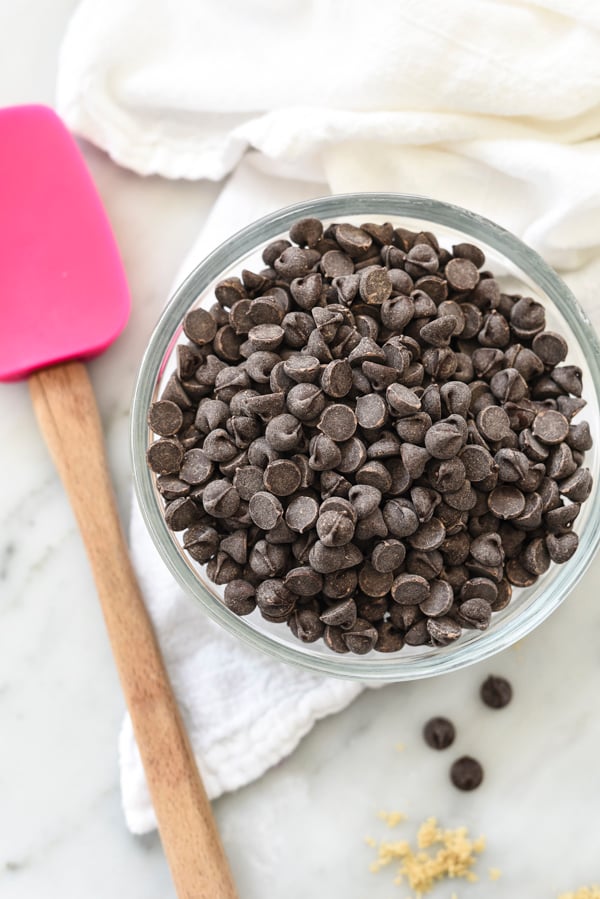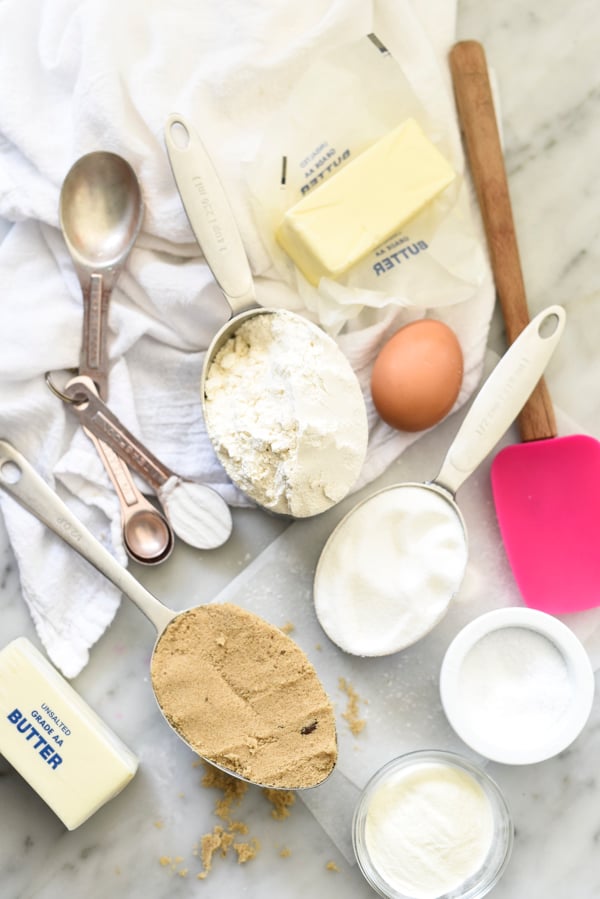 The chocolate chip cookie can be a point of dissension. Everyone has their favorite: their grandmother's recipe or that one they used to buy in the mall, and let's not ignore the recipe cited as the best from the NY Times. But come on NY Times, when I'm craving a cookie I can't wait 36 hours to rest in the fridge. I need my fix before my conscience comes to its calorie counting senses.
While I have my family favorite Oatmeal Chocolate Chip Cookie, I'm happy to preheat my oven to try one more. Some stack up, and some don't. This one though, it's a keeper.
It comes from Milk Bar Life: Recipes and Stories by Christina Tosi of Momofuku fame. While at the library and leafing through the cookbook, I was immediately drawn to Tosi's headnote that states, "this cookie is great because you can make it by hand in one bowl, with a wooden spoon, just like the old gals used to do."
One bowl? No mixer? It truly is as easy as that and the cookie dough is ready to bake in just about 10 minutes flat.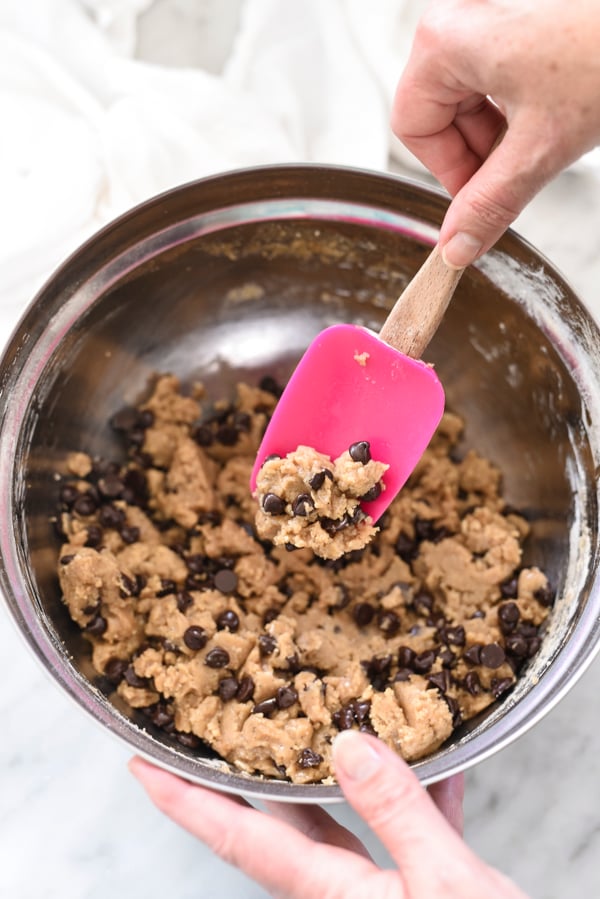 About the recipe
As I mentioned above, this chocolate chip cookie recipe is packed with chips that nearly overtake the batter. The result is a soft and chewy cookie with rich, chocolate flavor. I used semi-sweet chips but dark chocolate chips or even chunks would be just as decadent. I use a #24 round squeeze handle scoop to divvy out my cookies to the sheet.
The butter is melted first then mixed by hand into the sugars. You'll mix it for a good minute or two, and as Tosi suggests, flex your muscles when mixing to result in a glossy sheen after adding the egg and vanilla.
The surprising ingredient in this recipe is powdered nonfat milk. If you don't use powdered milk often (I know I don't) Carnation offers it in a small packet that tucks easily into your pantry or drawer. Although, now that my family has been requesting these cookies more and more, I may as well invest in the big box. 

I didn't stray from Tosi's recipe but did add a sprinkle of flaked salt to the tops of each cookie, highlighting the chocolate flavor even more. If that is even possible.
I did experiment with this recipe and used browned butter instead of the called for plain melted. But as the butter browned, it also lost moisture and when added to the mix, rendered a dryer batter and hence, a dryer cookie. It was not the delicious result I'd had the first few times I'd made the recipe. I'll continue the tweaking and see if I can come up with a solution to share another time. Until then, I'm content to stay just where we are with this one for now.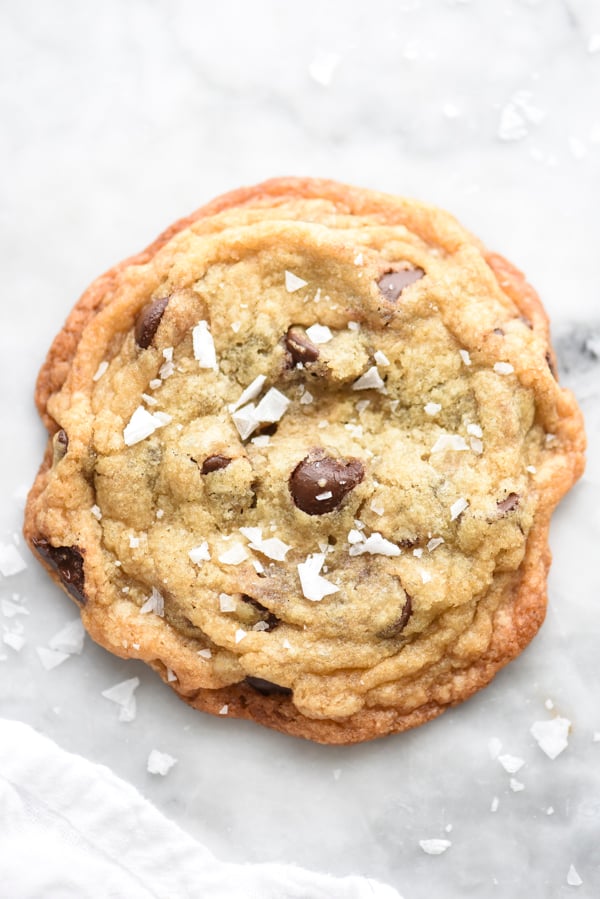 If you make this recipe, please let me know! Leave a comment below or take a photo and tag me on Instagram or Twitter with #foodiecrusheats.  

Milk Bar's Salted Chocolate Chip Cookies
This is the fastest, homemade chocolate chip cookie I've ever made and comes together in just one bowl, no mixer required. It's a soft and chewy cookie with crispy edges from Milk Bar Life: Recipes and Stories by Christina Tossi.
Ingredients
½ pound (2 sticks) unsalted butter, melted and just warm to the touch
¾ cup packed light brown sugar
½ cup granulated sugar
1 egg
2 teaspoons vanilla extract
1 ¾ cups all-purpose flour
2 tablespoons nonfat milk powder
1 ¼ teaspoons kosher salt
½ teaspoon baking powder
¼ teaspoon baking soda
12 ounces semisweet chocolate chips or chocolate chunks
¼ cup flaked salt
Instructions
Preheat the oven to 375 degrees F.
With a wooden spoon, mix the sugars together in a large bowl and add the melted butter. Stir vigorously for about a minute or more. Mix the egg and vanilla in the measuring cup you used for the sugar and add to the mixture. Stir until the mix gathers a glossy sheen, about one more minute.
Mix in the flour, milk powder, salt, baking powder, and baking soda until just combined. Stir in the chocolate chips and mix until evenly distributed.
Use a #24 squeeze handle scoop to portion the dough (or lightly form into balls about the size of a golf ball) and place on a baking tray lined with parchment paper about 2 to 3 inches apart. Bake for 9-11 minutes or until golden brown around the edges but still soft in the middle. The cookies will fall as they cool. Transfer to a cooling rack to cool completely.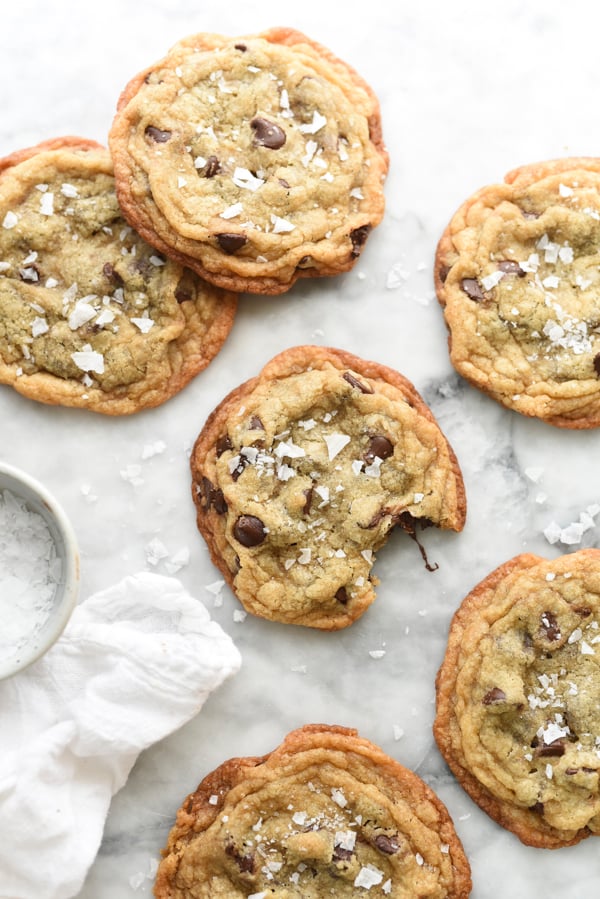 Happy baking!

As always, thank you for reading and for supporting companies I partner with, which allows me to create more unique content and recipes for you. All opinions are always my own.  
Are you following me on Instagram,  Twitter,  Facebook  and  Pinterest? 
Thanks for reading and subscribe to FoodieCrush to have each post delivered straight to your e-mail box.