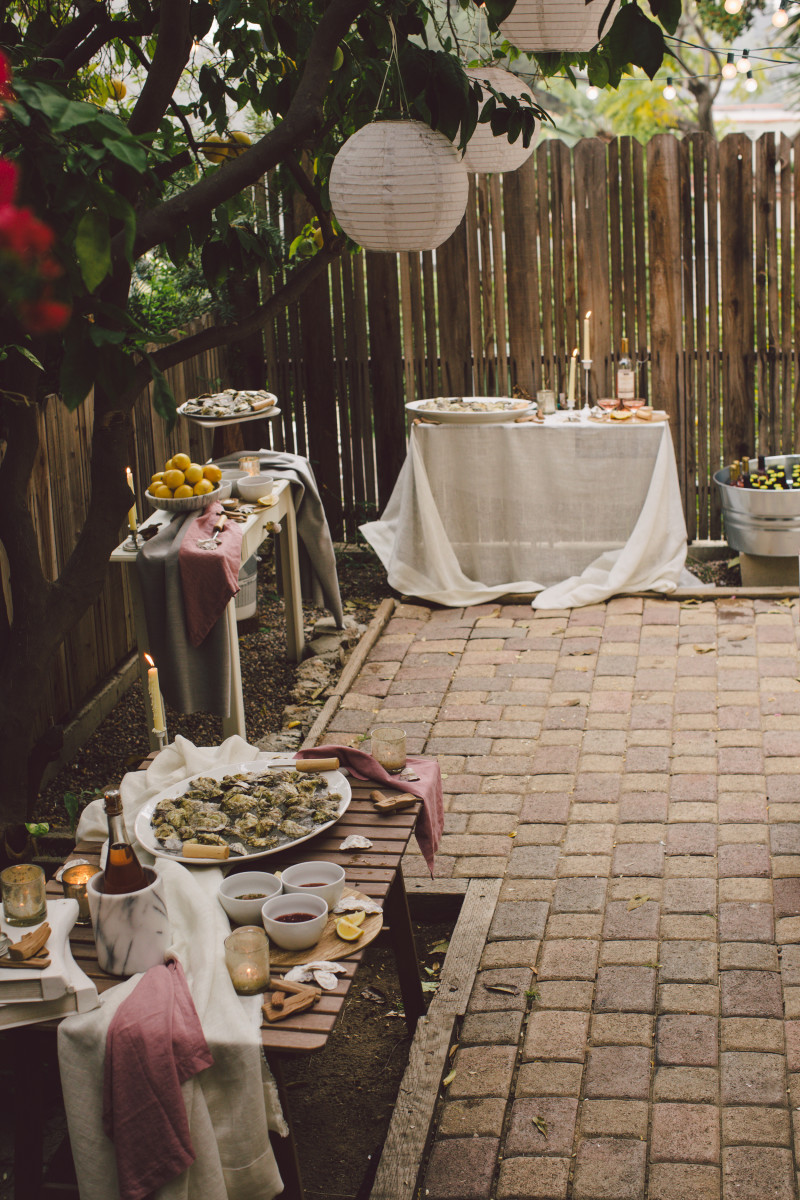 When we were putting together the holiday gift guides in early December, I encountered about a million things I had to have, but stopped short when I came across Island Creek Oyster Co. (which you may recognize from our Foodie Gift Guide!). They're an east coast oyster company that ships bags in bulk, overnight across the country. Within minutes of visiting their website (and without really thinking), I had drafted up and sent an invitation for an "Oyster and Rosé Party" to nearly every person I know. I started panicking when ten, and then twenty, and then thirty people RSVP'd "Yes!" Thankfully, one of my closest friends in L.A., Alice Ann, owns and operates The Darling Event–a party-planning company that hosts stunning affairs (seriously, just look at the beautiful stuff they do), with her best friend Caroline, so I tapped her for everything I didn't know myself. 
Before I knew it, she was sending me texts like (and these are direct quotes), "I'm thinking driftwood for table depth, scattered around," and "Let's use oyster shells for salt and pepper cellars and sauces!" What started as a spontaneous idea—and a rough plan to put some beers and oysters out and hope for the best—evolved into one of the most beautiful and enjoyable parties I've ever attended, let alone thrown. What struck me was how doable and affordable it all was, so I wanted to bring you the things I learned so you can create a similar party–without needing to know an event planner.
Here are the tips I learned on throwing a budget party worthy of a magazine spread: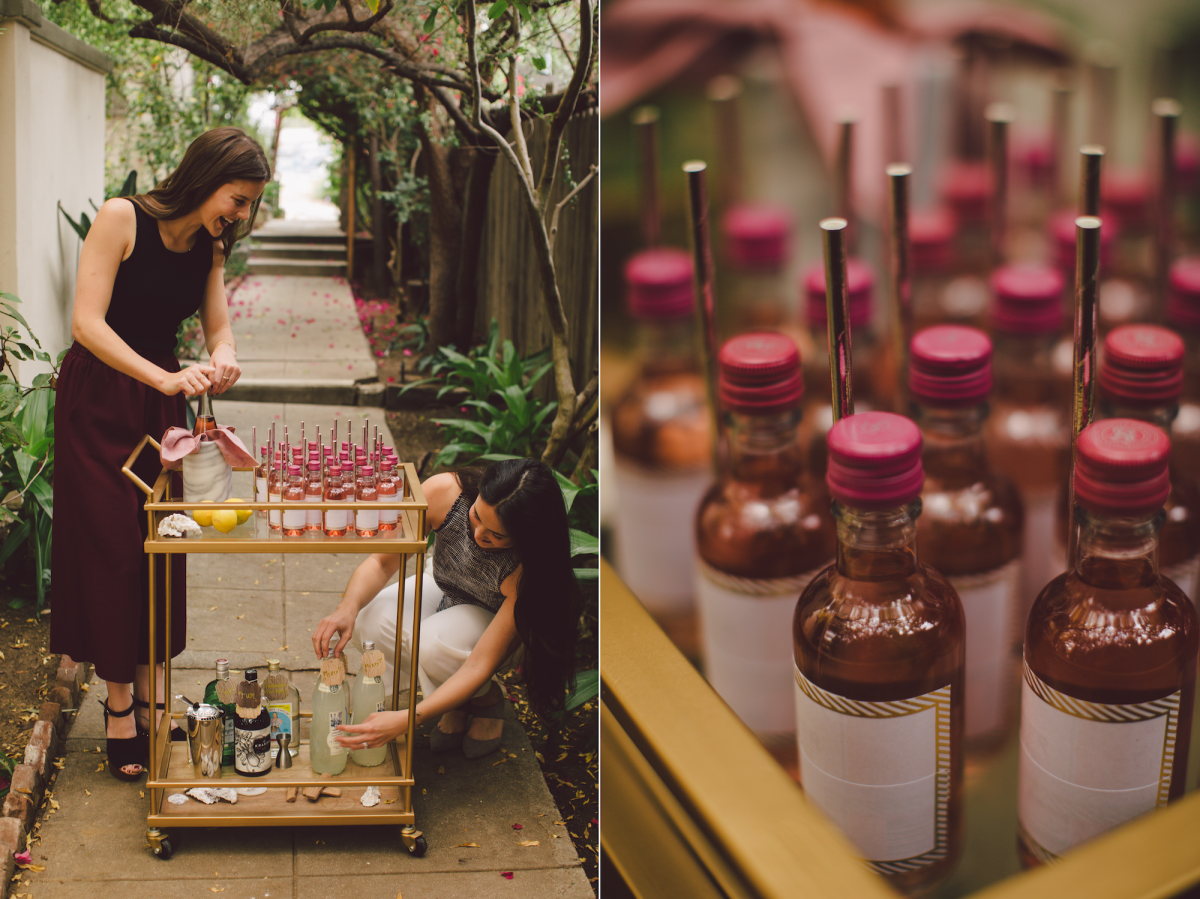 As soon as I landed on rosé as the primary drink, Alice Ann had the idea for individual rosé bottles to hand to guests as soon as they arrived. We wanted something cute and elevated, but most of the nicer options were also pricey ($3 to $5 per bottle, which winds up being around $120 for 30 bottles). In the end, we purchased 30 mini bottles of Sutter Home at $1 per bottle, a packet of straws, and some stickers to dress them up. We invited guests to write their names on the bottles, which gave the stickers an actual purpose (aside from covering up the label) and served as a cute introduction to the party.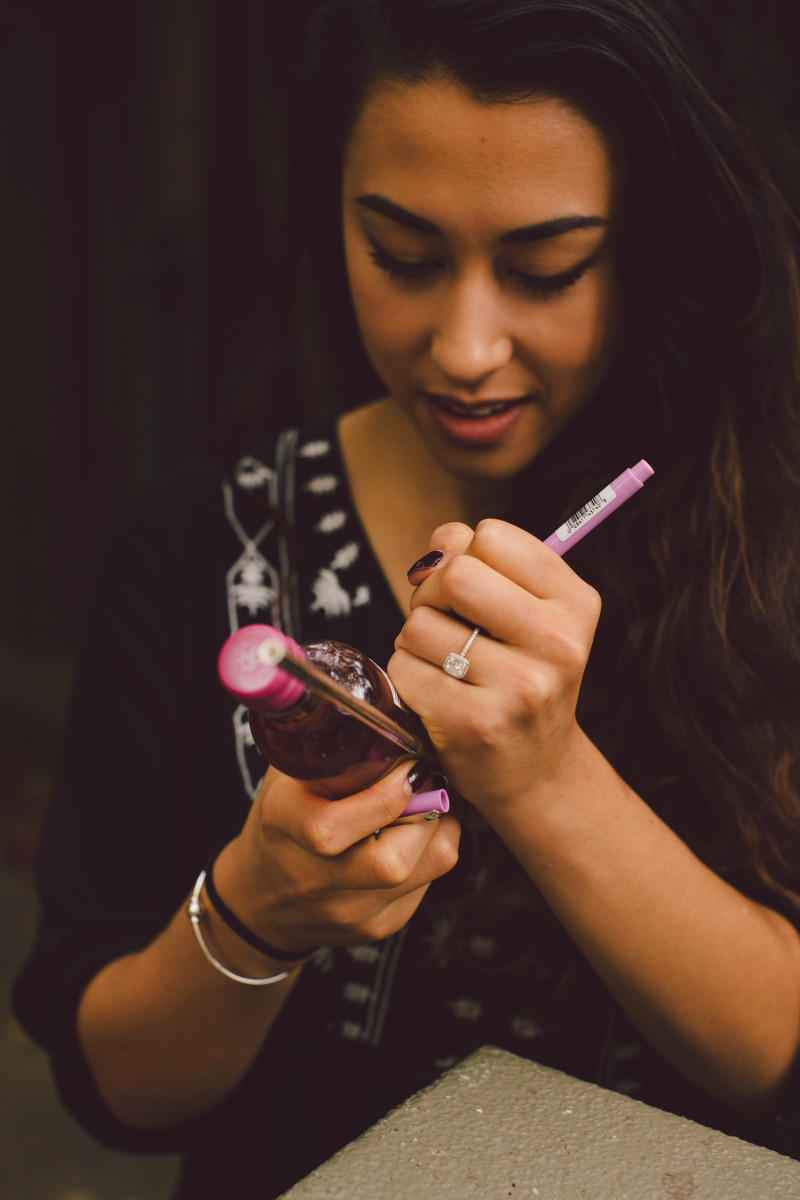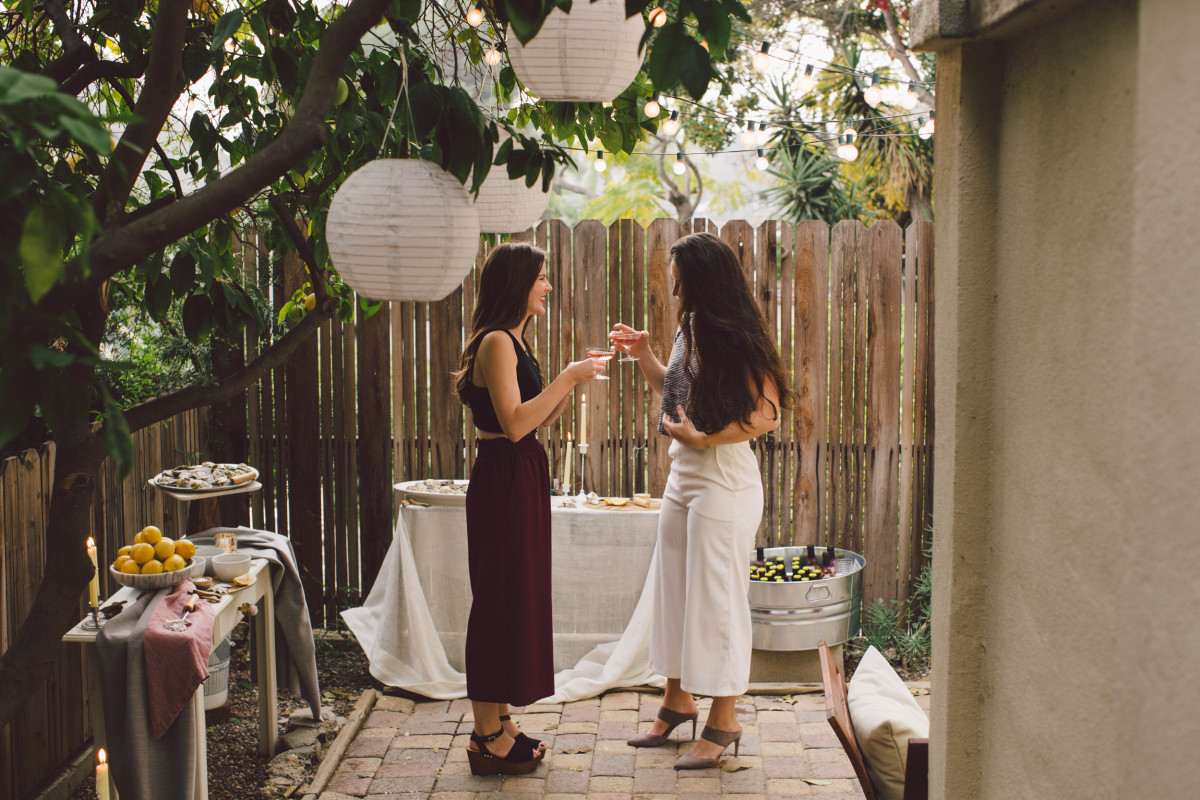 Many people assume that if you're hosting a party for a ton of people, you have to rent furniture. Instead, make it a "mostly standing party" (by not throwing it at dinner time) and utilize the random tables around your house. The white table in the photo above? Alice Ann's vanity. The table people shucked oysters over? My dining table.
By the way, don't head to a high-end retailer for linens! Alice Ann got ours for next to nothing from a scraps bin in the fashion district, and they instantly made our mish-mash of orphan tables look cohesive and intentional.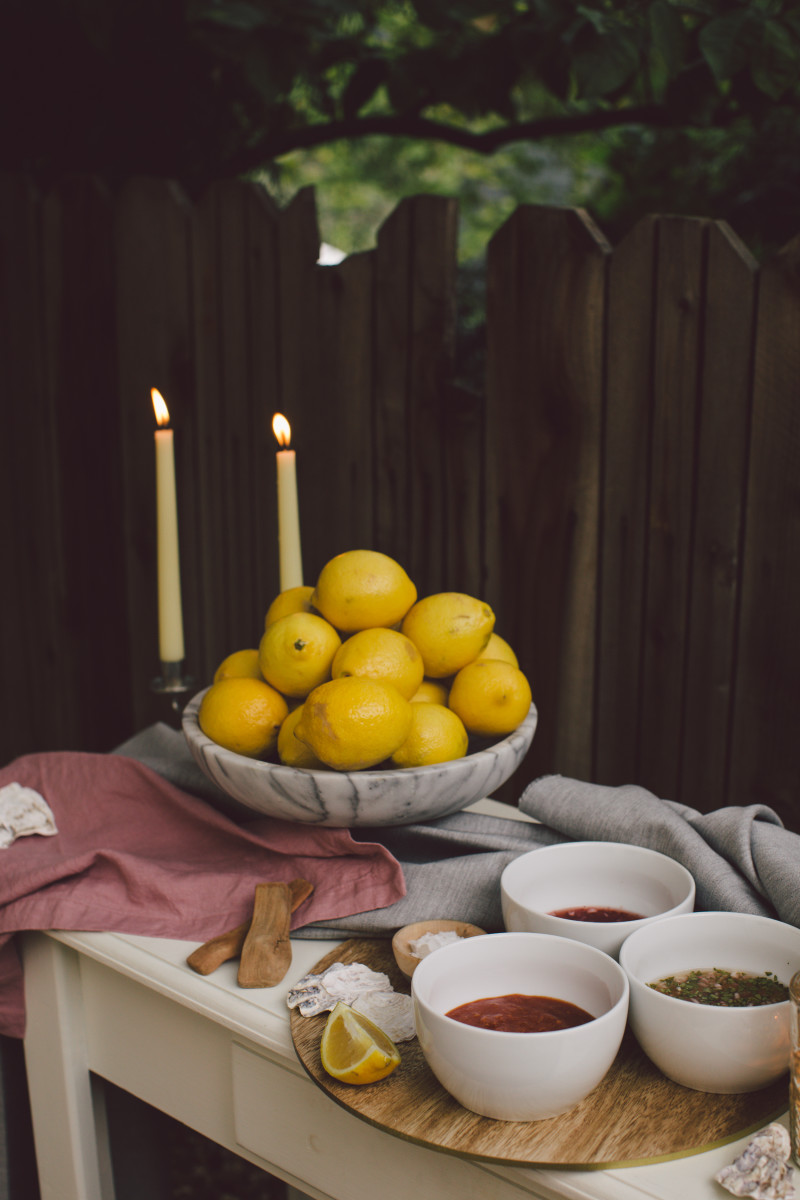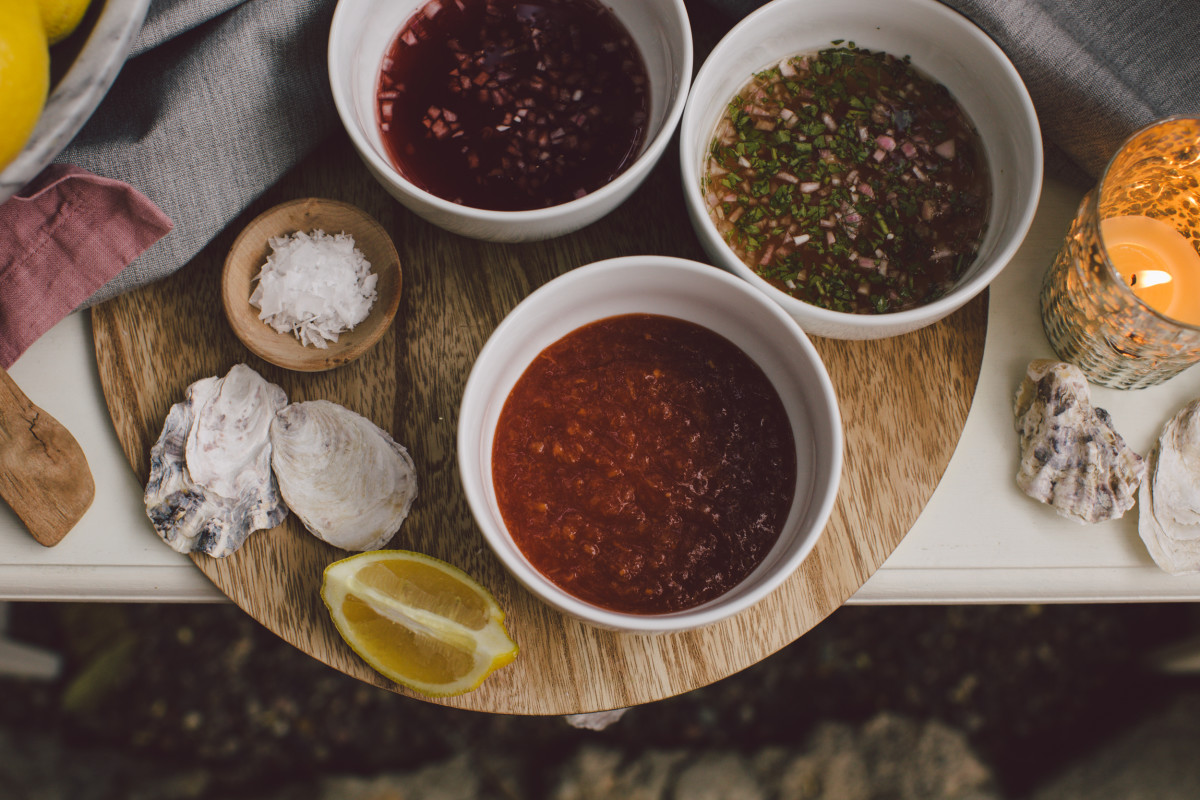 There are discounts all over the place—as long as you look for them (does anyone else remember the "good guy discount" episode of This American Life?). If you're ordering anything in bulk online, email them to ask if you can have a discount. Wait to buy any serveware until there's a sale (we bought most of our serveware from Cost Plus World Market with a 30% coupon!). Go to wholesalers, like flower markets, fashion districts, and Costco whenever possible. Alice Ann adds, "Thrift stores are a great place for finding things like silver candle holders, crates, and cake stands for elevating details and serveware."
 
One of the more brilliant ideas she had—in my opinion—was going to a seafood shop in Santa Monica and asking them for their discarded oyster shells. They offered their trash to us happily, and we brought them home and let the shells sit in a mixture of bleach and water for a few hours, then scrubbed them to turn them into salt cellars and decorative objects. "Retailers throw out a lot of surplus items," she says, "it never hurts to ask."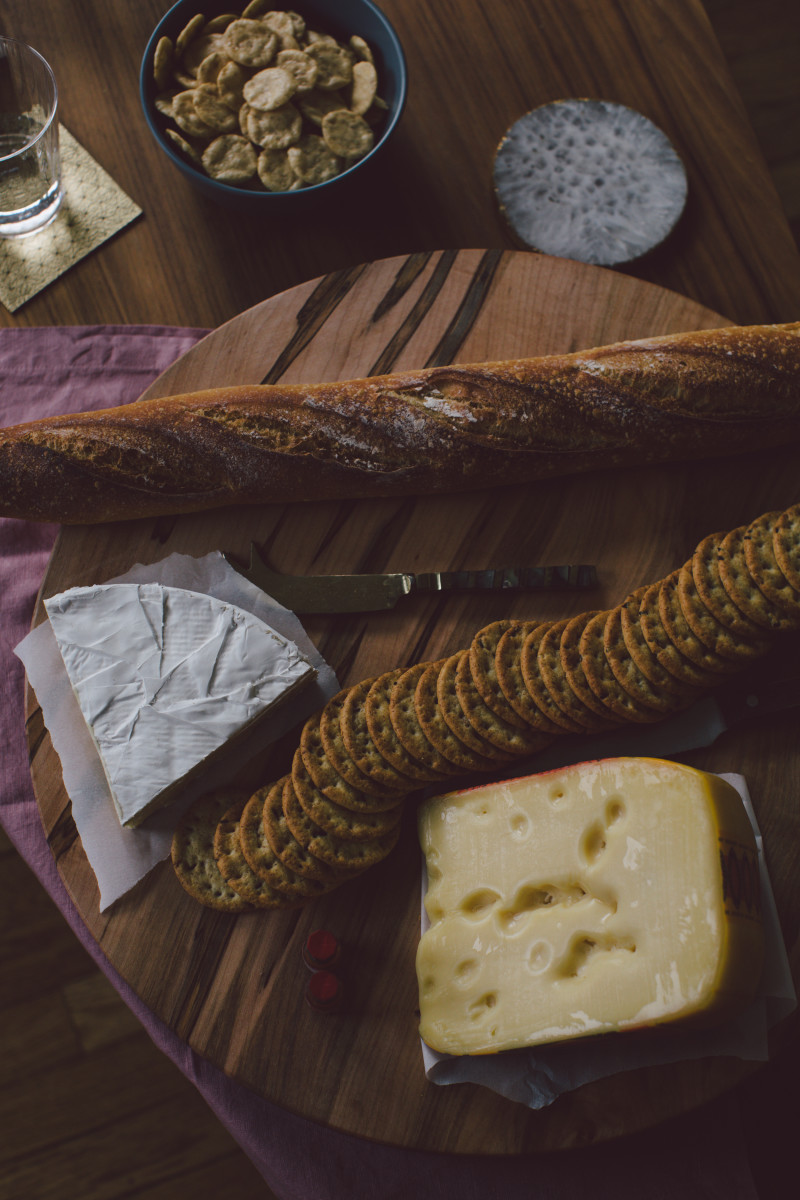 Like just about anyone who's ever been to Costco: I wanted to buy every snack, serving piece, and cocktail mix I saw, but Alice Ann encouraged me to stick with our limited list for additional snacks and drinks (cheese and crackers, hummus, and one case of beer for non-wine drinkers). In her own words, "Simple elegance goes a long way with the right key details." Choose what you're doing and stick with it—if you have wine, cheese and crackers, and oysters, you don't need to keep adding to that to make it "nicer." Our cheese trays looked beautiful placed strategically around my house and patio, and were more than enough.

I rarely buy cut flowers, but they're one of my favorite things to splurge on when I have guests over since they make my home look so much more beautiful. On a limited party budget though, Alice Ann suggested we skip them. Instead, we purchased boxes of on-sale driftwood from Target and a bag of lemons, and relied on linens and our own candles as decoration. Alice Ann's advice is to, "Choose a few keys mediums and stick to them to create a mood (i.e., wood, marble, and oyster shells, as we did). Less is more."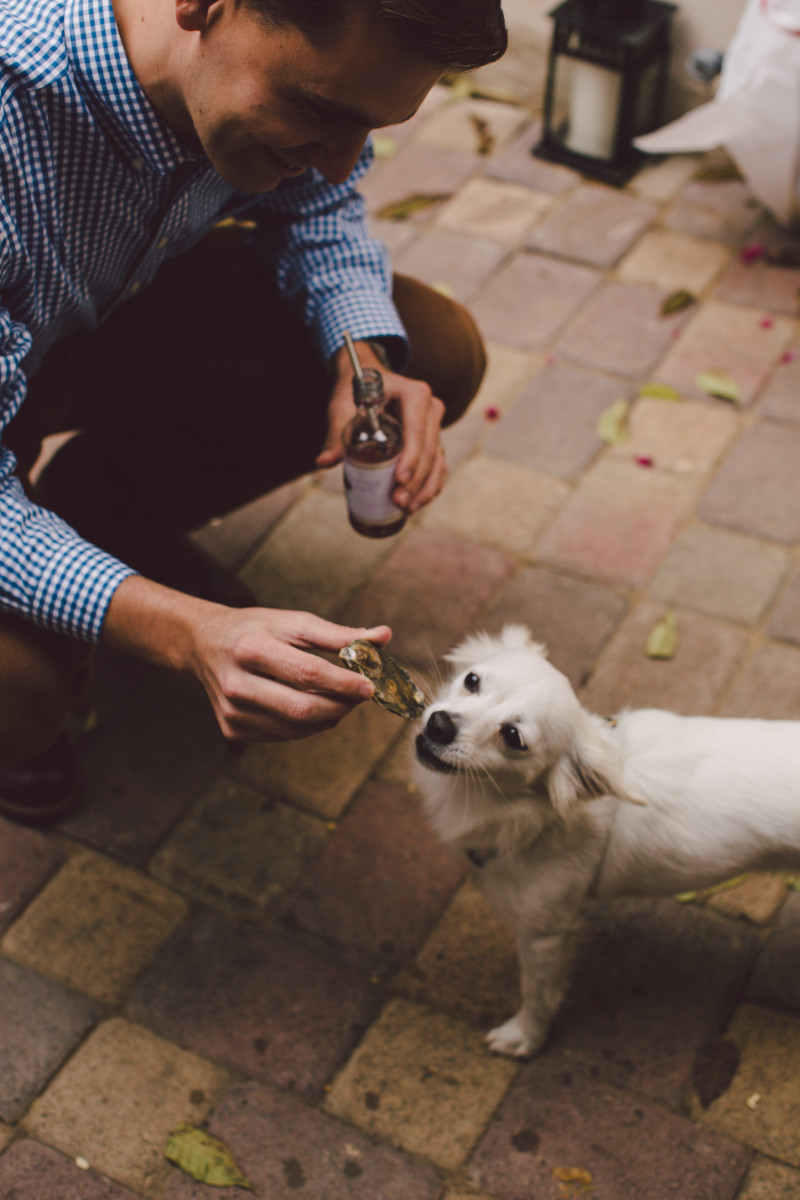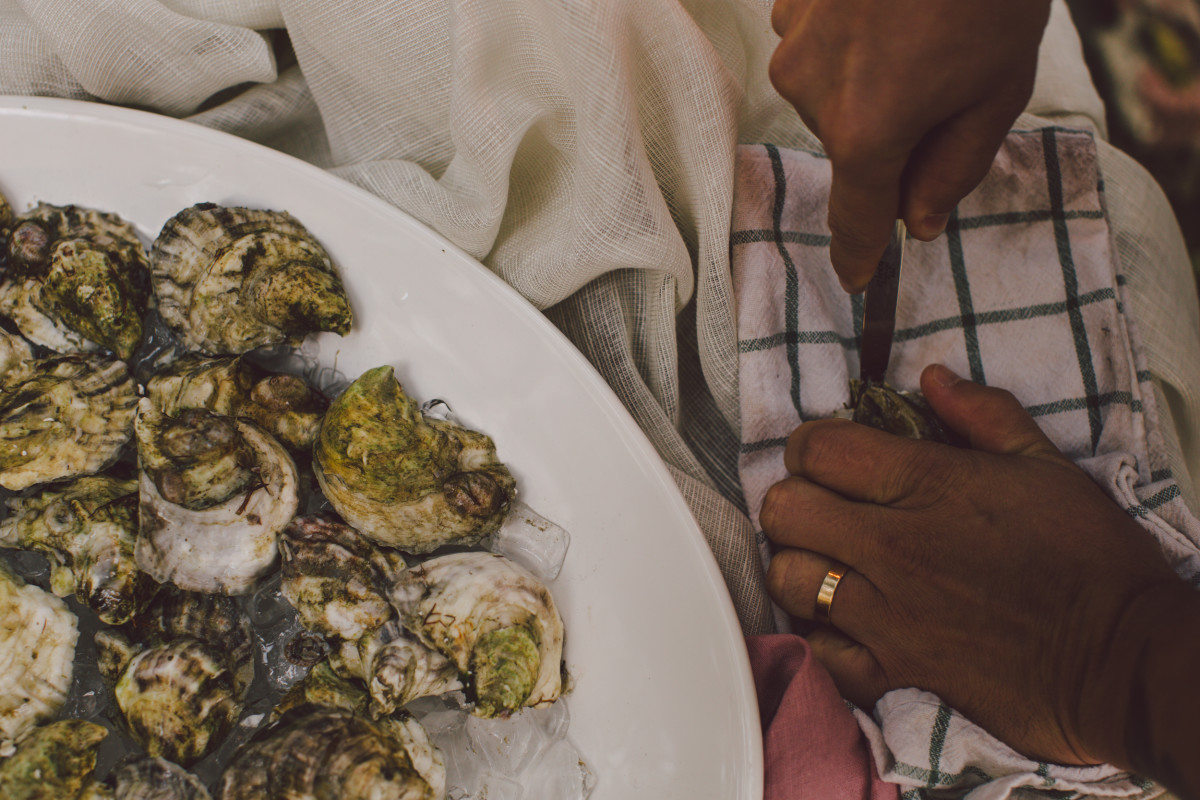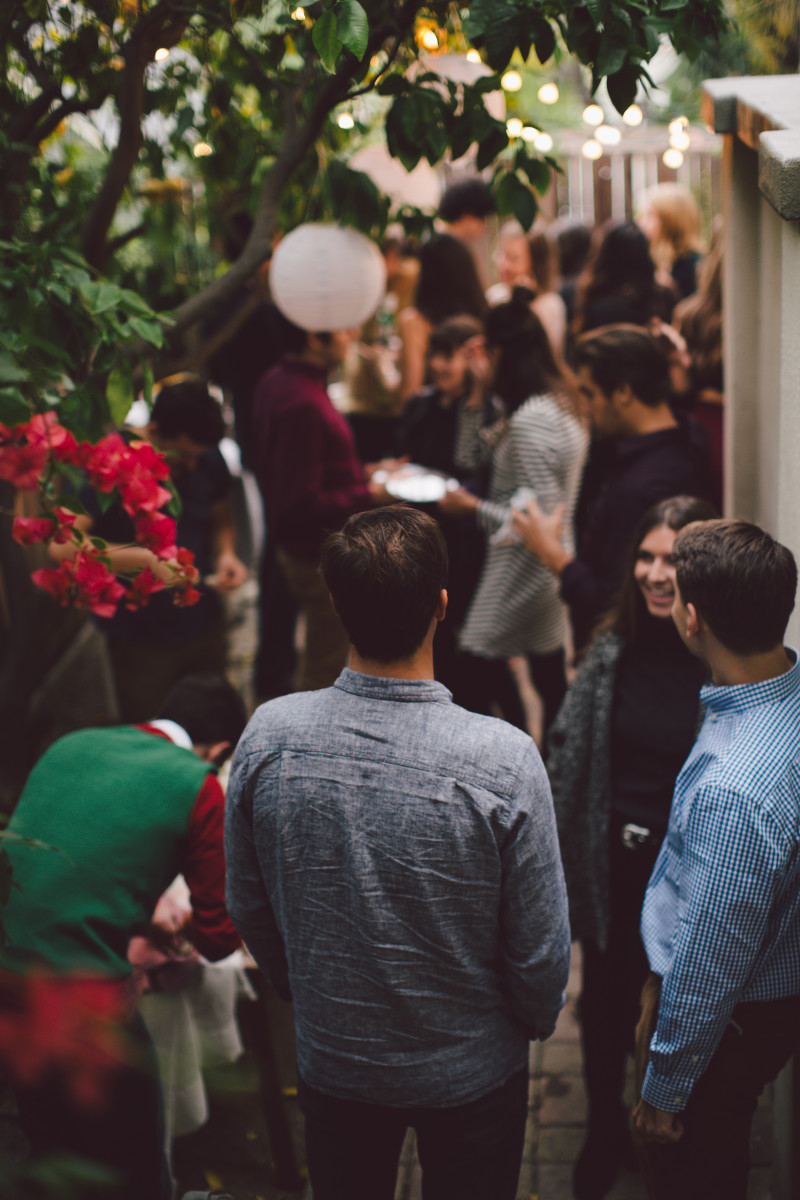 Almost as soon as I decided to throw an oyster party, I realized I couldn't afford an oyster party. I wanted to be able to provide roughly ten oysters per guest, so I decided to purchase 300 oysters which—even at bulk prices—came to $450 for three bags of 100 oysters (at $150 a piece), including shipping. And that was before food and wine costs. To help absorb the cost and be able to throw the party, I suggested on the invitation that each guest Venmo me $15 just to cover the cost of the oysters (which you can see on the original invite below!). It initially felt weird charging my friends money for a party I was throwing, but I found that my friends were happy to pay—all things considered, $15 for ten oysters, plus food, wine, and a place to enjoy it all is pretty affordable for Saturday evening plans. As Alice Ann put it, "Don't be afraid to charge friends for the food, especially if it's going to elevate the experience to have them contribute!"
Just be sure to be up front and transparent about it. It was explained on the invite, and as soon as I received RSVPs, I sent out a Venmo charge to the person RSVPing with the text, "Hi! I'm Venmoing everyone now for the oyster and rosé party since I'll be ordering the oysters this week! As I mentioned on the invite, it's $15 per person since oysters are pricey! But don't worry, Jonah and I are handling the rosé :)"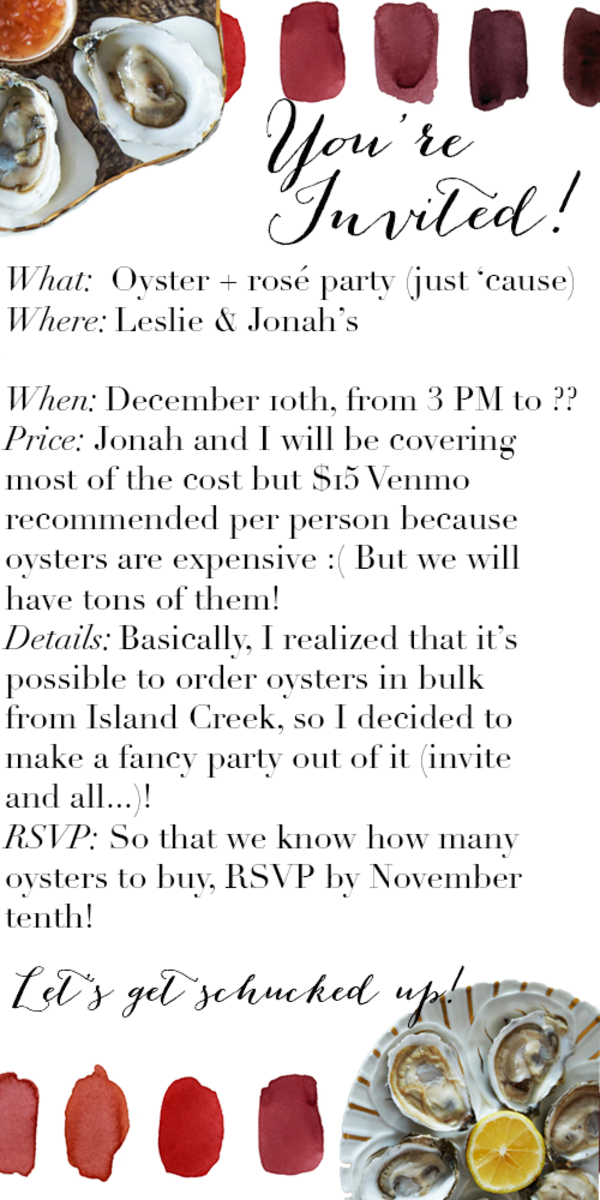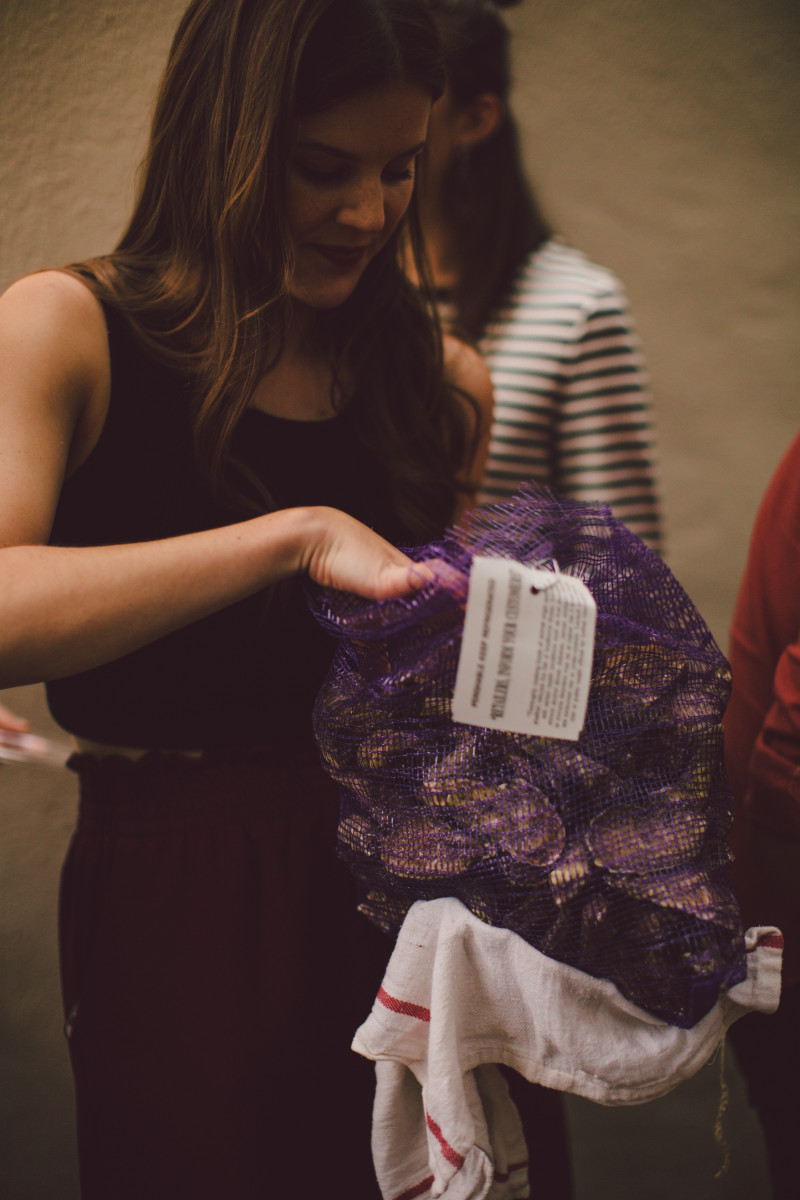 Unless you're throwing a baby shower or a wedding party, invitations are usually over-kill, but they help set the tone of the party. I quickly drafted my invitation in Photoshop, but you could just as easily make one in a word doc, then save it as a PDF or image to add to the email. It felt a little more classy than a casual text. As a bonus, having everyone's RSVPs over email, rather then in 30 different text chains, helped me keep track of them all! 

The more co-hosts you have, the more people there are to share the burden of the cost with you. Alice Ann and I were able to split the cost of the decorations, while my boyfriend and I split the cost of food. Dividing everything by 50% helps enormously—especially when you have 30 mini-bottles of rosé at the top of your list. If you can enlist a roommate, significant other, or friend, do!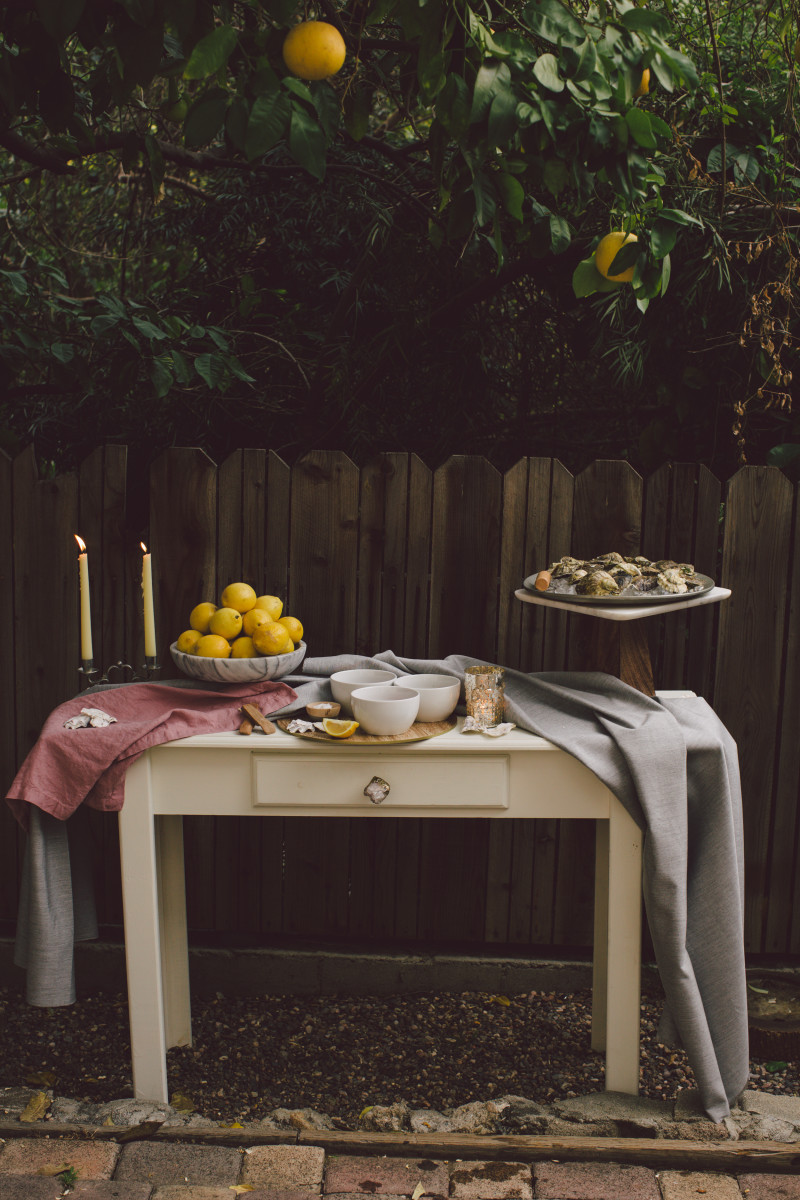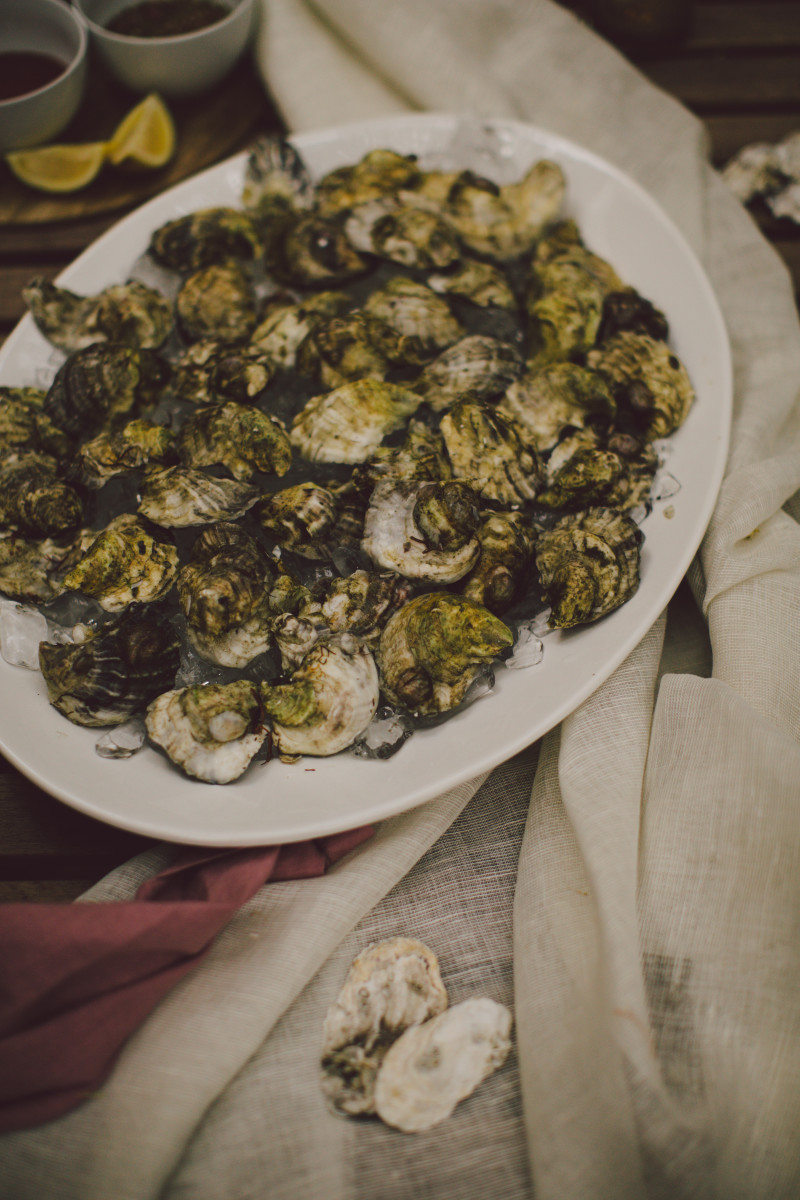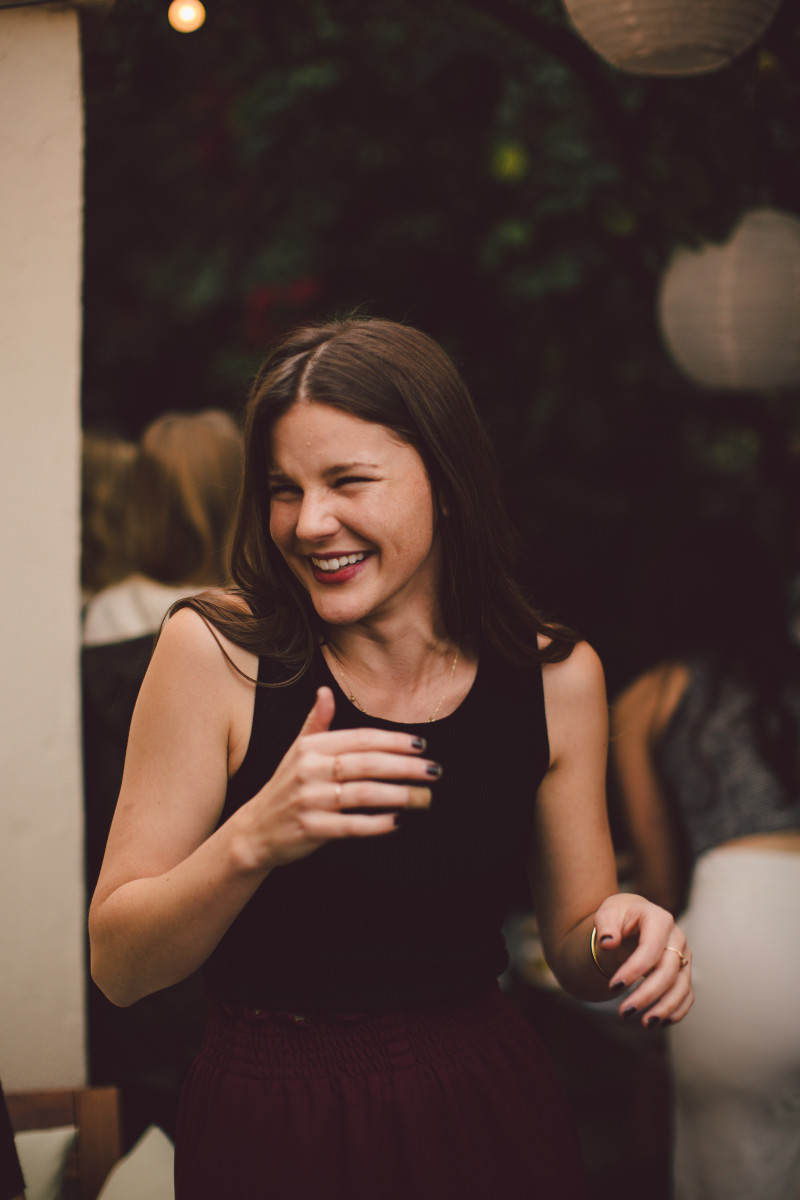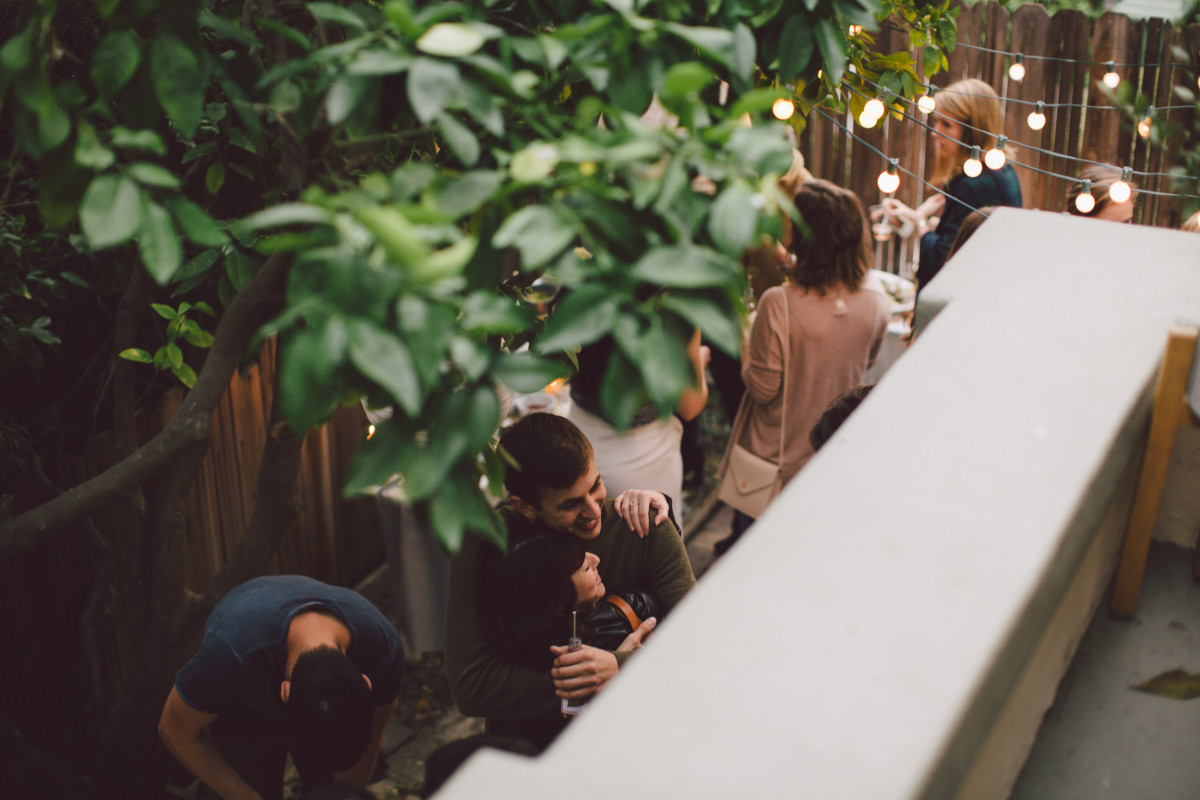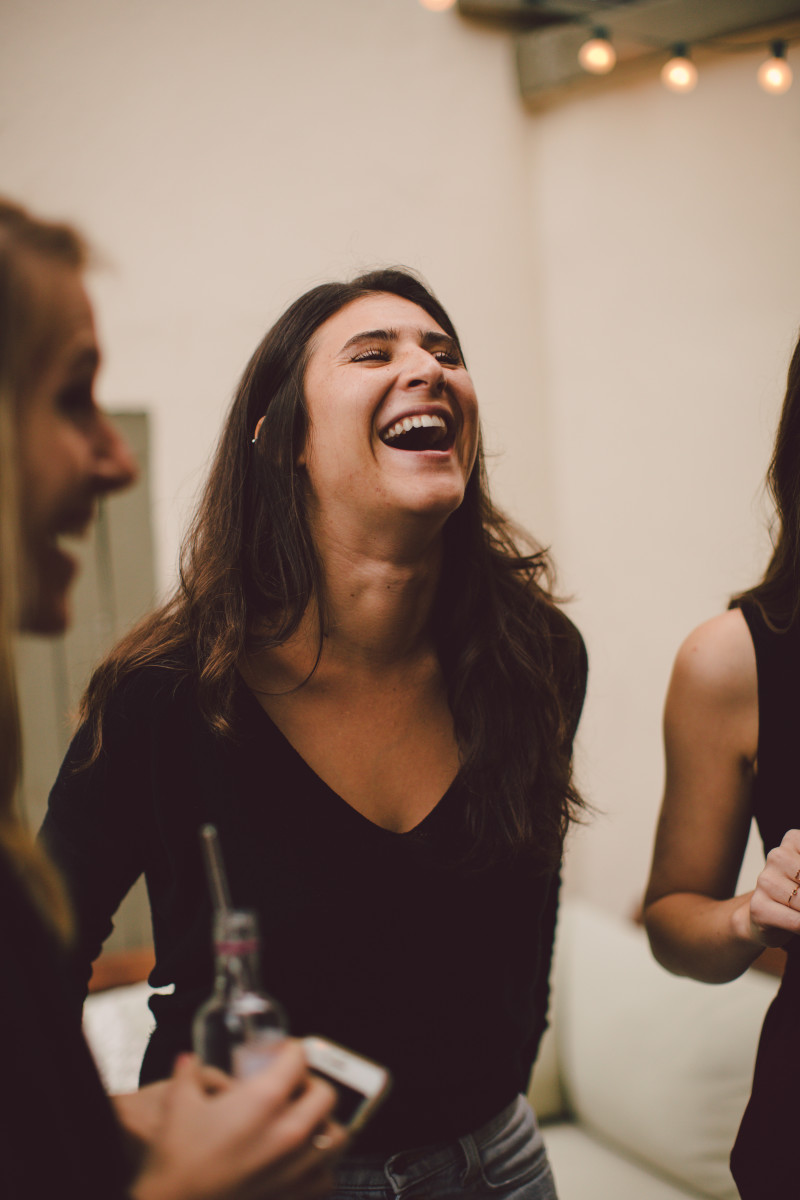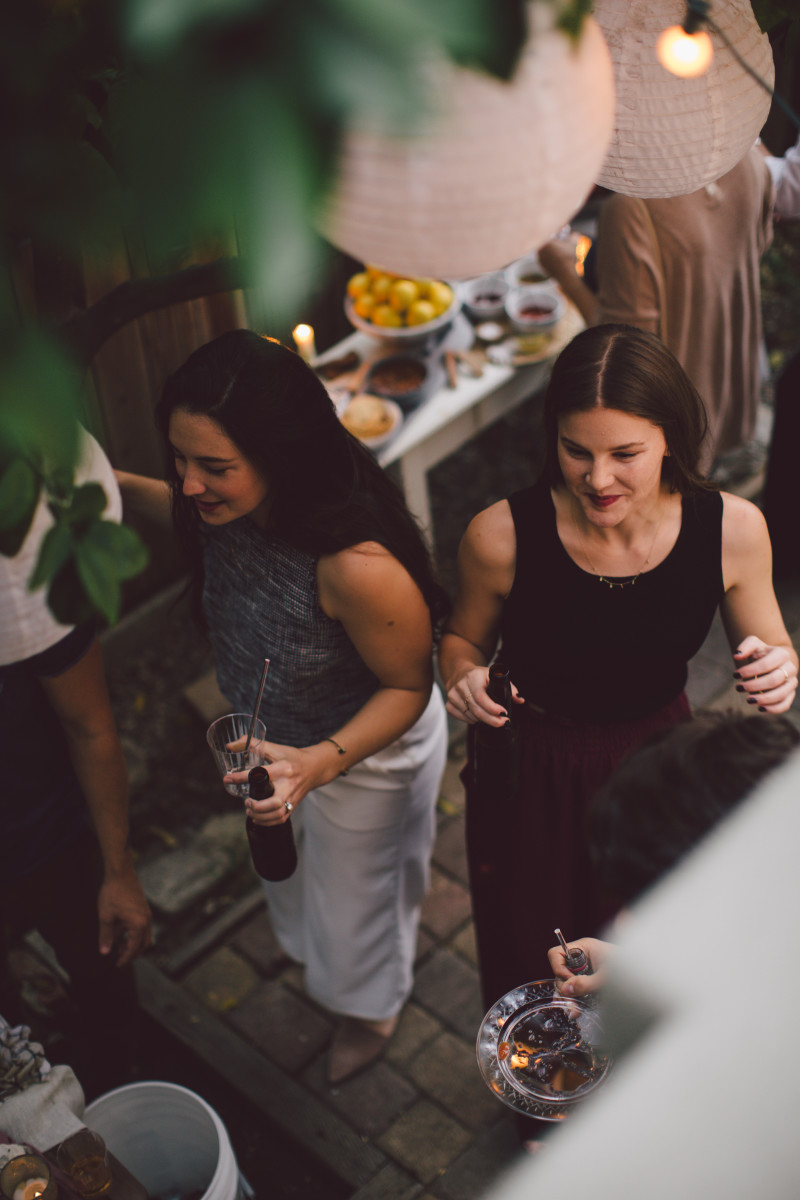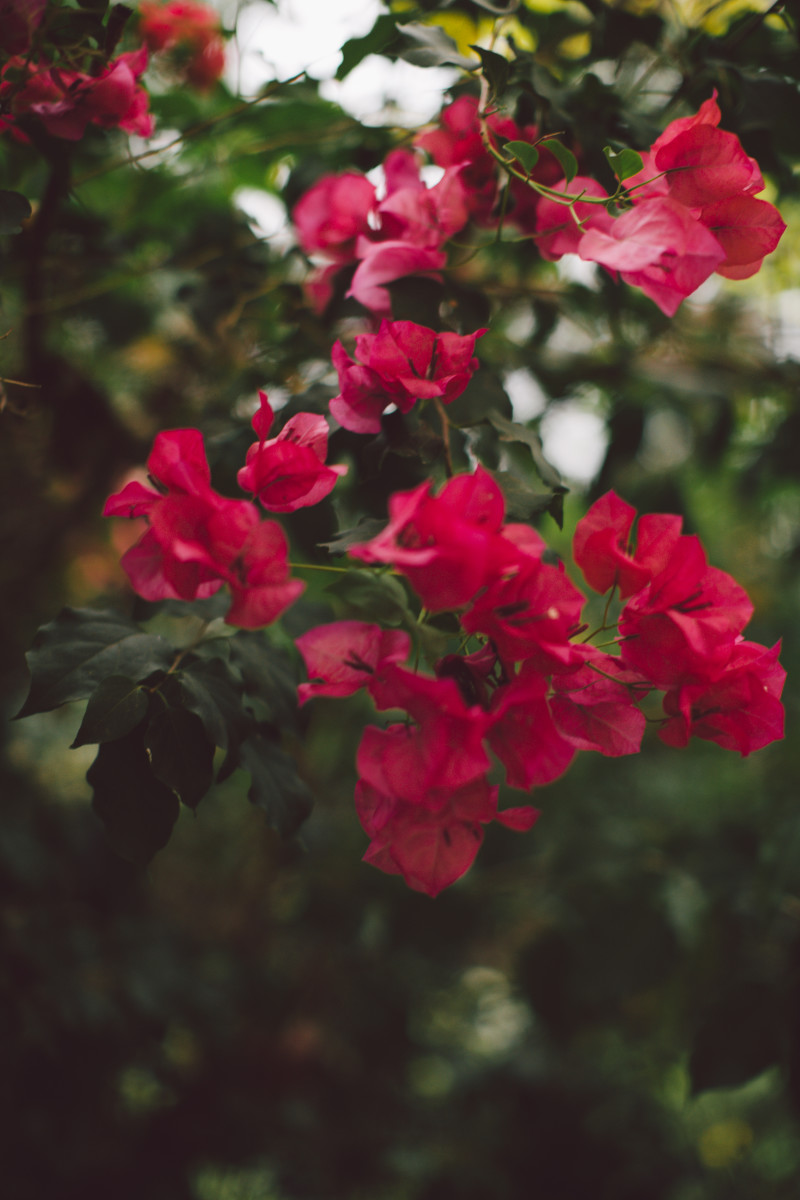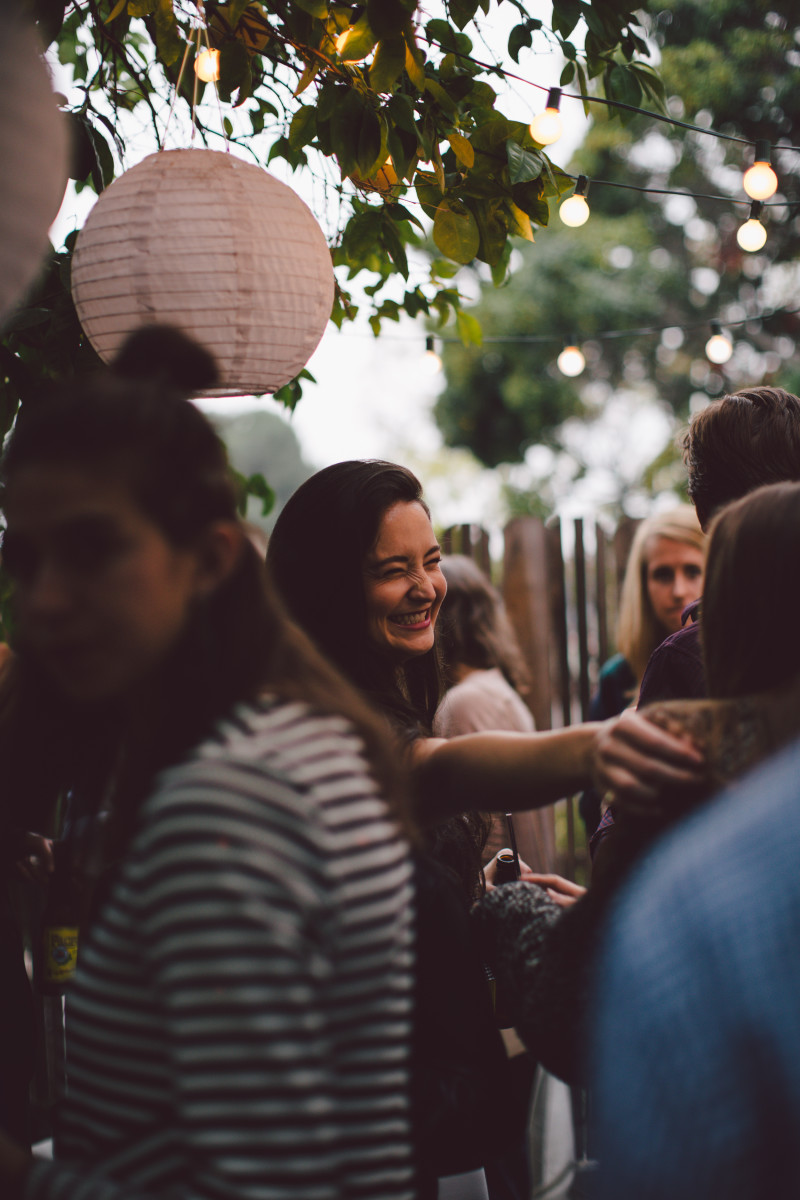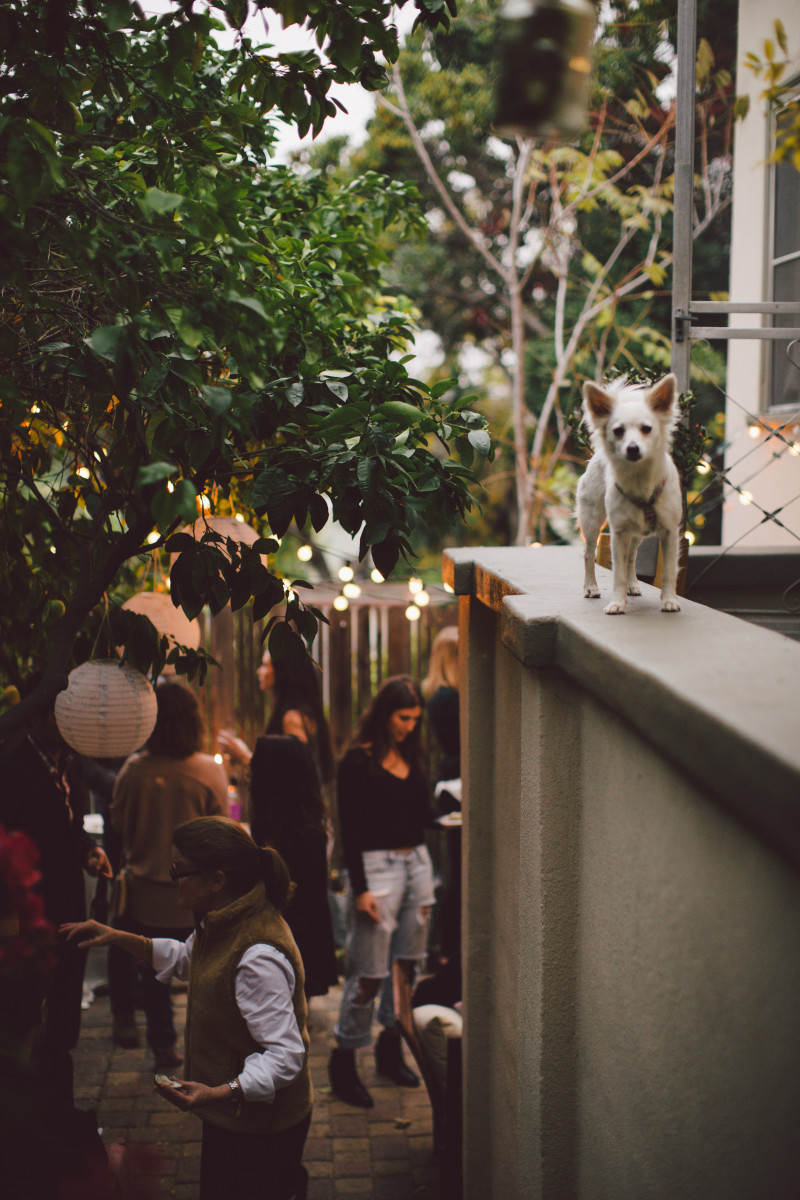 All photos in this post (with the exception of those on my e-vite) taken by Evangeline Lane. She specializes in Wedding Photography, and if you're in the L.A. area, I seriously can't recommend her (and her adorable rescue dog, Chichi) enough. You can follow her on Instagram here.
Keep an eye out on future collaborations between Evangeline and Alice Ann, which will be announced on the Darling Event Instagram.