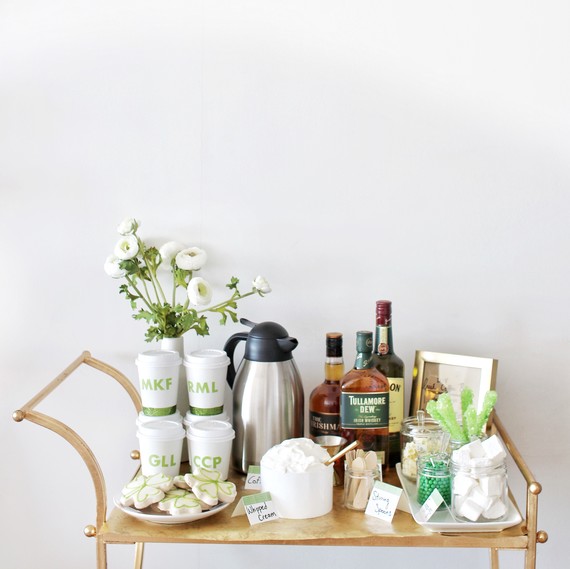 Whether you're trying to outdo the neighbors' party or you just need an excuse to pour a little whiskey in your coffee, this Irish coffee bar will do the trick — and it's brilliantly fun to throw together. It's the perfect grand finale for any St. Paddy's Day get-together, but it could also just as well be the main event. The best part? It works just as well after an Irish dinner feast as it does after a green-themed brunch. Learn how we threw ours together. And then, what are you waiting for? Get your friends together to enjoy this hot-and-boozy treat.
The Drinks
Since not all your guests will be familiar with the Irish coffee "method," why not show them the way? Use a gold picture frame to showcase the steps to caffeinated bliss — and grab our triple-tested recipe. Of course, no Irish coffee bar would be complete without — you guessed it! — coffee and whiskey. And, well, more whiskey. We selected a variety of Irish whiskey, then presented them in a corner of our bar to give guests a choice of which one they'd like to drink. As for the coffee, we housed it up in a simple stainless steel dispenser that looks elegantly at-home with all the greens and golds in the bar. But if you're planning on keeping the party going for a while, you may want to simply lug over your entire coffee maker and plug it into the wall to keep things toasty. Small paper labels reading "Irish whiskey" and "coffee" give both elements a decidedly important air.
[TRY OUR RECIPE: Irish Coffee]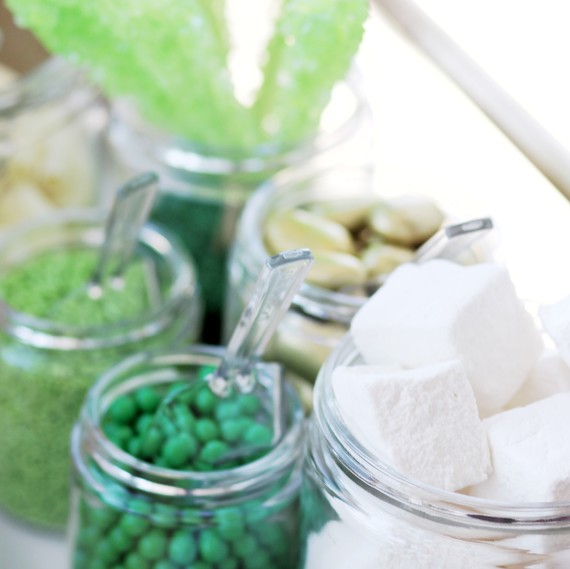 The Whipped Cream 
Make it at home, of course! There's nothing quite like fresh, homemade whipped cream, and when it comes to Irish coffee, that's really all that'll do. A big batch will go by quickly (who doesn't love whipped cream?) so be sure to pile your bowl high. And don't forget fluffy, homemade marshmallows either!

The Toppings
Now comes the fun part: Scour your local baking supply store or supermarket for all things green: green sprinkles, green dragees, and sugar pearls, green decorating sugar... you get the idea. (And while we acknowledge that traditional Irish coffee wasn't covered in gold candied almonds and topped with bright green rock candy, these toppings add just the sort of twist needed to give your bar a less formal feel.) Plus, we're pretty sure nobody will mind the oh-so-Instagrammable eye candy that these mix-and-match sweets will provide. Display them in adorable glass jars with miniature candy scoopers — this will make your guests feel like they've just arrived in the much greener, St.-Patrick's-Day-ified version of Willy Wonka's factory.
[BE INSPIRED: Ultra-Creative Candy Centerpieces to Sweeten Your Party]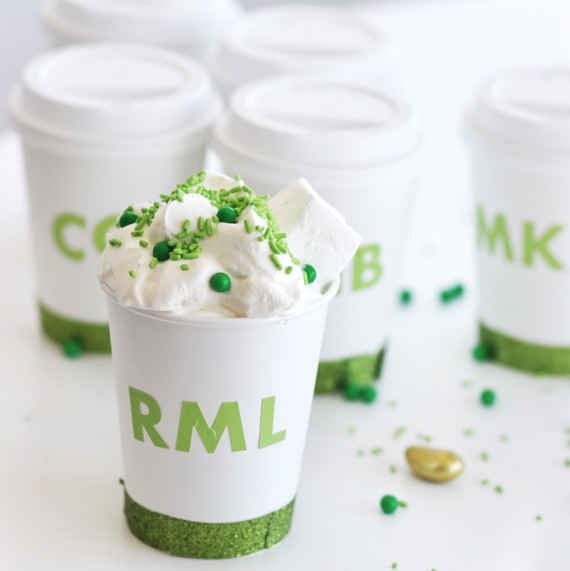 The Cups
No boring mugs here. Give your guests the option of taking their boozy beverages home using these fabulous (and personalized!) takeaway cups, handcrafted by you. Not only will they be impressed by your craftiness, they'll also be glad to have something special to sip on their way out the door! Get the how-to here.
[MAKE THESE FAVORS: Irish Coffee Cups-to-Go]
If you're not convinced already, try throwing together your very own Irish coffee bar and let your guests decide that this is, indeed, the ultimate way to celebrate everyone's favorite greener-than-green holiday. Cheers!

And as a last tasty treat? These chocolate-stout cupcakes — topped with "lucky" four-leaf clover candies — are perfect for ending the party on a sweet note: