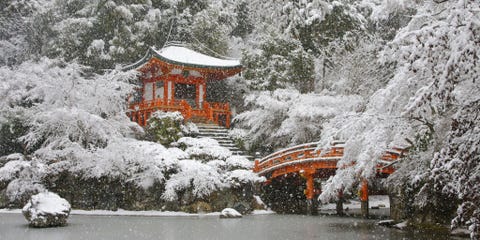 If you're like us, your Pinterest boards are already full of inspiration for where to go next year. According to Pinterest's 100 for 2017, their official trend report for the upcoming year, we'll all be hopping on planes to Kyoto, Scotland and Banff National Park for snowy adventures in the upcoming months. Read on for the rest of the top 10 travel trends Pinterest predicts will be huge in 2017.
Japan's "city of ten thousand shrines" was the most popular destination that international travelers saved to their boards last year, so it's likely that Kyoto will see an uptick in tourism in 2017.
Cold-weather destinations are in, beach weekends are out. Pinterest saw a massive 300 percent increase in the popularity of ski retreats and cozy cabin getaways, as interest in sandy vacations dropped.
Cold-But-Green Destinations
As interest in beach destinations like Australia and French Polynesia drops, people are setting their sites on the green landscapes of Iceland and Scotland, no matter how chilly they get.
There's nothing new about bucket lists, but Pinterest has noticed more and more people keeping track of their summer vacations and weekend getaways with destination-specific to-do lists.
Looks like 2017 is the year to get outside of your comfort zone—adventure travel was up 70 percent recently on Pinterest.
With adventure travel being more popular than ever, it's no surprise that people are also looking for creative ways to document their experiences with everything from GoPros to selfie sticks.
As more people ditch tourist traps for authentic experiences, Pinterest saw a huge increase (1,450 percent!) in the number of people seeking out hidden gems and ways to travel like a local.
It's possible to travel the world without going broke—especially with all of the affordable travel tips you can find on Pinterest.
Yosemite is still the most popular national park on Pinterest. But with Canada's 150th anniversary coming up next year, Pinterest predicts that Alberta's Banff National Park will be the park to see in 2017.
As airlines make it more expensive to check bags, Pinterest anticipates that travelers will turn to mix-and-match capsule wardrobes to save space in their carry-ons.