From gathering around a warm fire to hanging stockings, you can find the fireplace mantel as the center of attention during the holidays. Make it special with a few of our go-to tips!
First, start with a focal point. It can be a wreath on a mirror, large artwork, etc.
Second, use year-round decor that works for the holidays. We used brass and leather boxes, a traditional blue and white jar, and found green vases. This helps make the mantel feel grounded and not completely overhauled by Christmas decorations. It gives the special decorations a background to shine against.
Third, sprinkle in ornaments and add in metallics and glitter for a little sparkle and shine. Plus, metallics work as a neutral to break up the color.
Fifth, playfully layer ornaments over your stockings. By making the top of the stocking heavier, it balances our the long foot of the stocking. Plus, it's a pretty adorable idea! (And since I know many for you will ask...I found the stockings on Etsy years ago but the seller is no longer!)
Sixth, add to the ground! From storing logs in a cute basket to having a mini tree or a basket of blankets, balance the fireplace visually by adding interest to the ground. We used the Black Stripe Baskets from McGee & Co.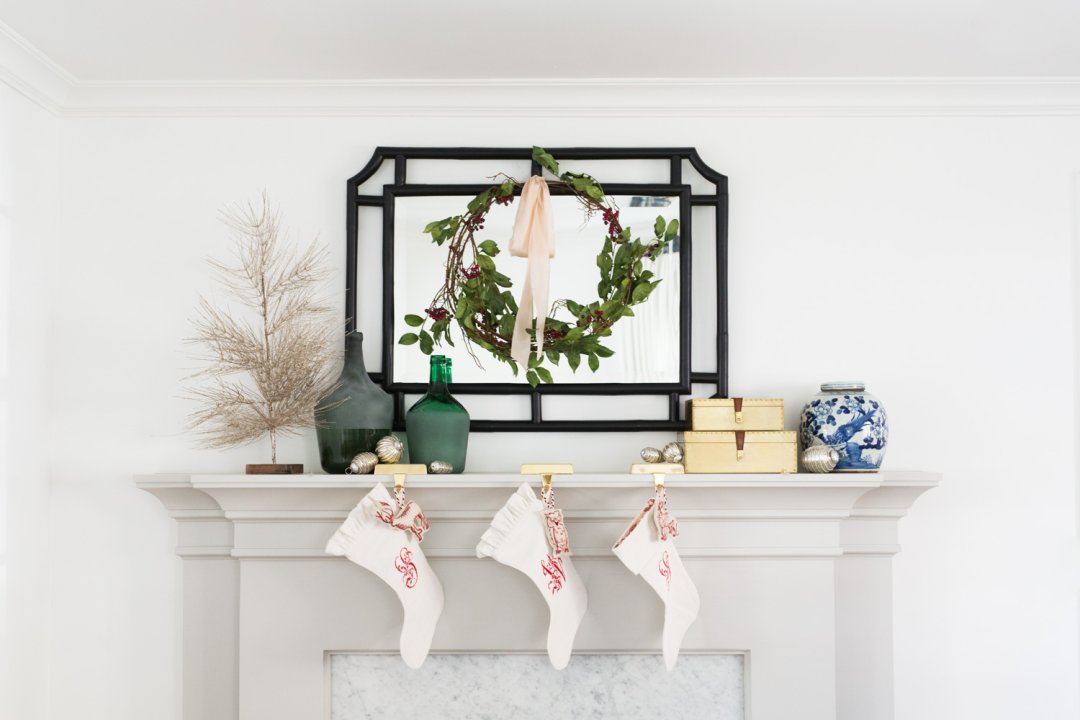 We created another version of the mantel using following the same tips. Instead of twisting our garland into a wreath, we doubled them up and draped it over the mantel. For balance, we added more height with a second glitter tree and taking out some of our lower levels that we had in the previous design.