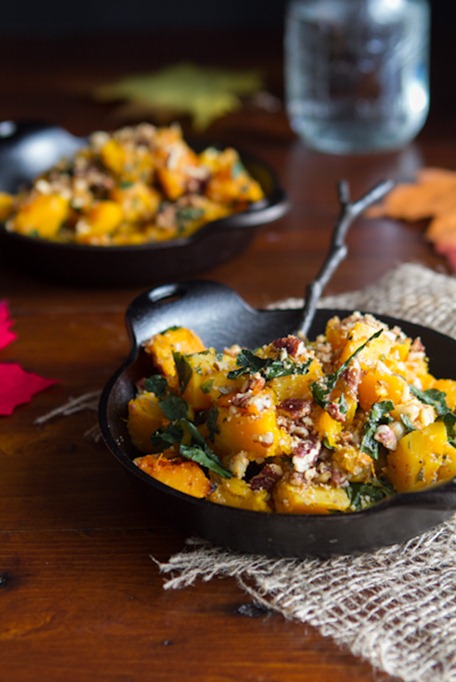 It's good to be home.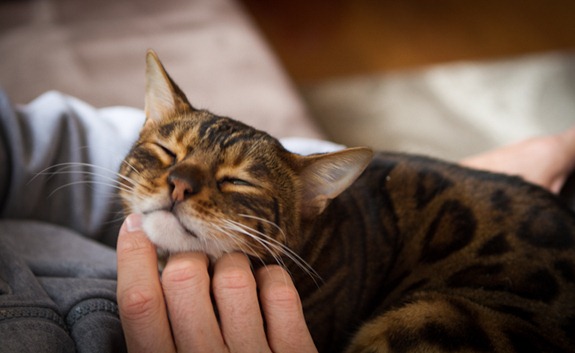 Sketchie agrees, after a fun (but tiring) visit with his two furry cat friends. Luckily, grandpa put up with his antics yet again. I won't go into the multiple accidents he had, but I'll just tell you that I have an amazing, patient, and kind father-in-law. He deserves many of his favourite baked goods when we visit over Thanksgiving in a couple weeks. And possibly a 6-week spa getaway.
After a few rants and raves once home, Sketchie finally settled into his old digs, but unfortunately didn't get the memo that we're still on Pacific time. I have no idea how much coffee I consumed this weekend, but let's just say my old friend, Bodum, is back to stay!
Back in Ontario, it's clear that summer has come to an end. Trees are starting to change colour and my robe and slippers have appeared for the first time in months. I was so acclimatized to the amazing heat we had in B.C., I temporarily forgot all about this fall stuff. With bronzed skin for the first time all summer, I came home only to cover it up with sweaters and pants. The summer clothes are in a rejected, useless heap in front of the washing machine.
Since the weather was fitting, I consoled myself with grocery shopping and a healthy dose of fall produce. It's good to be back in the kitchen, if anything!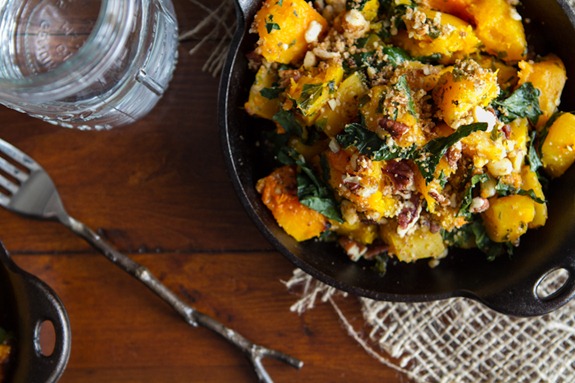 This weekend was all about squash…and cookies…and coffee beans. Actually, cookies were the first thing I made, not that that should come as a surprise to anyone. You'd think I'd be aiming for healthier fare after vacation, but I had one thing on my mind: recreating the amazing cookie as big as my head. That recipe will be coming soon, but since it's Monday and we're probably trying to eat a bit healthier, I have a vegetable recipe for you today. Don't worry though, I don't do boring vegetables.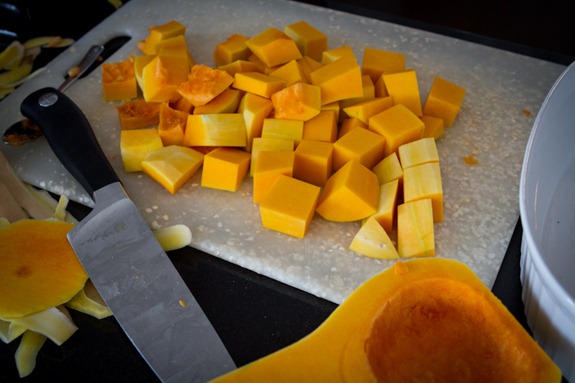 This recipe is inspired by the roasted butternut squash recipe I made back in 2009. It's incredibly simple to make using only about 15-20 minutes of prep while the oven does the rest. This time, I made an almond pecan parmesan "cheese" and added Lacinato kale for green power. The result is a comforting fall side dish that will warm you to the bone.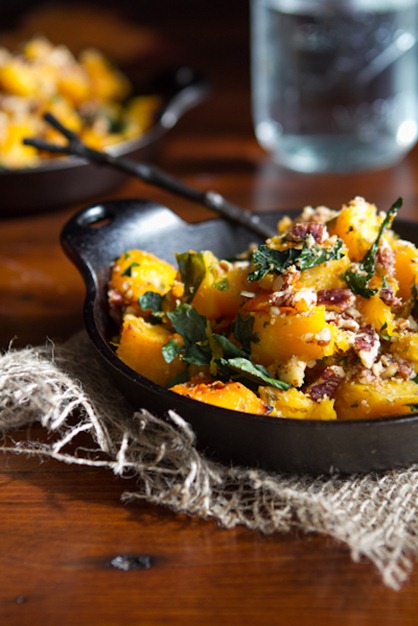 Roasted Butternut Squash with Kale and Almond Pecan Parmesan
Email, text, or print this recipe
Yield: 4 servings (as a side)
Ingredients:
0.9 kg -1.13 kg (2-2.5 pound) butternut squash
2 lg. cloves garlic, minced
2-3 tbsp finely chopped fresh parsley
1/2 tbsp extra virgin olive oil
1/2 tsp fine grain sea salt
1 cup de-stemmed and roughly chopped Lacinato kale
Almond Pecan Parmesan "cheese":
1/4 cup almonds*
1/4 cup pecans
1 tbsp nutritional yeast 
1/8th tsp fine grain sea salt
1 tsp extra virgin olive oil
1. Preheat oven to 400F and lightly grease a casserole dish with oil.
2. Peel the squash. Thinly slice off the bottom and top and then slice through the middle lengthwise to make two halves. Remove seeds & guts with a grapefruit spoon or ice cream scoop. Chop two halves into 1-inch chunks and place into casserole dish.
3. Add minced garlic, parsley, oil, and salt into casserole dish and stir until well combined with the squash. Do not add the kale yet.
4. Cover casserole dish with a lid (or tin foil with a few holes poked) and bake at 400F for about 45 minutes.
5. Meanwhile, process the parmesan ingredients together until chunky (or just chop by hand and mix in a bowl). Make sure to leave lots of nut pieces for texture. I used a mini processor and it worked great with minimal clean up.
6. After about 45 mins (or when squash is just fork tender), remove from the oven and reduce heat to 350F. Stir in the chopped kale and sprinkle the parmesan all over the squash. Bake for another 5-8 minutes, until the nuts are lightly toasted. Watch closely so you don't burn them. Remove & serve!
Note: If you need a nut-free parmesan, try this version with sesame seeds.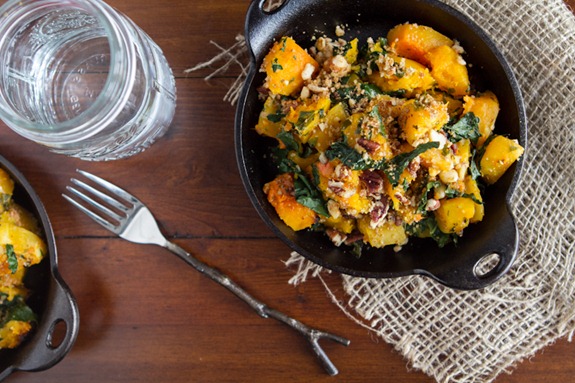 Status: Warm with a happy belly.
Let's get social! Follow Angela on Instagram (@ohsheglows + @theglowspot), Facebook, Twitter, Pinterest, Snapchat, and Google+