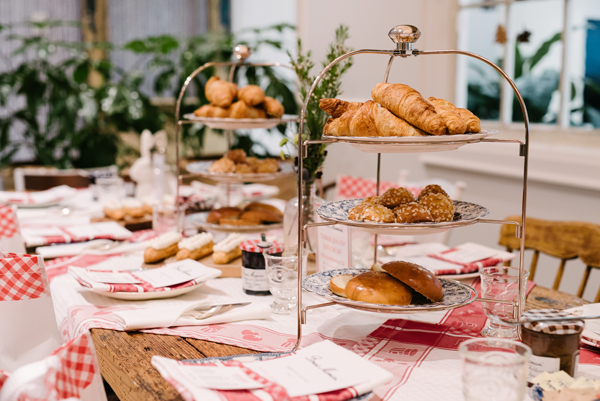 Has anyone else ever dreamed about being Kirsten Dunst in Sophia Coppola's Marie Antoinette, lounging on gilded 18th century French bergere's, dressed in silk and feathers, and surrounded by an endless array of pastel-hued cakes and pastries? I certainly do, each and every time I watch that movie (oh the sweet eye candy!)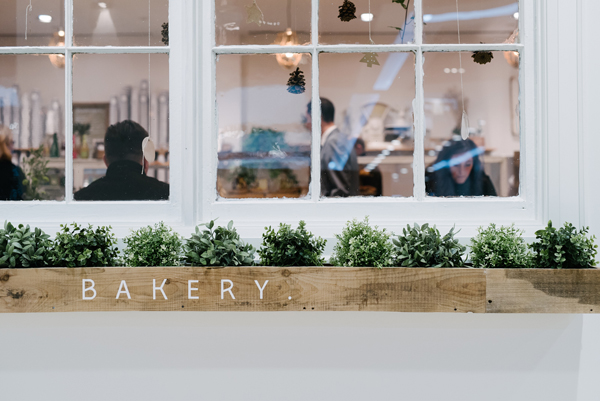 Well, last week that fantasy came as close to being fulfilled as it ever will be and I was definitely in my glory. Myself, along with six other bloggers and Celebrity Chef Christine Tizzard sat down at the charming Maman for an afternoon of coffee and delightful pastries inspired by the cherished ingredients of Bonne Maman preserves. While we didn't sit on gold-embroidered antiques or wear Versailles approved wardrobes, the cutest mis-matched vintage chairs surrounded our long wood table, truly evoking the South of France from where the restaurant draws its inspiration. Maman serves both savoury and sweet family-inspired recipes from the South of France and North America. All their ingredients are locally-sourced and of the highest quality, with a menu that changes daily.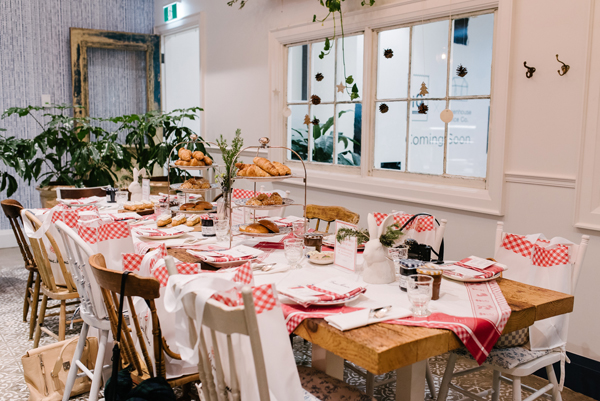 But it was what was on that beautiful table where this little dream of mine finally reaches its pinnacle. An assortment of the most beautiful jam-inspired pastries created by Maman French Pastry Chef Warren Esconjaureguy, grazed each and every inch of our table. This custom, one-of-a-kind sweets experience was inspired by the classic, luscious flavours of Bonne Maman jam. The iconic Bonne Maman preserves are made in France using traditional, cherished recipes and use all natural ingredients with no artificial colorings, additives or preservatives.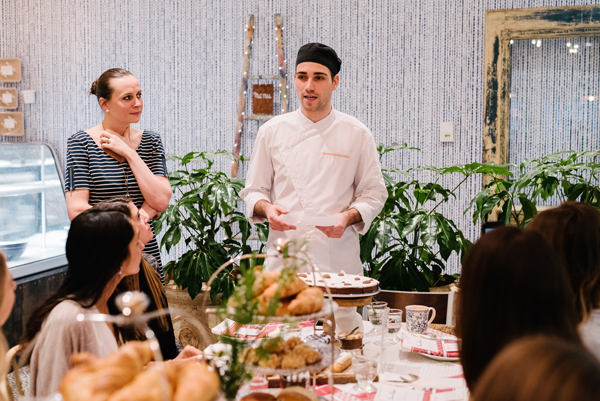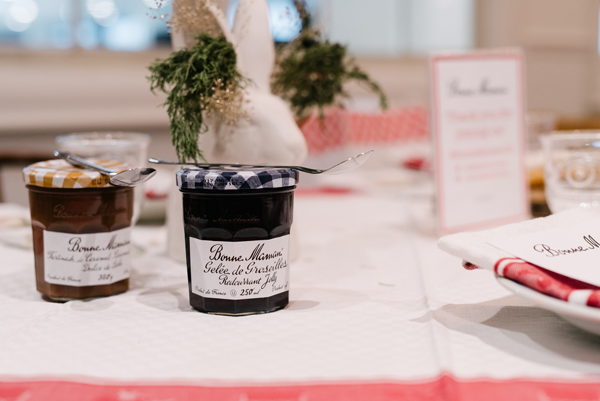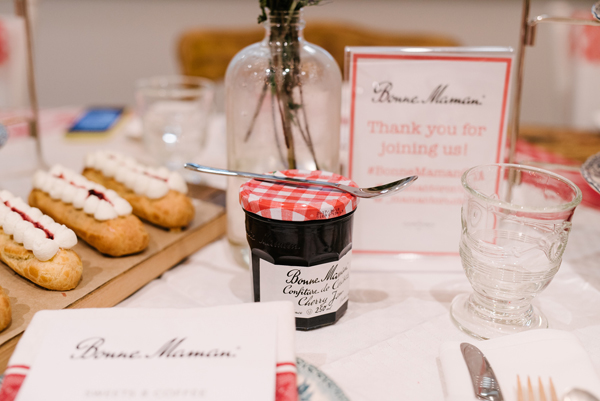 In order for us to taste the full assortment of Bonne Maman preserves and spreads right from the jar, a selection of croissants, brioche and chouquette were placed on each end of the table to endlessly slather with the sweet flavours. Next, to fully experience what else Bonne Maman preserves can be used for, we were treated to four exquisite pastries, each based on four Bonne Maman products.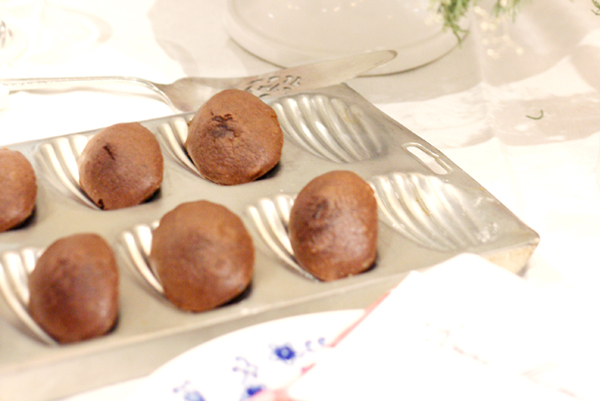 First on the menu was the dainty Dulce de Leche Madeleines set in their pretty shell-shaped trays. Sweet, succulent and one was definitely not enough. I probably could have polished off the entire tray if left to my own vices. Bonne Maman Dulce de Leche spread was infused into these classic French cakes, elevating them to new heights!

My personal favorite (and also Chef Esconjaureguy's), was the Cherry Jam and Vanilla Éclair. The delicate choux pastry was like a soft pillow filled with delicate cream and sweet Bonne Maman Cherry Jam. Light, airy and almost too beautiful to eat, my éclair obsession now has some seriously high standards that I'm not sure can be beat!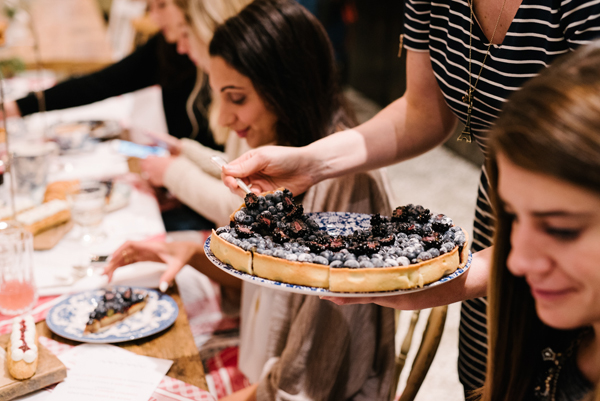 The most beautiful pastry award goes to the Blueberries and Redcurrant Jelly Tart. An overflowing mass of blueberries, blackberries, confectioners' sugar and Bonne Maman Redcurrant Jelly, created this naturally sweet tart that was as delightfully pleasing to the tongue as it was to the eye. We each were given a large slice and I'm happy to say I polished off nearly the entire piece, hands down.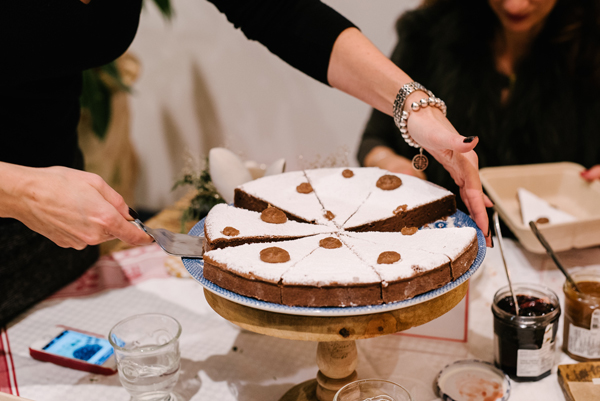 Last but not least was The Chestnut Spread and Chocolate Fondant. After over-indulging in the other 3 pastries (a sweet tooth does have its limits), my portion of the Fondant came home with me to finish off on Saturday. Sadly, it didn't see the light of day. That evening, instead of opting for a healthy dinner to offset an afternoon of serious sugar consumption, I ate the entire piece (minus a few bites for my hubby) down to the last crumb and cannot say I regretted it one bit. Chestnuts and chocolate, oh my!

Although the pastries and delicious coffee and tea by Maman were of course the highlight of the day, the company was just as delightful. The afternoon was hosted by the beautiful Chef Christine Tizzard who got the conversation started by reminiscing about her love for Bonne Maman jams and how she's been using them for years in her own personal kitchen. She gave us a little inspiration by chatting about a recent recipe she created incorporating a Bonne Maman product:
 "I did a pumpkin pie just recently with it where I mixed half (Bonne Maman) Chestnut Spread and half pureed pumpkin. Just simply puff pastry, roll it up, simple. Throw it in the oven with some thinly sliced apples and you have a dessert. It's just a great way to easily incorporate these things into your everyday life." – Chef Christine Tizzard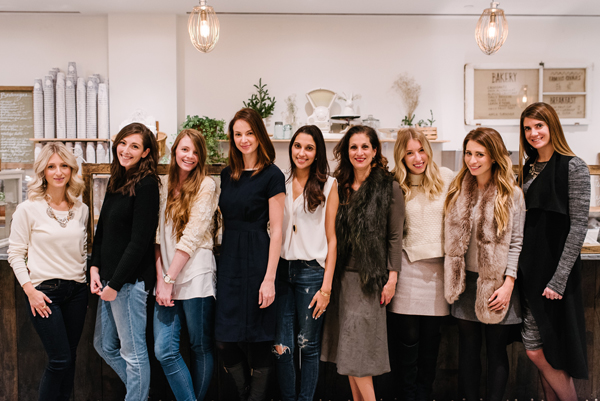 It was also so great to finally meet The Blondie Locks and La Petite Noob, each who inspire me daily with their creative genius. As well, I was equally excited to meet some other extremely talented bloggers, Less With Bread, Rebecca Jacobs, Smitten Sophie and Stylelin, all who are definitely now on my radar.
I have to admit I rarely use preserves for anything but spreading on toast for breakfast, but I'm now starting to see how many options there really are for incorporating delicious spreads and jams into recipes. I hope to try my hand at this very soon!
From now until April 2016, Bonne Maman will have 10 road shows at Costco where you can buy 3 Bonne Maman jams for only $10.99 in a nice Bonne Maman gift bag.  There are 6 flavours offered: strawberry, apricot, fig, orange, 4 fruits and red currant. If you shop at Costco make sure to stop by and get your Bonne Maman trio for you and/or everyone you want to spoil. The locations are as below:
Nov 10-22: Burlington            Feb 16-28: Richmond Hill
Nov 24-Dec 6: Westminster   Mar 1-13: South Mississauga
Dec 6-20: Oshawa                 Mar 15-27: Barrie
Feb 2-14: Ancaster                Mar 29-Apr 10: Etobicoke
Dec 22-Jan 3: Newmarket     April 12-24: North Mississauga
Thank you Bonne Maman for hosting such a beautiful and delicious event, and to Maman for the perfect setting to indulge in coffee and pastries.
* This event and post were sponsored by Bonne Maman. All opinions are my own.
* Photography by Jeffrey Chan courtesy of Bonne Maman