Mushroom Risotto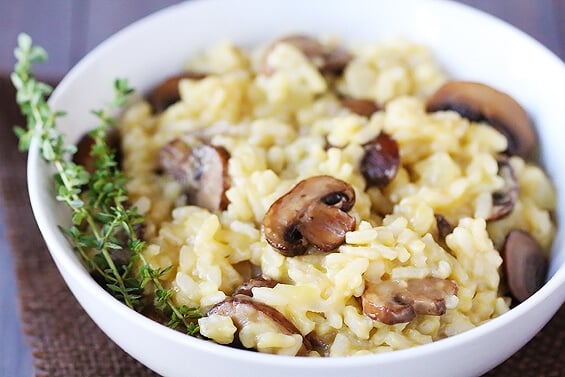 I am beyond excited to share a recipe today from one of my favorite food bloggers, Jenna Weber.  But the even more exciting news is that this recipe is actually from her brand new book that was released this week — White Jacket Required.
I have long adored Jenna's beautiful site, Eat Live Run, and the charming, honest, faithful, stylish, and inspiring life she leads.  So it was wonderful to follow along in this "culinary coming-of-age story" to hear even more of the journey behind the scenes that has led her to today.  From the entertaining and brave stories of venturing through culinary school, to finding and losing love, to pressing on in some of life's darkest moments, and to finding hope and new adventures again, Jenna invites us along on the amazing journey that it has been.  And of course, the charming conversational style of writing we all know and love from her blog carries you through, making this a page-turner I happily flew through.
But one of the best parts (ok, in addition to the adorable graphic design on the book, which I randomly loved!) is that there are 30 of her favorite recipes sprinkled throughout the book.  And as is the case with her blog, each one I have tried has been nothing short of remarkable!  My favorite so far has actually been this simple mushroom risotto.  No frills, no extra veggies — just a creamy, delicious parmesan risotto with a generous helping of sauteed mushrooms.  Absolutely divine.  I served it to my friends the other night and we enjoyed every last bite.  I have a feeling I will be making this one often.  :)
So if you're looking for an inspiring, fun new read to cozy up with this fall, I highly recommend checking out White Jacket Required.  And congratulations again to Jenna — we are all so proud of you!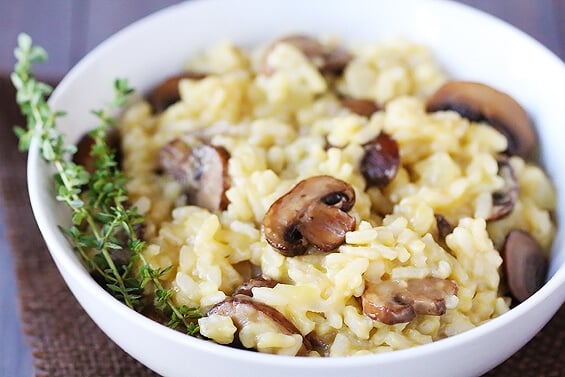 Mushroom Risotto
A delicious recipe for classic risotto from Jenna Weber of "Eat, Live, Run".
Ingredients:
4 to 4.5 cups homemade chicken stock
1 Tbsp. extra-virgin olive oil
1 shallot, minced
1 cup Arborio rice
1/4 cup dry white wine
1 Tbsp. butter
16 oz. sliced cremini or baby bella mushrooms
1/2 cup freshly grated Parmesan cheese
Directions:
Heat the chicken stock in a small saucepan and keep warm over low heat. Heat the olive oil in a heavy-bottom pot over medium heat until hot but not smoking. Add the shallot and saute for about 4 minutes, or until tender and translucent. Add the rice and stir well to coat. Cook for 3 minutes, stirring occasionally. Add the white wine and cook until all is absorbed, stirring constantly.
Continue to cook the rice, adding the chicken stock, 1/4 cup at a time (a ladle does this job nicely), stirring continuously over medium heat until the stock has been completely absorbed by the rice. Do not add more stock until the previous amount has been completely absorbed by the rice. Once all the stock has been incorporated, continue to cook until the rice is just cooked through.
In a separate pan, melt the butter and saute the mushrooms until tender, about 8 minutes. Add the cooked mushrooms and cheese to the risotto, stirring until combined, and serve.
Reprinted with permission from White Jacket Required: A Culinary Coming-of-Age Story © 2012 by Jenna Weber, Sterling Epicure, an imprint of Sterling Publishing Co., Inc.
All images and text ©
If you make this recipe, be sure to snap a photo and hashtag it #gimmesomeoven. I'd love to see what you cook!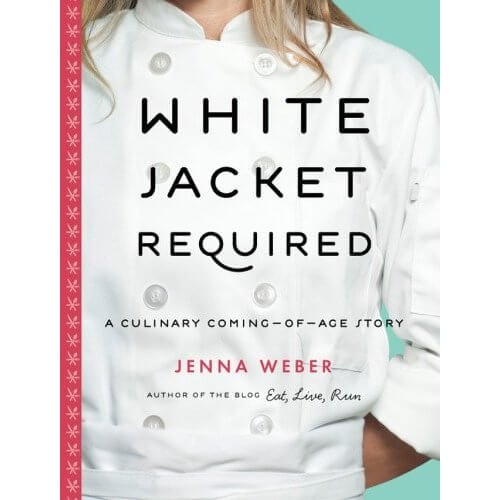 Disclosure: I was provided with a review copy of White Jacket Required. All of the opinions expressed are my own.  This post also contains affiliate links.