Lighter Chinese Chicken Salad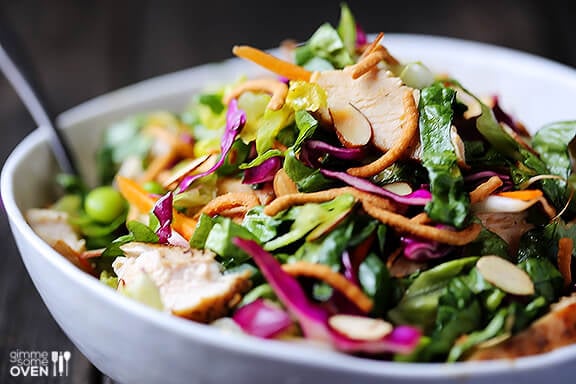 I always get a little pit in my stomach whenever one of those dramatic restaurant exposes comes up online or on the news.  You know what I'm talking about.  A picture of a beautiful green salad or light sandwich is shown, but then the announcer comes on with his dark and scary "mwahaha" voice and challenges, "Do you KNOW what you're eating?"  Dum..dum..DUM!!!!
Ok, by this point in life, I know that most of the healthier-seeming options in restaurants are often less than such.  But every now and then I'm still blown away by the nutrition facts.  And more often than not, big beautiful salads tend to win the awards for most fat and calories.  I remember when I recently looked up the nutrition facts for one of my favorite Asian chicken salads from a large well-known restaurant chain, it scored in at a whopping 98 grams of fat.  Nope, no typo there.  98, people!!!!
Gah.  This is why I like salads made at home!
So for anyone else out there who might like Chinese chicken salads, today I'm happy to be sharing with you a Lighter Chinese Chicken Salad recipe.  No fried chicken, crispy fried wontons or heavy peanut-y dressing here.  Just lots of greens and veggies tossed with marinated chicken and almonds, topped with a yummy sesame ginger vinaigrette.  Quick, easy, and full of flavor you can feel good about.  Just the way I like it.
I vote we leave the number 98 for boy bands.  ;)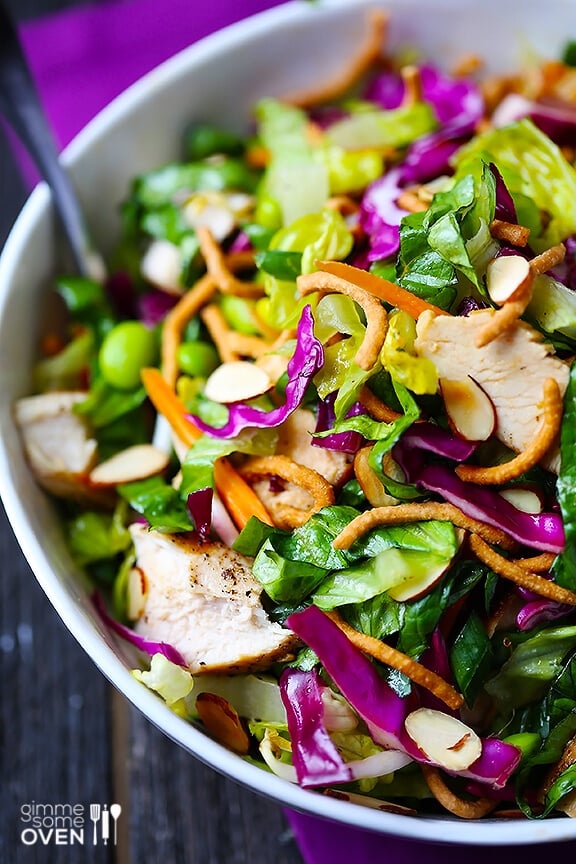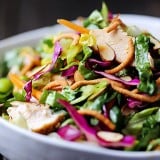 Lighter Chinese Chicken Salad
A lighter version of the ever-popular Chinese Chicken Salad!
Ingredients:
Salad Ingredients:
2 boneless skinless chicken breasts
3 Tbsp. soy sauce
2 Tbsp. rice wine vinegar
salt and pepper
2 Tbsp. olive oil
1 head Romaine lettuce, shredded
4 cups shredded red cabbage
1 cup edamame
2/3 cup shredded carrots
1/2 cup chow mein noodles
1/4 cup sliced almonds, toasted
sesame ginger vinaigrette (see ingrediente below)
Sesame Ginger Vinaigrette Ingredients:
1/4 cup vegetable or olive oil
3 Tbsp. honey
2 Tbsp. rice wine vinegar
1 Tbsp. grated fresh ginger
1 Tbsp. soy sauce
1 clove garlic, minced
2 tsp. sriracha chile sauce (optional)
1 tsp. sesame oil
pinch of salt and pepper
Directions:
To Make The Salad:
Combine chicken breasts, soy sauce and rice wine vinegar in a large bowl or ziplock bag and let marinate in the refrigerator for at least 15 minutes. Remove the chicken from the marinade, and season both sides of each chicken breast with salt and pepper.
Heat oil in a large skillet over medium-high heat. Cook the chicken for 4 minutes per side or until the chicken is cooked through and no longer pink inside. Remove and let rest for at least 5 minutes. Then cut into thin strips.
In a large bowl, toss together Romaine, red cabbage, edamame, carrots, chicken, chow mein noodles and almonds until combined. Toss with your desired amount of vinaigrette. Serve immediately.
To Make The Vinaigrette:
Whisk together all ingredients until combined. You can add more sriracha for an extra kick.
All images and text ©
If you make this recipe, be sure to snap a photo and hashtag it #gimmesomeoven. I'd love to see what you cook!