On Wednesday, I arrived at the tents just in time for the first show that was actually a "double-header" of two designers by the names of Paria Shirvani and Axel Kohler. I wasn't sure what to expect but I figured I'd attend anyway as I was already there, and what else was I going to do besides stand around outside hoping to get street snapped (just kidding!…well kind of). As show guests began crowding inside the studio I managed to worm my way into front row and got my camera ready for snapping. I ended up loving Shirvanis show (re-cap below) and was glad I went. The rest of the day was filled with amazing presentations from Maison Matthew Gallagher, Mackage, and of course Joe Fresh that I was so excited about the night before that I couldn't sleep.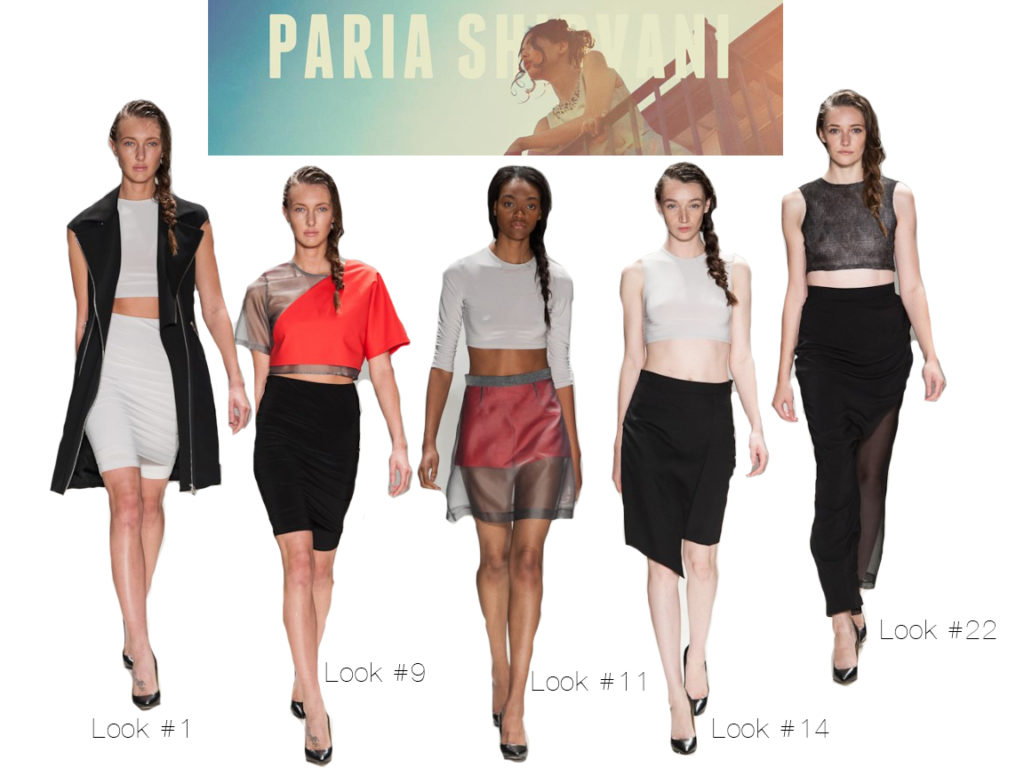 Paria Shirvani: I had planned on skipping this show on Wednesday because I knew that it was going to be a long day. Lucky for me I was ready and out the door in time and able to catch it. Paria was one of two designers to show in the studio during the first time slot (Axel Kohler was the with a full menswear show). I was pleasantly surprised with Parias take on effortlessly chic minimalism and her skilled tailoring. The vests were perfectly sleek and light for spring and her use of sheer elements were done in unexpected ways, such as over bright red shorts and on one leg of a slouchy pair of pants.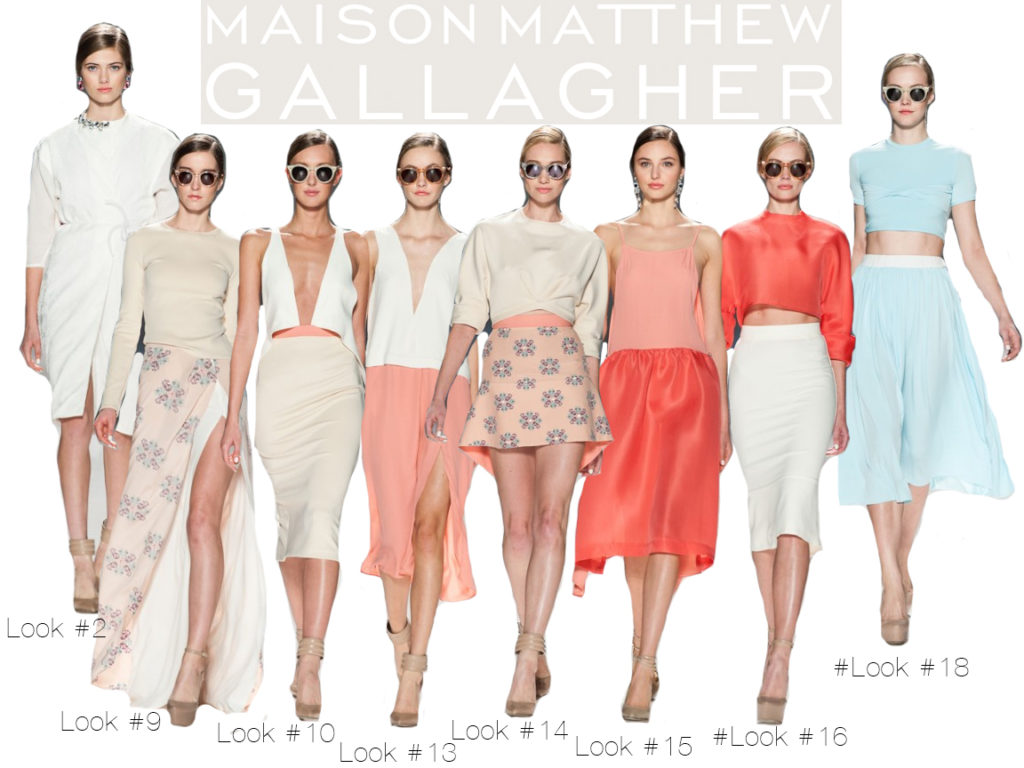 Maison Matthew Gallagher: Another exception to my rule of 5 is Maison by Matthew Gallagher.I am soooo unbelievably in love with this collection that I could have easily shown you every piece (check out the entire collection here). What started out as airy and white with subtle prints and embellishments slowly turned into a bright runway of cream on blush with cute floral prints, and slowly moved into shades of watermelon pink and sky blue. This collection is what my fashion dreams are made of and exactly the look I would love to go for this spring. The use of low backs, plunging necklines and peek-a-boo belly action all gave a subtle sexy feeling without giving away too much. And those sunglasses were a nice touch too! Amazing job Matthew Gallagher, I am blown away!

Mackage: The Prestigious outerwear company that everyone has come to know and love; Mackage, debuted a gorgeous SS/14 collection, consisting of mirrored leather (on jackets and accessories), sporty separates and pops of orange along with forest green, navy and blush. Mackage also gave attendees the luxury of first previewing a new purse collaboration with Megs Mahoney Dusil, co-founder and chief editor of the popular PurseBlog.com. Stand out pieces for the Mackage collection for me were a biker style jacket with metallic sleeves and the blush pink vest over a metallic trimmed T, paired with a sheer tennis skirt.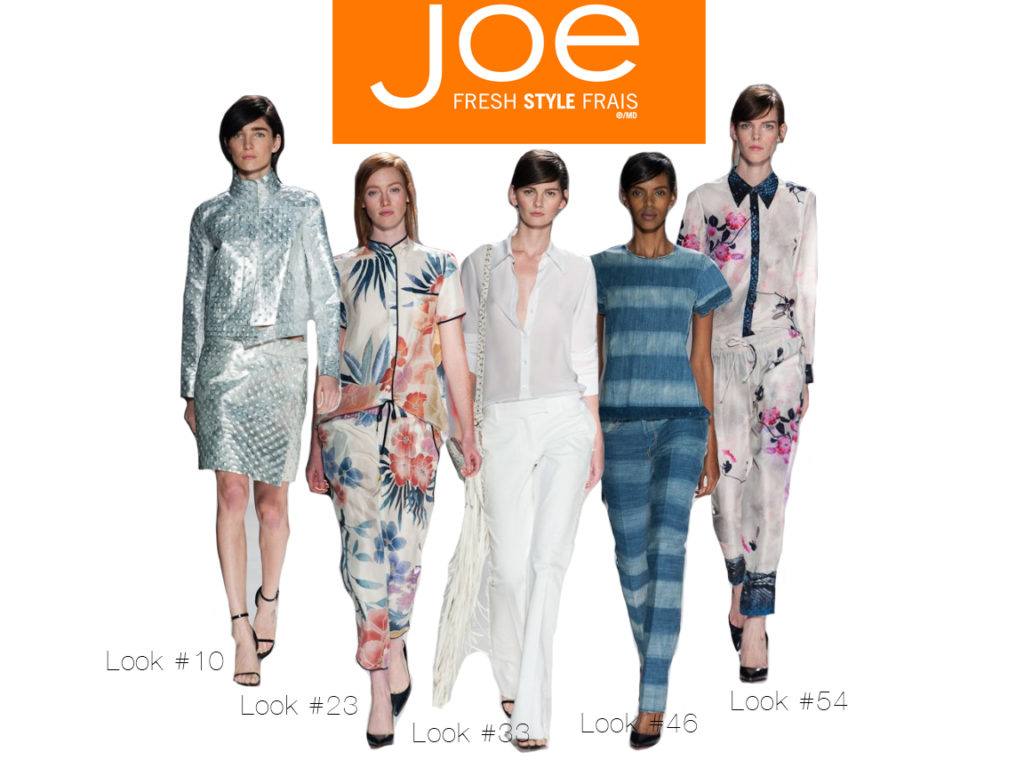 Joe Fresh: This seasons Joe Fresh was inspired by Asian culture from the silhouettes, prints and "Chinese red" and "Orchid Pink" colours, the influence was evident through tout the entire collection. There was a balance between hard and soft with the use of unfinished hemlines on denim, scalloped edges, bonded fabrics and pleated dresses. The collection also featured very wearable looks with clean lines that were easily street styled (especially the white look above) and pyjama style pants and shirts that looked so comfy yet effortlessly chic. The entire collection was giant with 58 looks in total so it was hard to choose my favourites, all I can say is that I hope some of them will be sold at a Joe Fresh close by!