Day 2 of Toronto Fashion week was the busiest for me. It went by at such a fast pace, featuring shows after shows that I hardly had time to eat. The collections on Tuesday included the Mercedes-Benz Start-up Final's which showcased 8 up and coming designers vying for the title and some great prizes! I was amazed at the talent and feel all of the finalists deserved a spot to show at WMCFW next season. Although it was crazy day, it was full of so much talent and energy with a slew of collections that spoke to my personal style. Here are my favourite picks from the womenswear looks from day 2.

Laura Siegel: Laura Siegel's SS/14 collection had me dying to hop on a plane (with a suitcase full of Siegel) and head straight to Coachella. The collection was the first to show in the studio and it was the perfect location for the eco-chic show. I was all for the green and blue tie-dye prints layered with scarves and leathers that were produced ethically with artisans in Asia and Latin American. Stand out looks for me were the blue tie dye dresses and skirts that had long slits up the front revealing another tie-dye print underneath (all for mixing tie-dye) and of course the big leather vest worn open sans-shirt.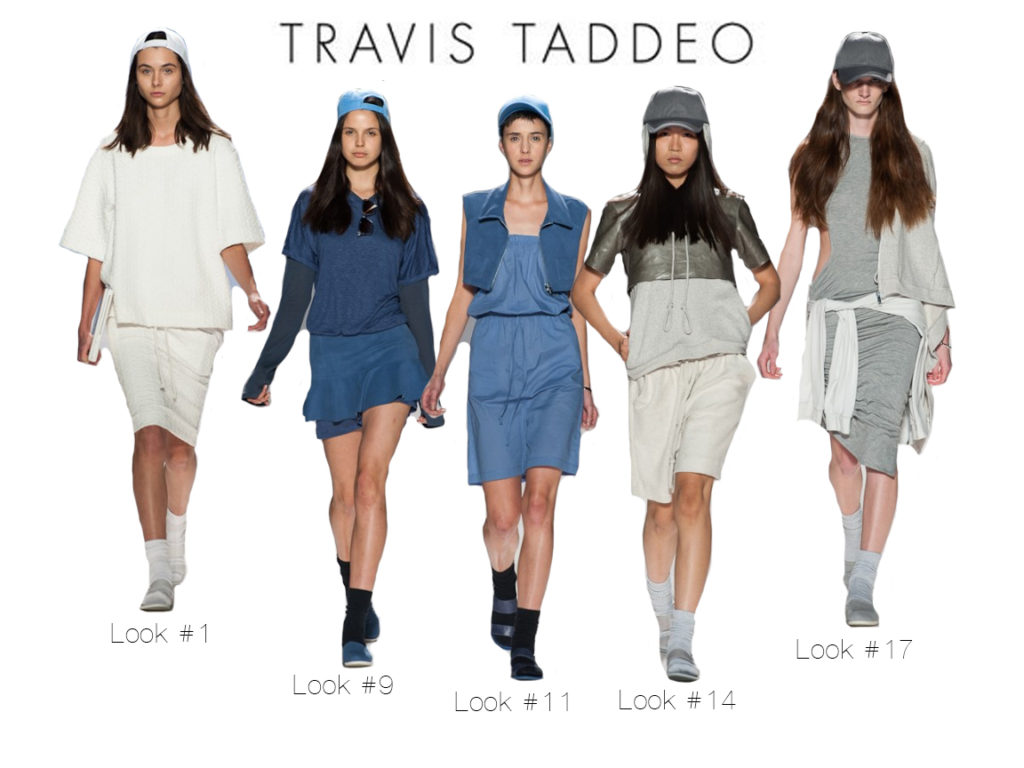 Travis Taddeo: For me this show told one of the best stories. This may be due to the fact that before the show began we were treated to a short video of the inspiration for the collection (waking up in the morning, spending the morning in bed and the feeling of fresh air). Travis talked about how he felt the collection in colours like white, grey, and pop's of blue. I loved the effortless layering that reminded me very much of Alexander Wang. Flat unisex sandals that will be sold this spring at Aldo were shown with socks and went perfectly with the collections laid back style.

Dreamboat Lucy: The first show for the MBSU finals had a personal place in my heart. They girls are from the east coast like myself and I am familiar with the clothes from seeing them at Biscuit in Halifax. This season, their collection was inspired by tropical Barbie, which translated into the most adorable print (pineapples included!) I was so in love with the matching short suit, grid print skirt and jacket and gorgeous trench coat that had contrasting green panels. Can I please be tropical Barbie and have all of this at my Malibu beach house? Like now!?
Malorie Urbanovitch: As Bernadette Mora put it the day of the show, the judges were deadlocked with choosing just one winner. Luckily for Malorie Urbanovitch, she was one of them. The collection featured natural and innovative fabrics in minimalistic silhouettes in colours such as blush, yellow, charcoal and black. Although this collection wasn't exactly my favourite, it was cohesive and I did like the sleek pants and skirts, fuzzy looking tanks and big cardigan sweaters.
Eliza Faulkner: my favourite parts about Eliza Faulkner's collection were the accessories, which consisted of woven baseball hats and clutches made in the same material as the garments (perhaps linen?). The clutches were done in a natural sand colour, bright yellow and powder blue and wrapped around the models wrists as though they were holding on to them for dear life (I was loving it). Stand out Pieces from the collection were the two-toned track jackets with black piping and the pretty prim pink dress.
Materie Noire: Celine Razonville was the second designer chosen in the MBSU competition. Razonvilles collection was one of my favourite collections in the start-up show and I am glad that she was awarded the prize. From the horizontal striping, rich colour choices, frayed hemlines and unique visors, I loved everything about Razonvilles SS/14 show.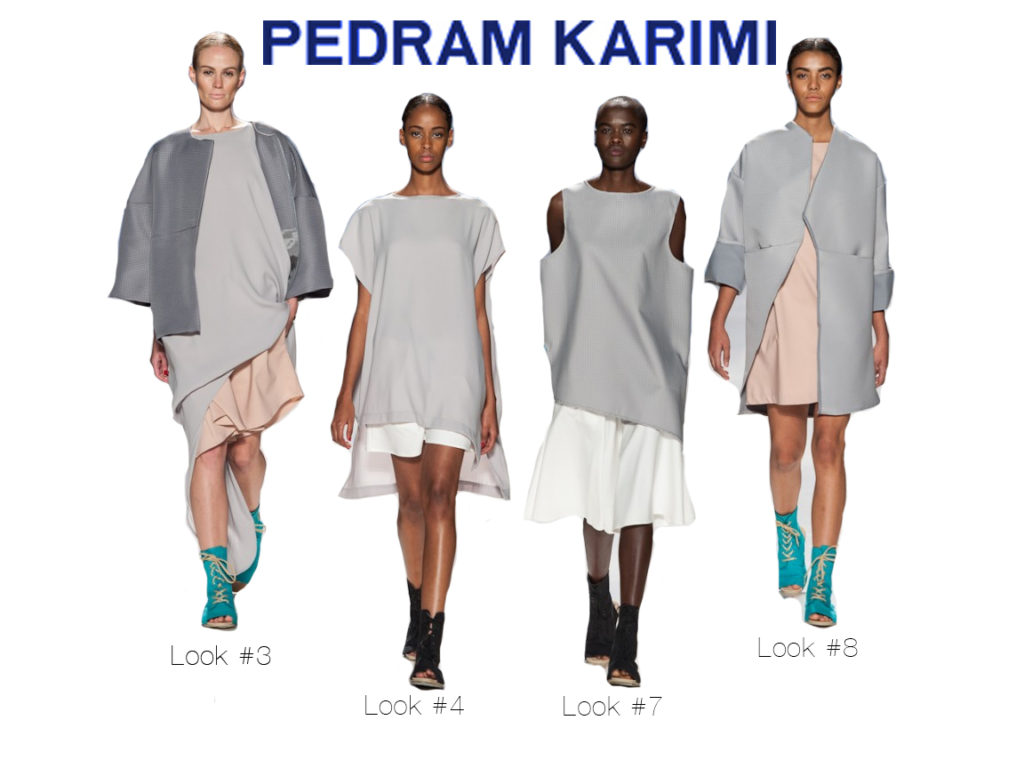 Pedram Karimi: Aside from the fact that I didn't find Karimis mens collection wearable as it felt very forced "desert-chic", I felt the women's collection to be effortless and the exact opposite. The beautifully thought-out layers that went from lightest on the bottom to darkest on top and consisted of two great coats that were boxy with sharp, clean lines. I couldn't get enough of them. There was also a flowy t-shirt dress that would be perfect for slipping over my body on a hot day in the summer, especially with those amazing laced-up to the ankles, turquoise sandals that gave the looks the perfect pop of colour.

Melissa Nepton: I know I said that I was only picking 5 of my fave looks from the collections but some of them were just so good I had to pick more. Melissa Nepton was just that…too good! She killed the sporty cool-girl look with the mesh inserts, flowy shorts and pants that if you weren't looking close enough, would mistake for maxi skirts. I loved the colours, bold graphic prints, and white quilted knits.

Sid Neigum: The final show of the night was Sid Neigum. Known for edgy designs and out-of-the-box thinking (did you see those shoes) Neigums show is never one to disappoint. It draws the edgier crowd in wearing a lot of black and a lot of leathers (I'm not that cool). The collection consisted of mostly a monochromatic colour scheme with a few burgundy, and eggplant shift dresses here and there. What I found to be most impressive, however, was the laser cut detailing and asymmetrical hemlines on the skirts that looked as though it had taken a very long time to achieve.